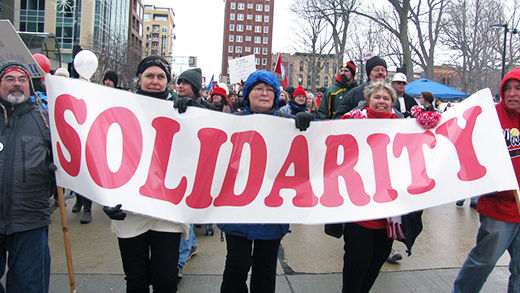 'MADISON, Wis. – It was an "off day" for demonstrations against Gov. Scott Walker's union-busting bill. And yet 50,000 people showed up March 5, surrounding the Capitol in a river of determination and a joyous celebration of solidarity.
The message was loud and clear: There will be no letup to "kill the bill."
"Gov. Walker has capitulated on when he's sending out his layoff notices three times, he has had to eat his words," said Donna Schultz of Johnsons Creek, Wis. "And the longer he says he will not negotiate the stronger you're going to see the people out here. We have a right to be heard."
Support for Gov. Walker and the Republicans has crashed and his efforts to close the state Capitol to demonstrators backfired. After the day's rally an estimated 3-5,000 protesters once again crowded into the rotunda, its walls and columns plastered with messages of outrage and solidarity.
Meanwhile, the battle to take back Wisconsin state government opened on a new front with the official filing of recall petitions against eight Republican members of the state Senate on March 2. Just three of the state senators need to be recalled to flip control back to the Democrats.
Republicans announced their own recall efforts of eight Democrats, a campaign rumored to be funded by a group in Utah.
"Make no mistake, these Republican senators are vulnerable to recall for their radical partisan overreach," said a statement issued by the Wisconsin Democratic Party. "Senator Randy Hopper won his last election by just 184 votes. And Alberta Darling won her last race by only 1,007."
Support for the recall is feverous. Sara Mann, an organizer for SEIU, said so many people showed up for the first weekend canvas to collect signatures against Sen. Alberta Darling that organizers ran out of turf in the first 30 minutes.
At the Madison rally, placards and banners supporting the recall were everywhere, as were groups with clipboards to gather signatures and sign up volunteers to help in the effort.
To trigger a recall, signatures "equal to at least 25% of the vote cast for the office of governor at the last election within the same district or territory as that of the officeholder being recalled." Gov. Walker is not eligible for recall until he has served one year in office, but the state senators are.
Among those joining the demonstrators was filmmaker Michael Moore, who delivered a rousing speech lauding Wisconsinites for their historic stand.
"For three weeks you have stood in the cold, slept on the floor, skipped out of town to Illinois – whatever it took, you have done it, and one thing is for certain: Madison is only the beginning," he said.
Corporate America overreached in their greed, declared Moore. Not content with their riches they decided now was the time to destroy the union movement.
"But trying to destroy us they have given birth to a movement — a movement that is becoming a massive, nonviolent revolt across the country. We all knew there had to be a breaking point some day, and that point is upon us."
Moore said, "The nation is not broke, my friends. Wisconsin is not broke. Saying that the country is broke is repeating a Big Lie. It's one of the three biggest lies of the decade: 1) America is broke, 2) Iraq has WMD, and 3) The Packers can't win the Super Bowl without Brett Favre."
He said the money to fund all social needs is in the hands of a few rich people.
Those joining the rally also included New York state troopers, autoworkers from Detroit and electrical workers from Iowa and entire families from all across the state. Two large Teamster tractor trailers were parked along the march route and the Wisconsin Building and Construction Trades Council and AFL-CIO cooked and handed out thousands of brats and sausages.
Unite Here Local 1 brought two busloads of hotel workers from Chicago. Among them was Kenneth Moore, a worker at the Sheraton Hotel "I'm here to support my brothers and sisters in this great cause," he said. "If it can happen in Wisconsin and Ohio, it'll happen in Illinois. I'm a union fighter and we're here to stop it."
Photo:: Peoplesworld.org