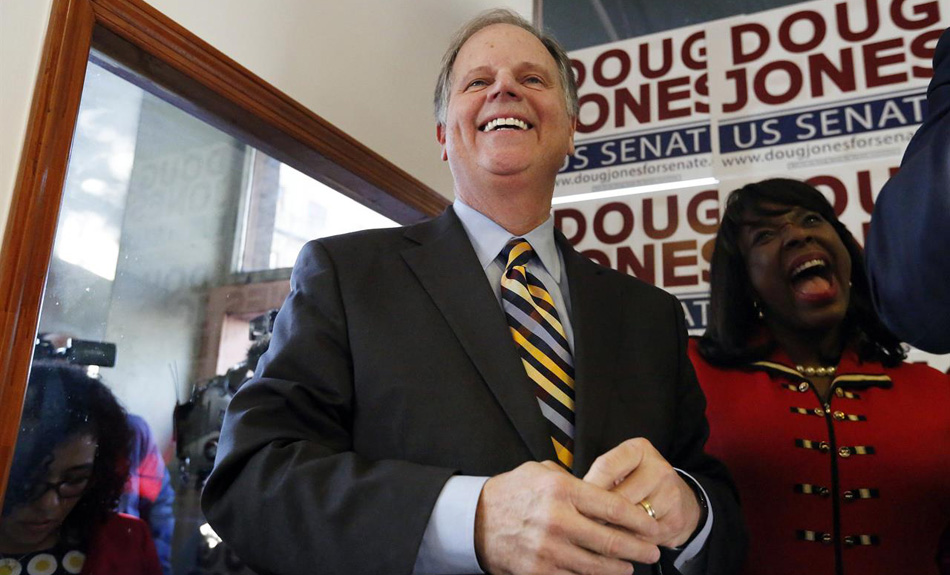 Record African-American turnout and an outpouring of women and crossover voters disgusted with his GOP foe, accused sexual molester Roy Moore, propelled Democratic U.S. Senate nominee Doug Jones to a special election win in Alabama Dec. 12. In a stunning defeat for the right, including President Trump and Steve Bannon, Jones will fill the last three years of the unexpired U.S. Senate term of Jeff Sessions, who left to become Trump's attorney general.
No Democrat has been able to win statewide office in Alabama in 25 years, much less a Democrat who, like Jones, won national recognition for bringing Ku Klux Klan murderers to justice. Years after racists bombed the 16th Street Baptist Church in Birmingham, killing four young African-American choir girls at the height of the civil rights movement, Jones was the prosecutor who brought those racists to trial and won.
That record, plus campaign help from former President Barack Obama, Sen. Cory Booker, D-N.J., and former NBA star Charles Barkley, a native Alabamian, pushed African-American turnout above 30 percent of the whole electorate. They voted virtually unanimously for Jones, who is white.
Jones also hit hard in the campaign's final weeks on Moore's record as an accused sexual molester. Those accusations, which became public in early November, also led Alabama's senior senator, Republican Richard Shelby, to endorse Jones—an endorsement Jones played up in TV ads the final weekend.
Taken together, all that was enough to overcome both Alabama's deep-dyed "red state" record and the very vocal support that President Trump gave to Moore.
Even before the earth-shattering implications of the victory could sink in, Jones wasted no time getting down to work, using his victory speech to demand that the Senate approve continuation of CHIP (Children's Health Insurance Program), something that the GOP's tax bill kills, sweeping millions of children across the nation off the health care rolls.
Although the victory does not change the balance of power in the Senate, it does narrow the GOP lead in that body to a razor thin margin—51 to 49 because the two independents caucus with the Democrats. The new lineup gives the Democrats potential leverage even for issues immediately facing the Senate, including the final version of the tax bill. Democratic Senate Minority Leader Chuck Schumer has already demanded that no final vote be held on the matter until Jones is seated in January, GOP Majority Leader Mitch McConnell said he plans to ram through a vote and present the bill to Trump for his signature before Christmas.
The victory also has major implications for the #MeToo Movement, with women lawmakers pushing hard for new measures to curb sexual abuse in the halls of Congress and demanding the resignation of Donald Trump for his role as an abuser of women.
"It's a great day for Alabama," declared Richard Cohen, president of the Birmingham-based Southern Poverty Law Center, the nation's leading tracker of racist hate groups and individuals. "We've seen through the demagoguery of a man who has been kicked out of office twice for putting his religious beliefs above the U.S. Constitution."
"We've seen through the hypocrisy of a man who has preyed on young girls while suggesting that gays and lesbians should be executed in order to protect children from them. It's a great day for every person in Alabama who rejects bigotry and values the rule of law," Cohen said.
The Progressive Change Campaign Committee and MoveOn.org said Jones' win proves, as Ilya Sheyman of MoveOn put it, that "if we can win in Alabama, we can win anywhere."
"We just helped elect Doug Jones, a civil rights champion—and a pro-choice, pro-health care, anti-Trump Democrat—to the U.S. Senate in Alabama!" she said.
"If we can win in Alabama, we can win anywhere. We can take back the House in 2018—creating a firewall to stop the Trump Republican agenda and hold Trump accountable—and we even have a pathway to take back the Senate, too," she added.
Adam Green of the Progressive Change Campaign Committee, whose members donated funds to Jones, said the race shows Democrats can win if they compete nationwide—something the party did not do during Obama's terms or in 2016.
"The Republican Party's attacks on working families and support for candidates like Roy Moore have opened up opportunities for Democrats to win in places they haven't won in decades," he added. "The key to winning back control of Congress in 2018 is for Democrats to compete everywhere with inspiring progressives who connect with voters of all political stripes" on issues like living wages and Medicare for All, he said.
News reports added the Democrats did a lot of shoe leather campaigning for Jones, logging 1.2 million voter phone calls and knocking on 300,000 doors—even though, outside of the Alabama Education Association, the party has virtually no structure in the state. Jones is the first Democrat to win an Alabama U.S. Senate seat since Shelby in 1992, before Shelby switched parties.
Jones voted early Tuesday morning in Mountain Brook. He told reporters the election was also a chance to reject "the embarrassment" Moore brought to the state.
"We have shown not just around the state of Alabama but we have shown the country the way—that we can be united. This entire campaign has been about dignity and respect," Jones declared in his victory speech last night.
Moore's alleged sexual predations are not the only blot on the evangelical candidate's moral record. State boards previously ousted Moore from his post as chief justice of the state Supreme Court twice, once for defying the Bill of Rights with a Ten Commandments monument on public property and a second time for ordering local officials to defy the Supreme Court's same-sex marriage decision.
But in an indication of how deeply the proven sexual predations of Moore cut, the precinct that includes the mall where Moore is alleged to have preyed on teenage girls when he was a local prosecutor in his 30s, reported a tally of Jones 91, Moore 9.
John Wojcik contributed to this story.