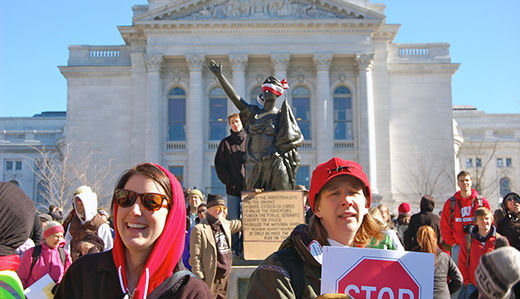 MADISON- Only a day after Wisconsin's Republican governor told a journalist posing over the phone as billionaire David Koch that protests were beginning to fizzle Feb. 23, 2011 goes down on record as the day of the largest demonstrations outside of Madison in Wisconsin history.
In Madison itself, union organizers are hunkered down with thousands inside the Capitol as thousands more mass outside the building. The ornate 19th century structure has been occupied by workers and students for 10 days.
"The demonstrations today all over the state are the biggest in the history outside of Madison," said an ebulient Eddie Vale, the AFL-CIO's Political Communications Director. Vale has moved out of his Washington office to work here and in other Wisconsin town where workers are waging an epic battle to protest the governor's union-busting plans.
In addition to Madison, demonstrations today are taking place in Appleton, Chippewa Falls, Ripon, River Falls, Sheboygan, Green Bay, Milwaukee, Fond du Lac, Osgosh, Racine, La Crosse, Kenosha, Plattesville and Eau Claire.
Thor Backus, an organizer for the American Federation of State, County and Municpal Employees, said Wisconsin unions expect protests in Madison to grow all week with crowds on Saturday possibly surpassing the record 70,000 who have gathered in any one day since the action began.
Backus, standing next to a pile of AFSCME posters in the Capitol's north hallway, said, "I am incredibly proud of the role my union has played in this. We have been on this since the beginning and the support from everyone is great."
Madison is the birthplace of AFSCME, which was founded there in 1936.
.
People in the crowds are angry, but not surprised that Gov. Walker, in a phone conversation with a blogger he thought was billionaire David Koch, exposed himself as a lackey for the billionaire brothers.
"He's a fool anyway," said Kietra Olson, 24, of Madison. "Now everyone can hear him, in his own words, confirming everything everyone here has been saying about him."
Olson said she was here because she wanted to support her mother and "all the rest of the teachers. Who of us would know a damned thing if it wasn't for teachers? Without good teachers you end up with a fool like Walker."
The Madison police chief said today that he found parts of the recorded call between Walker and "Koch" very unsettling and troubling.
Chief Noble Wray said he was particularly concerned about Walker saying he had considered sending infiltrators into the crowds. "I would like to hear more of an explanation from him. I find it unsettling and troubling that anyone would consider creating safety risks for our citizens and law enforcement officers."
In Indiana yesterday, Republican lawmakers withdrew a right to work for less bill that has brought thousands into the state capitol there.
Workers and their supporters continued the occupation anyway because they note that there are numerous other anti-worker bills in the hopper.
Indiana's Democratic lawmakers have boycotted state Senate proceedings and like their Wisconsin counterparts, are staying in Illinois. They warn that it is too early to declare victory in Indiana because they expect Republicans to try to weaken unions with a variety of other legislative moves.
Photo: Terrie Albano