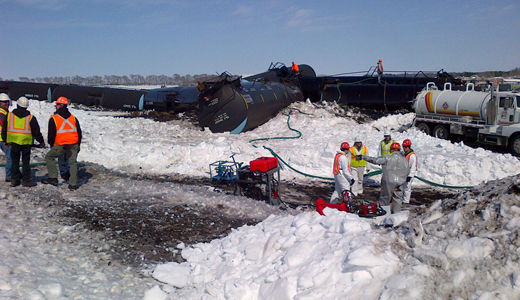 On March 28 in western Minnesota, a mile-long train hauling oil from Canada derailed, leading to a spill of about 15,000 gallons of crude. The oil spilled over into a nearby field, and cold temperatures made cleanup efforts – which are still underway – that much harder.
The incident happened near the town of Parkers Prairie, 150 miles northwest of Minneapolis. After the Canadian Pacific Railway train crashed, three tankers ruptured, leading to the spill. The train was headed for Chicago, and was carrying several other commodities besides oil that have not yet been disclosed, but which are still secure. Out of the train's 94 cars, 14 actually left the tracks during the accident.
The thickened crude is currently being moved into a lined trench by workers, and will be taken away for disposal. However, the cleanup is expected to take another day or two. As for the derailed tanker cars, things are slightly more complicated. Canadian Pacific must use steam to heat those cars so the oil inside them can be pumped out – a process that will reportedly take a few weeks.
"Only about 1,000 gallons have been recovered" so far, said Dan Olson, spokesman for the Minnesota Pollution Control Agency. "The remaining oil on the ground has thickened into a heavy, tar-like consistency."
This first major U.S. spill this year occurs as the debate over the Keystone XL pipeline – which would also transport crude from Canada – continues. For those concerned about the risks involved, this latest environmental mishap serves as a harsh example of the damage oil can do.
However, despite the many anti-pipeline protests taking place nationwide, crude is already being shipped to the U.S. from Canada via train – and frequently so.
"Canadian Pacific Railway and Canadian National Railway have begun using their networks to deliver crude," reported Globe and Mail. "What rail doesn't have," it added, "are good systems for handling large volumes of oil."
While this is true, there is a perhaps unforeseen consequence of the disasters caused by railway oil transportation. Pro-pipeline oil execs are using this as an opportunity to tout Keystone XL as "the safer way to transport oil."
TransCanada president Alex Pourbaix remarked, "For every mile you move a barrel of oil by rail, you emit three times the greenhouse gases that you do by moving it by pipeline [instead]. I make the point that if you're actually concerned about the environment, for long-haul movement of oil, you very much want to see that moving by pipeline."
But environmentalists have made it very clear that they don't, in fact, want to see that happen.
"The stakes couldn't be higher," said activist Isobel Arthen at a Keystone XL protest outside a TransCanada office in Boston. "The total carbon contained in Canada's tar sands exceeds all the oil burned in human history. We must stop it."
But clearly, even if the pipeline is somehow defeated, the battle is far from over. Trains continue to transport crude, and companies will likely fail to learn any lessons from the spill in Minnesota. But many experts are very much aware of the problem.
Transportation consultant Jim Hall, former chairman of the National Transportation Safety Board, remarked, "It's good business for the rails and bad safety for the public."
Photo: Crews on the scene of the Minnesota train derailment and subsequent spill. Minnesota Pollution Control Agency/AP