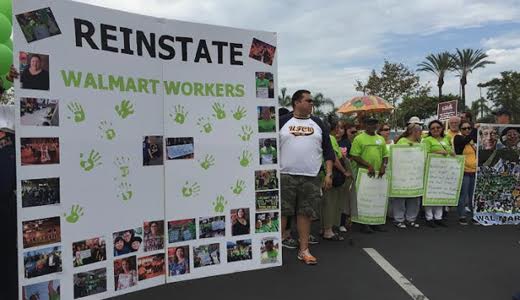 Walmart workers and their supporters rallied in front of the Pico Rivera Walmart, in California, calling on Walmart to reinstate the 530 employees they laid off last April.
Walmart suddenly closed five stores giving its employees only a few hours notice and laying off an estimated 2,200 workers. They cited persistent plumbing problems as the reason for the closures.
On October 4, 2012, the Pico Rivera store was the site of the first ever strike against the corporate giant. We were the first to go out and we will be the last to go down." Evelyn Cruz, said. She was among 30 employees to walk out from this Walmart store, demanding to be treated with respect.
Mayor of Pico Rivera, Gregory Salcido spoke in support of the workers, " I come from a union family, there is not a doubt in my mind that I was given the opportunity to have a good home, be able to attend college and live the American Dream and stand here before you, were it not for my parents' union jobs. I support reinstatement of all Walmart workers"
Jenny Mills who was also one of the first Walmart workers to go out on strike spoke saying that even while employed at Walmart she was homeless because she did not earn enough to pay rent. "If you work you should not be homeless". She told the crowd
Venanzi Luna, another worker who was also among the first workers to walk out, commented that Walmart closed its doors with out any care to how it would affect the families of their employees, the community and its consumers. " We will continue to show up until you reinstate us". MS Luna said
Director of Organizing, Gilbert Davila, of local 324 of the United Food and Commercial Workers, who have been strong supporters said "Our members stand with you today because it's the right thing to do. Shame on Walmart!"
"We all know that the plumbing problems which Walmart gave as a reason for closing is only an excuse to attempt to silence the workers from this store, which has been one of the most active in motivating action against Walmart's disregard for its workers", commented Davila.
"When Walmart workers are outside something is wrong inside," chanted Davila. (story continues after video)
Rusty Hicks Executive Secretary Treasure of the Los Angeles County Federation of Labor addressed the crowd "A unified labor movement stands behind these workers and we will be back again and again until they get their jobs back. They were the face to raise the wage in this county and for that, they are being retaliated against. We stand here today, in solidarity with those 530 workers who lost their jobs."
Vice President of the El Rancho Unified School District Board, Jose Lara addressed the rally stating the when they Board heard of the closures of Walmart, they realized that these workers had families in the district and their children's education will be affected by their parent's unemployment, this is why they decided to support the workers by introducing a resolution that calls on Walmart to reinstate all workers. "Walmart has recently contacted the Board asking for permission to use our school logo in their store. This Tuesday at 6:30 p.m. we will meet to discuss this and I invite you all to attend." Said Lara.
A food drive is being organized to help workers still without a job.
Photo: Rossana Cambron/PW