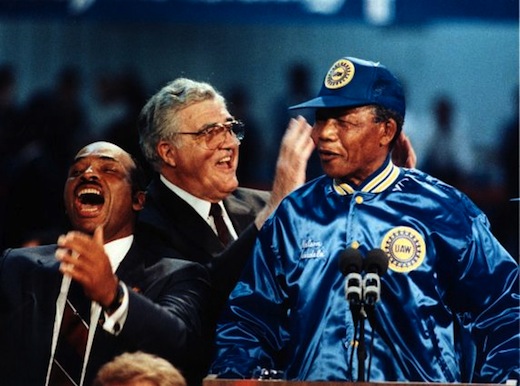 The following is a Facebook status post by Armando Ramirez about the 1990 visit of Nelson Mandela to Detroit, and a comment on the post by April Smith who saw Mandela speak at Tiger Stadium, in June 1990. We invite all our readers to send in any remembrances you may have about the anti-apartheid struggle or Nelson Mandela. Email us at editors@peoplesworld.org. Amandla!
After Nelson Mandela was freed from prison, he was invited to visit Detroit by the mayor, Coleman Young. When he arrived, a rally was prepared for him to meet with the people of Detroit. The rally was not held in a fancy hotel ballroom or at a sports stadium or at a millionaire's home. It was held at the giant Ford Rouge Complex, in the building where Ford Mustangs were assembled. After the mayor introduced all the political, corporate and union officials, he finally introduced Mandela. One of the first things that Mandela said was how glad he was to be with the workers of Detroit. "You are my friends and allies. You are my comrades."
At that time the Ford Rouge Complex had over 18,000 workers there. Only a few hundred were lucky enough to be present at this rally for Mandela. I was asked to be part of the Honor Guard for Mandela. It was a great honor for me, something I'll never forget.
April Smith:
Then at Tiger Stadium, which was packed to the max, he began the rally with, "Mother, mother, there's too many of you cryin'. Brother, brother, there's too many of you dyin'." The place erupted!
Photo: Nelson Mandela addresses the crowds at Tiger Stadium during his visit to Detroit, Michigan. Directly behind him stands his longtime supporter, UAW President Owen Bieber. At left is UAW Vice-President Marc Stepp. (Daymon J. Hartley/copyrighted/No reproduction without the permission of the owner)