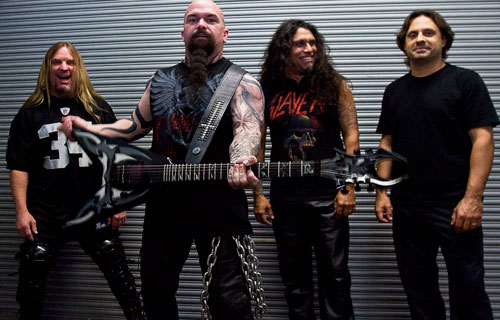 There's a tradition that even older music fans are familiar with: the rock 'n' roll lifestyle is about living fast and being reckless. It's always been all about the intensity of the music; for many rockers, health concerns have always been put on the back burner. It's just one reason why so many musicians have died before their time – from Elvis Presley, Jimi Hendrix, and Jim Morrison to Kurt Cobain, Layne Staley, and Ronnie James Dio. Heavy metal takes that lifestyle to the next extreme, and unfortunately for grieving fans, one more name has been added to that list of lost legends: Slayer's Jeff Hanneman.
Slayer, at least in the states, is a thrash metal band known even to those outside of the metal scene. Their fame is perhaps second only to Metallica, or Black Sabbath. First formed in Huntington Park, California in 1981, Slayer helped to push aggressive metal into the mainstream and unite people from various walks of life: members of both the metal and punk scenes; working class bargoers and clubgoers; actors and comedians; teens and adults; men and women.
Hanneman was born on January 31, 1964. He died on May 2 of this year. He founded Slayer, along with fellow guitarist Kerry King. He has penned some of the band's most famous songs, like "Angel of Death," "South of Heaven," "War Ensemble," and "Raining Blood." The themes he chose to focus on included war, history, and human tragedy. He, as well as the rest of Slayer, didn't believe in pretending that the worst parts of human history never happened; rather, he saw the aggressive tone of the band as a very appropriate vehicle for tackling uncomfortable truths and exploring the morbid side of life.
His particular focus on war most likely stemmed from his childhood – his family consisted of many war veterans; his father fought in World War II, and his brothers in Vietnam. According to Decibel Magazine, this and his family's appreciation for war films meant that it played a large role in his daily life.
Hanneman's guitarwork was arguably even more important to Slayer than the lyrics and themes. It has been praised by fans and critics time and again. Hanneman is considered to be one of the greatest heavy metal guitarists of all time. Together with King, they "established themselves as thrash metal's premier guitar duo," said one reviewer. "And rightfully so, as the level of twisted genius running through [songs like] "Raining Blood" was something they themselves had trouble topping" later on.
The problems began for Hanneman when a freak accident occurred in early 2011: he contracted necrotizing fasciitis from a poisonous spider bite while sitting in a hot tub. "I didn't even feel it," he said afterward, "but an hour later, I knew that I was ill. By the time I arrived at the hospital emergency room, I was an hour away from death." Hanneman was told that the bite had caused a very serious bacterial infection. His arm, he learned, which had given so many brilliant guitar riffs to the world, might have to be amputated.
But that would only be a last resort. He was placed in a medically-induced coma for a time, while doctors tried several times to remove dead tissue from his arm. Then he went through a period of rehab to try and regain the strength in his arm. It's not yet clear what happened after that point, but what his bandmates have revealed is that he died of liver failure – a result of previous issues with alcohol, not the spider bite – though his prior health problems probably left him vulnerable to necrotizing fasciitis.
Musicians and fans flooded social networks as soon as they read the news of Hanneman's death.
Dave Lombardo, former Slayer drummer and longtime friend of Hanneman, tweeted, "I'm deeply saddened, shocked, and speechless. It's difficult for me to write my feelings at the moment. My heart goes out to [his wife], Kathy."
Robb Flynn of groove metal band Machine Head wrote, "Still can't believe it. Things like this don't happen – thrashers don't die!" He recalled going to one Slayer show where "he invited me back to the dressing room to grab a beer. We sat down and chatted for a while and I went all Slayer-nerd on him. He was a huge influence on my songwriting, growing up."
"Tragic and shocking news about Jeff," said Guns 'n' Roses' Slash. "He is going to be missed by so many. What a sad day for metal. For me, Hanneman was the king of thrash metal guitar. The riffs and chord changes were genius. And that right hand blew my mind. Never heard anything quite like it."
Rocker Andrew W.K. added, "Jeff Hanneman will always be a metal god. A true metal master, he gave energy and excitement to millions, and will continue to."
One fan pondered just why Slayer's music was so powerful and meaningful to him and others. Even though the band's lyrical topics commonly tackled "death, mental illness, disease, the occult, and war" – topics that many musicians are too afraid to explore – "Jeff Hanneman gave the words weight, power, velocity," and – ironically enough – "life. He wrote music as brutal as the topics, but he wrote songs, not noise collages. He literally wrote the best song in a genre that boasts millions of great songs. Few people can claim to have made the best anything. When he passed, heavy metal" got a little less heavy. "It became something less than it was. Jeff Hanneman was – is – irreplaceable. And metal will never be the same without him."
Photo: Slayer, left to right: guitarist Jeff Hanneman, guitarist Kerry King, vocalist/bassist Tom Araya, drummer Dave Lombardo. Robert E. Klein/AP