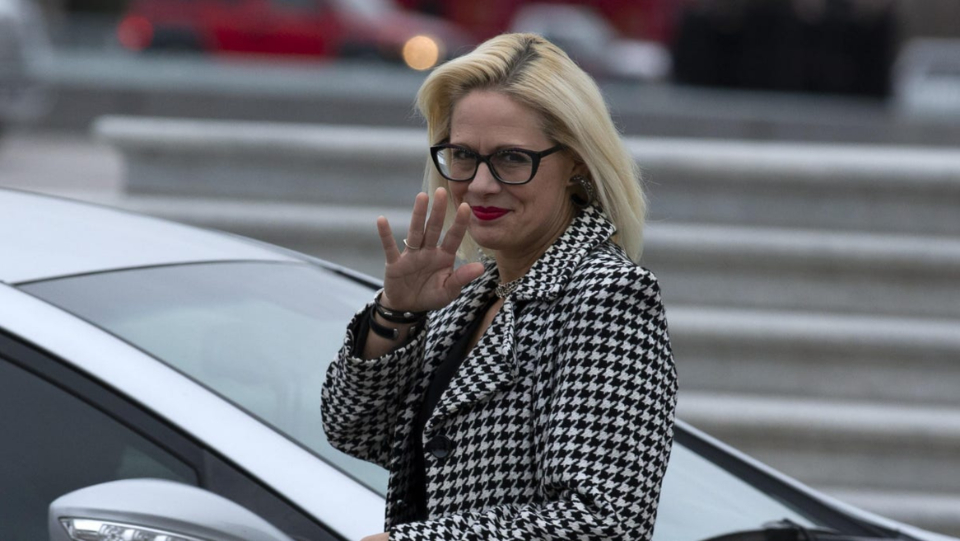 PHOENIX, Ariz.—The renegade from Arizona is at it again. After helping blockade progressive legislation in the Senate for years, Sen. Kyrsten Sinema has left the Democratic Party, re-registering as an independent, two years before she must face Arizona voters again.
Her decision, announced in an op-ed in the Arizona Republic, and in an interview with Politico, reduces the Democratic numbers in the Senate to 50, including two other independents, Maine's Angus King and Vermont's Bernie Sanders, who caucus with the Democrats.
Sinema will not caucus with the Dems, but she won't caucus with the 49 Republicans either, leaving the Democrats still in total, but tenuous, control. In the op-ed, Sinema railed against partisanship she said permeates both parties.
"I've never fit neatly into any party box. I've never really tried. I don't want to," she said in the interviews.
"Registering as an independent is a reflection of who I've always been," Sinema said in a video she posted. "It's a reflection of how I work."
She conveniently omitted the fact she started her political career in 2001 as a Green Party candidate for the Phoenix City Council.
Sinema has gone her own way since she entered the Senate in 2017 after several U.S. House terms. She's supported keeping the filibuster, which Republicans used to gum up the works and stop much of Democratic President Joe Biden's, and labor's, agenda.
Voting records by organized labor and Congressional Quarterly confirm she's one of the two Senate Democrats who most-frequently defies her party's majority. The other is fellow renegade Sen. Joe Manchin of West Virginia. Their opposition gives them outsize influence in the evenly split Senate.
In the AFL-CIO's Committee on Political Education's lifetime scores, from the start of a senator's service through 2021, Sinema finished last, with Manchin barely outscoring her. In CQ's party unity tallies, which cover how often a senator votes with the party majority versus the opposition's party majority, Manchin finished last in unity, opposing his party on 38.5% of such roll calls in 2020, the last year available. Sinema was second-to-last, at 33.1%.
Holding a seat on the Senate Banking, Housing, and Urban Affairs Committee, Sinema raked in campaign cash from the corporate class, notably securities and investment firms. OpenSecrets.org, which compiles and organizes such data, reports that from 2017 through July 2022, Sinema had raised $2,683,498 from those lobbies and their honchos. They were her largest campaign contribution source.
When she ran for senator in 2018, Sinema raised a total of $22.2 million. Banking and securities campaign finance committees were first among her corporate contributors that year, at $101,700. Including individual contributions, that sector finished third overall at $1.15 million.
By leaving the Democratic Party, Sinema also avoids a primary challenge in 2024, likely from either Rep. Raul Grijalva or Rep. Ruben Gallego. And the Arizona Democratic Party, prodded by its progressive wing, has censured her at least once for supporting Republican initiatives.
It particularly cited her support of the filibuster—the Republican-used Senate rule that blocked much of Democratic President Joe Biden's agenda in this Congress.
Senate Republican leader Mitch McConnell of Kentucky has noticed that, and praised her for it, when he introduced her before her speech at a Kentucky university political think-tank named in his honor.
"It took guts for her to stand up to the pressure and protect the institution" instead of voting "for short-term gains"—a reference to her pro-filibuster stand, McConnell said then.
The state AFL-CIO, the state Democratic Party, and the Arizona Education Association—which led the successful "Red for Ed" campaign several years ago—had yet to post comments on her switch as of press time.