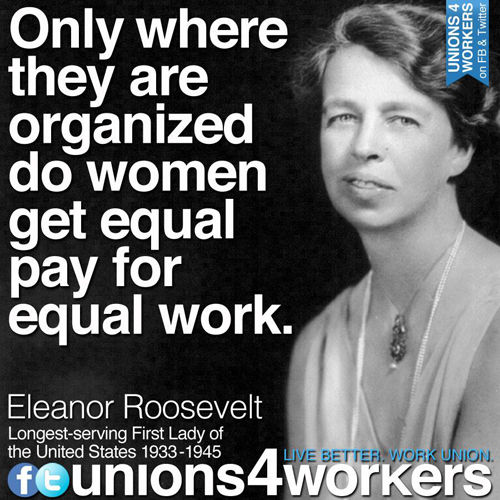 WASHINGTON — Why do unions have so few female leaders? On the face of the facts, that doesn't make sense. After all, 45.5 percent of unionists are women.
And Labor Department figures and other data show when women run organizing drives, the drives are more likely to succeed. They show women – especially minority-group women – benefit the most from being unionists. Yet women head few unions or other labor bodies:
The number of woman national union presidents can be counted on just over two hands. Among them: Randi Weingarten of the Teachers, Lily Eskelsen-Garcia of the National Education Association, Diann Woodard of the School Administrators, Sara Nelson of the Association of Flight Attendants-CWA, Ai-Jen Poo of the National Domestic Workers Alliance, Sarita Gupta of Jobs With Justice and the Service Employees' Mary Kay Henry. National Nurses United has four female co-presidents, plus Executive Director RoseAnn DeMoro.
Liz Shuler, as Secretary-Treasurer, holds the AFL-CIO's #2 position. Union secretary-treasurers include Lorretta Johnson (American Federation of Teachers), Becky Pringle (NEA), Mary Mahoney (Office and Professional Employees), Laura Reyes (AFSCME) and Amy Aquino (SAG-AFTRA). NEA, AFT and AFSCME are majority-female.
Some other notable female labor leaders include Karen Nussbaum, head of Working America, the AFL-CIO affiliate for the unorganized, Clayola Brown, president of the A. Phillip Randolph Institute, Maria Elena Durazo, until recently the head of the Los Angeles County Federation of Labor, and Shar Knutson, who will retire this October from the Minnesota AFL-CIO presidency. And don't forget the whole leadership of the Coalition of Labor Union Women.
Among the past leaders who are still active are Barbara Easterling, the longtime Communications Workers Secretary-Treasurer who was briefly AFL-CIO Secretary-Treasurer. She now heads the Alliance for Retired Americans, the union-backed retiree organization.
She's joined by Dolores Huerta, co-founder and long-time vice president of the Farm Workers, Linda Chavez-Thompson and Arlene Holt Baker, both of whom served as AFL-CIO Executive Vice President, and Anna Burger who was SEIU's Secretary-Treasurer, briefly that union's president and also the first president of Change To Win.
While by no means exhaustive, this sounds like an impressive list, right? It is, but at the same time the case of NEA is instructive of what really is the rule in the nation's unions.
NEA's Eskelsen-Garcia won a contested election last year to take over the 3.2-million-member independent union, the nation's largest. NEA is 80 percent female, yet Eskelsen-Garcia is its first woman president in a quarter of a century. Under her last female predecessor, Mary Hatwood Futrell, NEA officially declared itself a union. Eskelsen-Garcia, an elementary school teacher from Salt Lake City, is launching bold moves of her own.
Overall, The Institute for Policy Studies, a progressive think-tank in D.C., investigated the issue of female leadership in unions and published its findings in a recent report. And Still I Rise: Black Woman Labor Leaders' Voices, Power, Promise concentrated on the lack of African-American women in labor leadership positions.
But authors Kimberly Freeman-Brown and Marc Bayard had to – by necessity and history – look at the lack of women of all colors in labor's leadership. As Holt Baker told them, "The ceiling is cracking a little, but it's not fully cracked." Their findings included:
"Policymakers, progressive friends and disillusioned black workers" among others, must be convinced of unions' value – and then get involved. "For some, personal experiences or second-hand knowledge of racism and sexism within unions has been enough to cause them to back away" from advocating that women join in and become leaders in, unions.
"And all too often, policy strategies by civil rights, women's and progressive organi-zations to address economic issues facing…all working families do not include organizing workers into unions as part of the solution. In many ways, these realities bear witness to the distance labor still has to go in finding authentic ways to root out persistent discrimination and inequality within and to build true partnerships outside of itself.
Union rules and procedures must change to encourage women to become leaders. A 2002 International Labor Organization report found union rules discourage women from leading, worldwide. "Nearly 70 percent of the women who responded" to the U.S. survey said unions invested in leadership development, but half of the entire group reported a 'glass ceiling,'" the ILO commented: "This suggests a structural issue that leadership training programs alone – regardless of how effective – cannot address. For unions to be credible, women need to be adequately represented and involved at all levels."
"White and black men and white women in leadership positions played important roles in womens' ascent within unions. Replicating this experience is essential," the report said.
It's also unavailable. The Berger-Marks Foundation and the Coalition of Labor Union Women – with its advanced training in various U.S. regions – are working to change that.
The leadership situation is improving at the state and local levels, the report concedes, but women still have a ways to go there, too, even though they're almost half of all unionists.
One recommendation for increasing women in union leadership: "Create a shared women's economic policy agenda among labor, women's organizations and civil rights groups."
"This is the new face of labor," says Roxanne Brown, now the Steelworkers' Legislative Director. "We're young, we're women, and we're immigrants. That has been educational for some of our members…It is very helpful for the future and growth of our union for our members to be more comfortable with diversity, particularly as more and more public sector workers are organized and we get more nurses, bus drivers, and cab drivers in the fold. For our union to fully move into the 21st century, it needs to be inclusive. I'm part of us moving in that direction."
Image: Eleanor Roosevelt crusaded for equal pay for equal work when she was First Lady of the U.S. Graphic courtesy the Coalition of Labor Union Women.