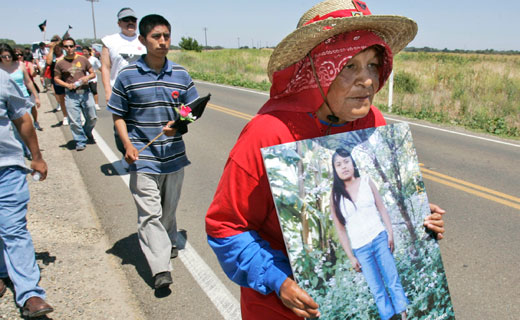 WASHINGTON – The food on your dining table comes at a particularly high price, and we don't mean in dollars and cents.
We mean in lives.
A recent report from the Center for Progressive Reform, citing federal data, says one farm worker dies on the job every day of the year. Hundreds more get injured or ill.
"The hazards of farm work run the gamut," the report adds. "Oppressive heat is common in every area with major agriculture. Heavy loads and repetitive motion strain workers' bodies. Slips, trips, and falls happen on a regular basis. Irrigation equipment can electrocute workers. Tractors overturn. Workers can become entrapped in grain silos and engulfed in clouds of pesticides. In short, farm work is dangerous business."
The farm workers whom the report cites are 98 percent non-union because federal labor law excludes farm workers from its coverage. That lack of protection, among other factors – many farm workers are immigrants and 44 percent don't speak English — are not the only workers who die on the job. They're just some of the most-frequent victims.
Last year, they were joined by truck drivers killed in crashes, 17 union workers dying in derailments, warehouse workers in Illinois and California, toiling for Wal-Mart, who collapse in 110-degree heat, and even utility linemen shot to death by irate customers, among others. Some 4,000 workers died on the job, federal data calculate.
And while industrial accidents that kill and injure dozens of workers, such as the ammonia plant blast in Texas, get the headlines, job safety and health violations, unco-vered by state and federal inspectors, occur almost every day and many go unreported.
In one typical example, the Occupational Safety and Health Administration (OSHA) announced just in mid-April that it wants to fine the New England Confectionery Company in Revere, Mass., $133,000 for widespread and willful health and safety violations inspectors found there last year. Multiply Revere by hundreds of plants.
Meanwhile, Workers Memorial Day ceremonies nationwide on April 28 honored all workers killed on the job, including the truck drivers, the rail workers, the ammonia plant workers and the farm workers. The theme of the observances, as always, was "Pray for the dead, fight like hell for the living."
Commemorations ranged from a prayer vigil with bagpipes and a bugle at a workers' memorial in Cumberland, Md., to an annual remembrance of the 506 workers who died over the years at U.S. Steel's plant in Gary, Ind.
Indiana's GOP governor was scheduled to attend a ceremony on the state capitol grounds, the state AFL-CIO said. And there was another memorial ceremony at the Manhattan site of the Triangle Shirtwaist Factory fire. It killed 146, 101 years ago.
Besides the workers who die on the job every year — a number that declined sharply since unions pushed through the law creating OSHA in 1970 — hundreds of thousands more suffer on-the-job injuries or illnesses. OSHA does what it can to stop the carnage, unionists say, but neither the law nor the agency is strong enough.
The best honor those workers could get, the union leaders say, is for Congress to beef up OSHA's strength, adding inspectors, increasing fines, and extending its coverage to the 22 million federal, state and local government workers: Teachers, Fire Fighters, police, corrections officers and more. The maximum fine against a firm when a worker dies on the job is $7,500. And the law should have more and better protections for whistleblowers, the unionists add.
"The toll of workplace injuries, illnesses, and deaths still remains enormous," says Teamsters President James Hoffa, whose words could be echoed by other unionists when it comes to job safety and health.
"Truck drivers suffer more on-the-job fatalities than any other individual occupation. Ergonomic hazards cripple and injure hundreds of thousands of workers every year and musculoskeletal disorder cases continue to increase and remain the nation's biggest workplace safety and health problem, without corresponding standards to prevent them," he continues.
"Hispanic and immigrant workers, who often work in the most dangerous jobs and are exploited by employers, have no union protections and are afraid to speak out….Hundreds of workers are fired or harassed by their employers each year simply for voicing job-safety concerns or reporting injuries. Although there are dozens of whistleblower protection and anti-retaliation laws, some are simply too weak and others are just not aggressively enforced due to insufficient funding of the regulatory agencies."
Fixing some of the holes is the point of the Protecting America's Workers Act (PAWA), reintroduced by Sen. Patty Murray, D-Wash., and Rep. George Miller, D-Calif.
But the biggest sanction OSHA now lacks, and that Murray's bill does not provide, is to give the agency the power to unilaterally declare a worksite so unsafe that it must shut down. Gary Beevers, the Steel Workers vice president who heads their oil and chemical workers sector, says that power would change corporate attitudes fast.
A multi-million-dollar fine means nothing, he says, to ExxonMobil. Shutting an oil refinery whose leaking toxic fumes killed workers and others would.
Photo: Demonstrators march in honor of undocumented farm worker Maria Isabel Vasques Jimenez, who collapsed and died in a vineyard in 2008 when her employer denied her drinking water. Rich Pedroncelli/AP