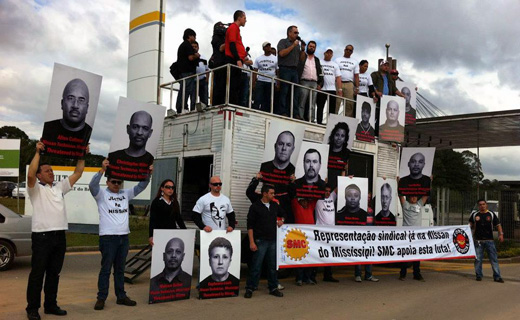 WASHINGTON – A report by Mississippi NAACP President Derrick Johnson and international labor law expert Lance Compa released in Washington, D.C., today shows that Nissan, at its plant in Canton, Miss., is in violation of international labor standards.
The company is in violation of the standards on freedom of association, the report notes, because of Nissan's "aggressive interference" with workers attempting to exercise their fundamental right to organize a union.
"Under international law and pursuant to its own stated commitments, Nissan is supposed to respect human rights standards on workers' freedom of association – the right to organize and the right to collective bargaining. But in the Canton plant," said the NAACP's Johnson, "Nissan has launched an aggressive campaign of fear and intimidation to nullify these rights."
"Our research shows that Nissan is not living up to the standards of worker treatment enshrined in the International Labor Organization's core labor standards, UN human rights principles, and other international norms. It also belies Nissan's own public commitments to honor international standards through its membership in the United Nations Global Compact," said Compa, an American lawyer currently based in Europe. "Workers' descriptions of how they are treated behind the walls of the massive Nissan plant in Canton, Miss., affirm that Nissan is systematically interfering with the internationally recognized right to form a union."
"Workers and everyone in the Canton community are appreciative of this research on the unfair treatment of Nissan workers," said Rep. Bennie Thompson (D-Miss). "The finding that Nissan is in violation of international labor rights standards is alarming. I and the entire Canton community continue to stand with the Nissan workers in Mississippi, because they deserve the freedom to organize a union if they so choose, free from implied threats."
The ILO's 1998 Declaration on Fundamental Principles and Rights at Work and ILO Conventions 87 and 98 are the foundation of international standards on workers' freedom of association. They prohibit:
Imposing pressure, instilling fear, and making threats of any kind that undermine workers' right to freedom of association.
Creating an atmosphere of intimidation and fear with respect to union organizing.
Pressuring or threatening retaliatory measures against workers if they choose union representation.
Denying reasonable access for workers to hear from union representatives inside the workplace.
Workers at Nissan's Canton plant, who are supported by a growing student movement, community organizations and trade unions around the world, described in the report treatment that violates the ILO's 1998 declaration and conventions 87 and 98 – standards included as well in the UN Global Compact, which Nissan joined in 2004.
Jeff Moore, a body shop quality technician hired in 2001, described anti-union intimidation at the plant: "In the first meetings, managers told us that Nissan is totally non-union and didn't want any part of unions, that unions make plants close," said Moore. "Everything they said about unions was negative, nothing positive. It's like they were drilling it into our heads, stay away from the union."
Workers also recounted "captive audience" meetings in which they were forced to watch films and hear speeches filled with implicit threats of plant closure if they formed a union, and orchestrated one-on-one meetings with supervisors warning of dire consequences if they choose union representation.
Nissan, the report says, also aims its anti-union efforts at hundreds of "associates" or temporary workers, many of whom do the same work as regular Nissan employees but are paid lower wages and have less job security. The report concludes temp workers, because of their tenuous situation, often feel even more susceptible to the company's intimidation and climate of fear if they support a union.
The report calls upon investment firms that consider themselves socially responsible to "re-evaluate their portfolios of Nissan stock in light of ILO standards and the company's actions at the Canton plant."
Workers and their supporters say it is ironic that a company like Nissan is unwilling to deal with a union here in the U.S. when it deals with unions at almost all of its operations in other countries.
They want the company to treat American workers with the same respect accorded to workers in other countries.
The campaigners are calling upon Nissan to give union supporters equal time to address employees on the issue of union representation, demanding that the company retract statements that unionization would force it to close the plant, and they want all the temporary workers hired to be taken on as permanent employees.
Photo: More than 600 Renault Brazil workers rally for Miss. Nissan workers in a huge action at the Renault plant gate . Do It Better Together Facebook page.