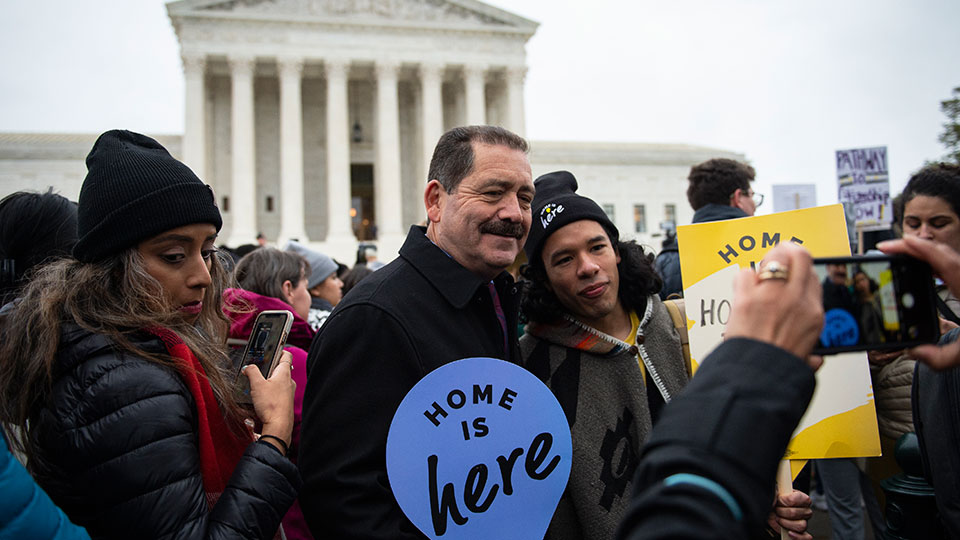 WASHINGTON, D.C. – On Dec. 10, 2019, Reps. Jesús "Chuy" García (IL-04), Ayanna Pressley (MA-07), Pramila Jayapal (WA-07), Karen Bass (CA-37), and 30 Members of Congress, alongside over 145 advocacy organizations and community representatives, introduced the New Way Forward Act, H.R. 5383, a landmark piece of legislation to restore due process to the immigration system and disrupt the prison to deportation pipeline.
The bill corrects racial and anti-immigrant injustices embedded in immigration laws, many of which have enabled the Trump Administration's inhumane assault on non-citizens in the United States and at the southern border.
On Jan. 30, the Bill was referred to the Subcommittee on Immigration and Citizenship.
For background on the bill, click here.
"Too many families in Chicago and around the country have been torn apart by cruel immigration policies." Rep. García said. "Imagine living with the constant fear of being detained anywhere and deported at any time simply because you fled violence and sought refuge in the U.S. We must end the labels of the 'good' versus 'bad' immigrant used to dehumanize and divide communities. An attack on one community is an affront to us all. I am proud to introduce the New Way Forward Act to disrupt the prison to deportation pipeline, give all immigrants the dignity of due process, and ensure America remains a nation that welcomes all."
"For those of us living in the Massachusetts 7th Congressional District, a district that is over 30% immigrant, we know firsthand that the cruel and xenophobic policies coming out of this White House have destabilized families and stoked fear in immigrant communities far beyond the Southern border," said Rep. Pressley. "Our immigration and criminal injustice systems are deeply and fundamentally intertwined—and have contributed to our nation's mass incarceration crisis. I am immensely proud to cosponsor the New Way Forward Act – bold legislation that actualizes the values we espouse by keeping families together, advancing racial justice, and protecting due process for everyone, including immigrants."
"Our current system of treating immigrants as disposable, unredeemable and subject to deportation after they have completed their sentences did not begin with President Trump. Entire generations of new Americans know the criminal legal and immigration systems are plagued with biased policing, overzealous detention and surveillance policies, and high incarceration rates," Rep. Pramila Jayapal said.
"As one of 14 naturalized citizens in Congress, I am proud to co-lead the New Way Forward Act, which aims to restore due process for immigrants by ending detention without bail, separating local policing from immigration enforcement, and repealing laws that make migration a crime. New Americans deserve the same rights and dignity as native-born Americans — a chance to make their own American dream a reality and contribute meaningfully to their communities without fear.
"I'm proud to support this bill to push back on mass incarceration by ending mandatory immigration detention and banning for-profit immigration jails," said Rep. Karen Bass. "The New Way Forward Act helps restore the fundamental principles of due process in our immigration system, which has been cruel and imbalanced. Thank you to my colleagues for leading this important effort."
García brought Army veteran Miguel Perez Jr. as his guest at President Trump's State of the Union address on February 4. As a legal permanent resident, Perez served two tours of duty in Afghanistan before being stripped of his green card and deported to Mexico for a non-violent drug conviction. Illinois Gov. J.B. Pritzker pardoned Miguel in August 2019, clearing the path for his return to the United States and allowing him to become a U.S. citizen in October 2019.
"Miguel's story shows strength and perseverance, but it also represents a failure of our immigration system: deporting veterans who served their country. The Trump Administration doesn't even know how many veterans have been deported. While the vets appeal their cases outside the United States, they don't have access to their military benefits. Miguel's presence in Washington highlights the cruelty of our immigration system," said García.
"I'm so thrilled to have been invited to the State of the Union by Congressman García. This is part of the history of our country and I'm excited to live it. But I also want Members of Congress to know that my story is not unique; there are hundreds of veterans who have been deported. I hope to bring awareness about this situation with my presence in Washington next week," said Perez.
The organization Veterans For Peace "Deported Veterans Advocacy Project" established the Unified U.S. Deported Veterans/VFP Hector Barrios Chapter 182 in Tijuana, 40 yards from the Ped West Border Crossing. It provides services for those U.S. military veterans who have been deported or are in deportation proceedings.
The Deported Veterans Advocacy Project calls for:
Legislation for the U.S. Code to clearly state: "The following shall be nationals, but not citizens of the United States: (1) A person who, by conscription or enlistment, entered any branch of the United States armed forces. This shall be retroactive to service-persons previously removed from the United States."
The Department of Homeland Security to stay the immediate removal of U.S. veterans from the United States
Repatriation: "Welcome our Veterans Home"
Educational outreach programs to the American people and veterans organizations nationally.
The organization Immigrant Justice Network (IJN) who works to ensure that federal immigration reform includes policies that are fair and just, supports the New Way Forward campaign:
The group said in a statement that "to secure the full human rights of all members of our communities, we need a #NewWayForward for immigrant justice—one that ends senseless divisions of "good versus bad" immigrants and recognizes that all communities deserve dignity, restoration, and repair, not further criminalization.
"The Immigrant Justice Network fights for the human rights of all 'communities that are healthy and thriving, not torn apart by unfair and discriminatory policing, incarceration, and deportation."
On Feb. 7, the IJN issued a scathing condemnation of President Trump and right-wing Fox News talk show host Tucker Carlson for their racist fear mongering against the New Way Forward Act.
IJN Coordinator Oliver Marino stated:
"Our country has developed a shameful practice of using the 'criminal' label as a way of stripping people of their rights and humanity, and Black communities and communities of color have disproportionately faced the devastating consequences of this practice.
"The New Way Forward Act would restore fundamental principles of due process and compassion in our immigration system, reduce racial profiling, and help keep families together. It's time to stop criminalizing immigrants and envision our communities free of mass detention and deportation. It's time for a new way forward."
Barbara Russum contributed to this article.