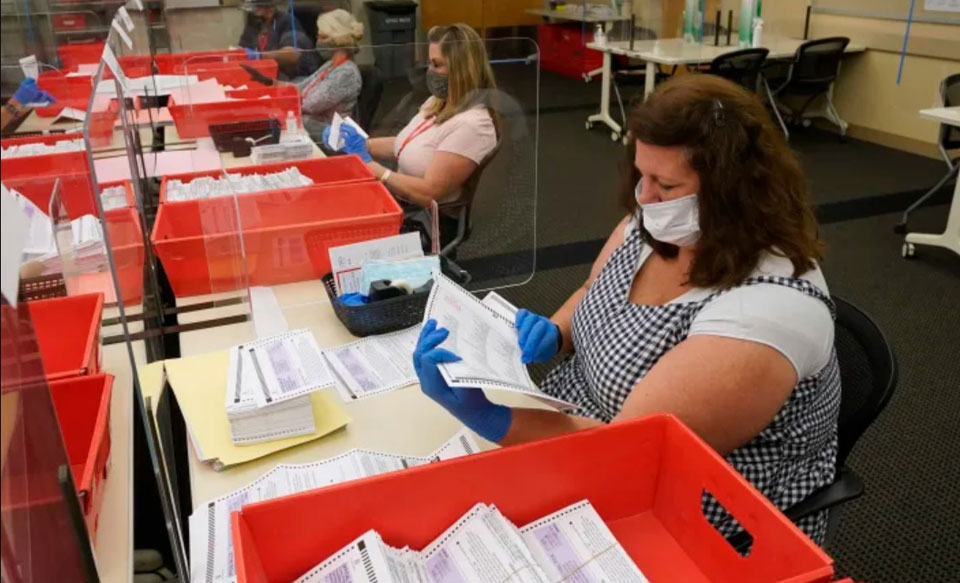 LOS ANGELES —  Efforts to stimulate a maximum voter turnout in the Sept. 14 California recall election of Governor Gavin Newsom are hitting the home stretch. Get-out-the-vote activists are conducting contact-safe voter outreach, holding rallies, writing postcards, door-to-door canvassing, human billboarding at major intersections and thoroughfares, as well as conducting widespread digital and internet GOTV campaigns.
The California Labor Federation has dedicated a sizable budget and staff hours to GOTV efforts. The California Nurses Association, the Service Employee International Union, the Teamsters national union, and the National Union of Healthcare Workers are also hosting large teams of anti-recall volunteers. Advocacy and service groups as varied as Indivisible, the League of Conservation Voters, NAACP, National Nurses United, Planned Parenthood, Sierra Club, Social Security Works, and United Farm Workers are pitching in their personnel and resources.
The recall in principle is a highly problematic idea. It originated a century ago in the Progressive Era, when the governor and legislature saw it, along with the institution of the statewide initiative process, as liberal reforms enabling the citizens of California to get rid of corrupt officials. It was never designed as a substitute for elections, but that is what it has turned into. Recall of the governor worked once before, in 2003, when elected Gov. Gray Davis was unseated by celebrity Arnold Schwarzenegger, who then went on to win the next election on a populist wave.
In short, here's how a recall works: Enough signatures have to be gathered to authorize a recall election, a small percentage of the number who voted in the last election. With enough financial backing and organized manipulation of rage, racism, religion, and faux patriotism, this is not very hard to do. A recall election costs the state over $400 million, even though there is no other item on the ballot and turnout can be anticipated to be low. With sufficient mobilization of right-wing, anti-science, anti-immigrant rage, the first part of the ballot, asking Should Gov. Gavin Newsom be recalled, yes or no, could easily swing to yes.
On the second part of the ballot this year, 46 candidates have entered the race. If the answer to question 1 is yes, to recall, then the highest vote-getter on question 2 wins the governorship and fills out the remainder (about one year at this point) of Newsom's term. Every manner of unqualified, inexperienced kook, nut job and freak is running, some obviously just as a lark. But if the vote goes against the sitting governor, one of them will win. The much publicized Trump-supporting African-American right-wing radio host Larry Elder is polling far ahead of anyone else.
Despite his color, Larry Elder is a stalking horse for white supremacist ideas. In fact, he was a longtime mentor of Donald Trump's policy adviser Stephen Miller and embodies the whole constellation of nativist objections to public health, masks, vaccinations, public education. immigration, reproductive rights, minimum wage, and so forth. If he were governor and if anything happened to Sen. Dianne Feinstein during his term, he could easily appoint a Republican to the U.S. Senate.
Because he made his way up from a South L.A. upbringing and is a marketable media celebrity, he commands a certain percentage of the Black vote, particularly where he is invited into Black churches to speak. He is riding the crest of the Big Lie, claiming that his campaign is all lawyered up to contest a fraudulent recall election. The Big Lie has morphed into the first and last resort for the GOP which faces a diminishing electorate while refusing the modify any of its proto-fascist stances. Most Black voters, however, see through his guise and do not align with him on his hot-button issues.
The widespread disinformation campaign has also been directed at the Latino community, which early on trended in favor of the recall, following the lead of the Catholic Church, led in Los Angeles by Archbishop José Gómez, a Mexican immigrant (and now a U.S. citizen) aligned with the Church's conservative Opus Dei ideology, who has openly championed the duty of the Church to deny communion to President Joe Biden based on the abortion issue. Many Latinos have turned to evangelical churches, whose politics tend to be equally reactionary on any number of issues. The Newsom campaign has invested heavily in outreach to this community and there has been a measurable shift in Latino preferences as the electorate becomes better educated. According to Jean Guerrero, opinion columnist at the Los Angeles Times, Latinos now poll at 66% against the recall, outpolling other pro-Newsom statewide estimates at about 58%.
Both campaigns are spending heavily, especially through social media outreach in areas such as South L.A., heavily Black and Latino, and Orange County, with its large Latino population, in a contest for votes. The state's, and one of the nation's leading Spanish-language newspapers, La Opinión, has editorialized against the recall.
So: Gavin Newsom could narrowly lose question 1 by, say, 49.5% to 50.5%, yet the next governor of California would be someone who comes in first among 40+ candidates on question 2 at, say, 12%. This is the GOP hope: To unseat a sitting Democrat and replace him with a Republican not by a timely, legitimate election (which the GOP has not won for decades for any statewide office), but in an emotion-driven frenzy that leaves most voters scratching their heads wondering what this is all about, and many will effectively boycott by sitting on their hands.
Many constitutional scholars and government reform advocates have assailed the recall process as having turned into the opposite of what it was originally meant to achieve, not a tool of popular democracy, but a cynical tool for a kind of electoral putsch circumventing the will of the voters, even when no specific crime or malfeasance in office has been legitimately claimed.
Chris Hayes on MSNBC (Sept. 7) featured a number of experts addressing "the insidious, evidence-free movement to undermine elections everywhere."
A wide array of national leaders and community organizations have also mobilized to defeat the recall. President Biden and Vice President Kamala Harris publicly oppose the recall. Nationally known progressive figures such as Dolores Huerta, Senator Bernie Sanders, Senators Elizabeth Warren, and Alex Padilla, and Rep. Maxine Waters are strong Newsom supporters.
A Change Research poll conducted August 22-25 shows a 57%-42% anti-recall result and points out how Democratic voter support is over 90%, with growing turnout compared to the GOP. FiveThirtyEight.com gives its A rating to Survey USA's latest polling of August 26-28, which shows 51% of likely voters against the recall and 43% for it. These polls indicate the possibility that the recall may be defeated by only a narrow margin. The massive anti-recall mobilizations indicate the possibility that there will be a higher voter turnout than expected.
In a September 1st special national Zoom call of activists and organizers opposing this recall, keynoted by California Democratic Party Chair Rusty Hicks and renowned labor and community organizer Fred Ross, speakers and participants networked and strongly emphasized intensifying the mobilization. All agreed on the need to reach out to families, friends, neighbors, co-workers, faith networks, fraternal and social organizations, colleagues, internet friends, etc., as part of this all-out effort. A vote of 60% or more against the recall would represent a smashing rebuke not only against the attempt to replace Newsom but against the whole idea of using this mechanism to install a stealth replacement.
Defeating the recall is possible but only if the largest possible electorate turns out. Defeating the recall will expose the Republicans' distortions—their hypocritical waste of hundreds of millions of the people's dollars to conduct this special and unnecessary election a year before the regularly scheduled gubernatorial election, and diversion of people's political attention from urgent matters such as the Delta variant surge of the pandemic and the wildfires that are devastating vast areas around the state and have closed the state's National Parks for two weeks.
This recall election is a diversionary tactic, a vehicle driven by the state's Republicans who are trying with this recall to unseat a popularly elected Governor. It cannot be allowed to win in California: That would signal how vulnerable any progressive anywhere could be up against the onslaught of this kind of money and focus. People all over the country are being urged to call and text into California, to friends and relations there, expressing their concern for the state.
It is no time for complacency.
Sites with vital recall election information include the following: CALIFORNIA LABOR FEDERATION, NO ON THE ANTI UNION RECALL, NATIONAL NURSES UNITED, STOP THE REPUBLICAN RECALL, and COURAGE CALIFORNIA. The United Farm Workers social media has material for reposting on Facebook, Twitter,  Instagram, and TikTok.
Election Day is Sept. 14, but voters can mail in their ballots or drop them off at numerous official drop boxes all over the state. Be wary, though, of privately sponsored drop boxes, in taverns, churches, veterans' halls, where private citizens with questionable political allegiances have access to your ballot before it is turned over to the election board.
If you have already voted, get others to vote NO on the recall. Use the links in this article to join with labor, with the official recall campaign, or with community and advocacy groups in California to phonebank, textbank, precinct walk, and other activities to defeat this attack against a working people's agenda.
The struggle to promote the issues people need passed, such as labor rights, voting rights, climate justice, single-payer health care, immigration rights, and reproductive rights—all this is on the ballot. Defeating this recall will also position progressives better, in California and throughout the nation, to achieve victories in the 2022 midterm elections.
Sí se puede!