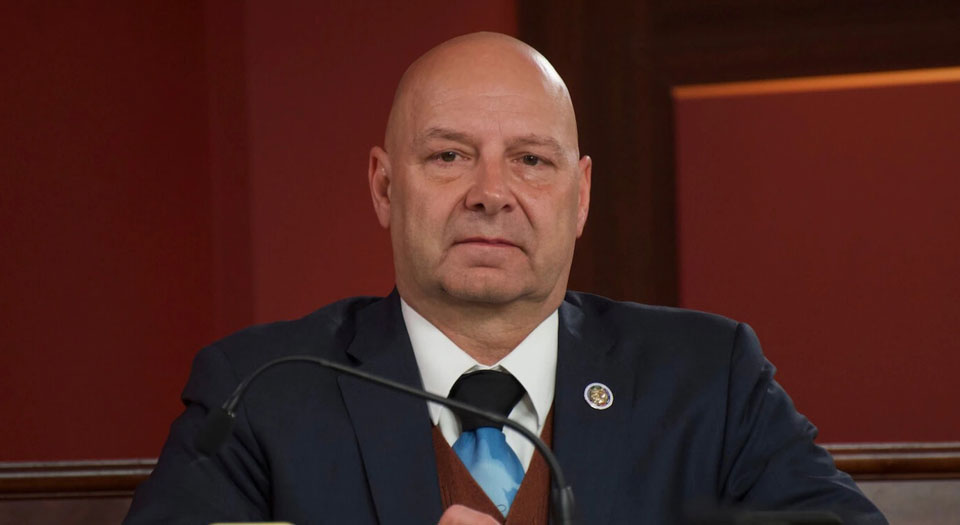 ERIE, Pa. – He thinks women who have abortions should be charged with murder. He believes the constitution says that the state legislature, not the voters, has the right to choose the president. He's worn a confederate uniform, at Gettysburg, the place where tens of thousands died defending the right of the United States to exist against a Confederate army determined to destroy it. He denies that Joe Biden is the legitimately elected president and parrots Donald Trump on a variety of conspiracy theories. Advocating the destruction of the constitutional wall between church and state, he and prominent supporters claim the U.S. was founded as and must always be a "Christian" nation and governed accordingly. These are the beliefs and practices of Doug Mastriano, the Republican nominee for Pennsylvania governor, and his policies will wreak havoc not only on the state, but the country as a whole, if he is elected.
The Trump-backed candidate touts himself as a standard-bearer for freedom and religious liberty, but his aims are cruel-spirited and threatening to women's rights and democracy itself. He has been cited as one of several figures complicit in the rise of Christian nationalism, and he is part of an effort in at least nine states to introduce laws that will make GOP state legislators the deciding factor in who wins elections.
These legislative bodies, especially those that are Republican-controlled and are in swing states, could also try to cancel election results if their preferred candidates don't win. He was the man responsible for the inception of an "Election Integrity Commission" in Pennsylvania, many months before the last presidential election, that devised some of the anti-democratic measures now being implemented throughout the country. Mastriano, therefore, presents a danger on many levels, and the 2022 elections may be the final chance to stop him and those across the country enacting his policies.
In a nation where democracy is still licking its wounds after the Jan. 6 attack on the U.S. Capitol, and while the attack continues with election deniers running for office in many states, the possibility that someone like Mastriano will move into the governor's mansion is a bad omen for the preservation of basic, hard-fought rights. This holds true for the rights of U.S. citizens to vote, and the right of women to control their bodies, both of which are being mercilessly assailed by the right wing. That Mastriano would run roughshod over both these things is evident in his own words; he has claimed that "Republicans are in a death match with Democrats," and added, "If you call for a death match with your political opponents, you cannot be surprised when people turn to violence."
Mastriano's rise to power in GOP circles in Pennsylvania is relatively recent. During the 2020 election he was a Republican state senator from Gettysburg, where he had just run for office for the first time.
Since the pandemic he has organized rallies against mask mandates and against almost all public health campaigns. A government-backed vaccination program, in his eyes, is "autocratic control over our lives."
He is a key leader of the Stop the Steal campaign in Pennsylvania and, since the period right after the 2020 election, has met frequently with Donald Trump.
He likes to mix his brand of white Christian nationalism with his right- wing politics and he organized busloads of people to go to Washington to attack the Capitol on January 6, 2021. "I'm really praying that God will pour His Spirit upon Washington, D.C., like we've never seen before," he said in the leadup to the insurrection. His combination of racism, white nationalism, and the belief in a Christian theocracy fueled the insurrection and much of the anti-democratic conspiracy theories that have continued since then.
No problem employing violence
The right-wing Christian nationalists have no problem employing violence in their political activity. It's historically been a key method of operation that they employ. They practiced violence throughout the Jim Crow years with the Ku Klux Klan, they did it to assault the civil rights movement, and they did it with impunity when they lynched thousands of African-Americans. It wasn't unusual in much of the 20th century for a Sunday church service in the South to be followed by a picnic featuring a lynching.
In the 1980s Mastriano was in the military in what was then West Germany. He saw the Cold War as a spiritual campaign where, in his view, the "good" West was battling the "evil" communists and atheists.
In 1991, Mastriano was sent to Iraq to fight in the Gulf War. He believed that he was on the front lines of an epic religious battle against radical Islam. Thinking himself a modern-day Paul in the New Testament, he said that God sent thunderbolts down over him in the desert of Iraq, enabling him to survive overwhelming odds against a huge Iraqi army he faced; it's a story he's told numerous times. He also attributed his survival to "spiritual warfare" his wife was allegedly waging back in Pennsylvania. (She was leading right wing prayer groups for his "victory over evil on the battlefield.")
As alarming as this all sounds, there is some hope on the horizon. Current polling shows that Mastriano faces quite a challenge if he wishes to beat Democratic opponent Josh Shapiro. Out of 1,000 likely Pennsylvania voters, the Democrat is in the lead with 50.6 percent support as of Sept. 30, while Mastriano has 40.5 percent. This marks an extension from the three-point lead Shapiro had over Mastriano in August, to ten points.
At a speech in Chambersburg, Shapiro spoke to the crowd about the dire implications, should Mastriano win, remarking, "This guy is the most dangerous, extreme person to ever run for governor of Pennsylvania and by far the most dangerous, extreme candidate running for office in the United States. My opponent sided with an angry mob, marched to the Capitol, breached the police lines, and he did so with one purpose: he didn't want your votes to count. He's a traitor."
What we see happening here in Erie helps explain the hard time Mastriano is having in the polls. Many are raising their voices to remind people of the importance of their votes; of how vital it is that they exercise their democratic rights in the face of what Mastriano could do.
Jim Wertz, writing for Erie Reader, noted that "Mastriano was one of the first and loudest election deniers, having spent the previous five years as a MAGA hat-wearing shill for the former president, and has since stated publicly that he would have the right to de-certify election machines in select counties across the commonwealth if he does not agree with the outcome of the 2024 presidential election. If Mastriano were governor, you can rest assured that many of those challenged voting machines would be in so-called swing areas like Erie County."
Erie resident Patricia Turk commented on Mastriano's association with and apparent support of violent conspiracy theorists, stating, "We must never let a QAnon supporter in the governor's mansion of Pennsylvania, or any elected position ever again."
"We really need voters to be paying attention to how dangerous it is to have someone in a position like the governor who does not believe in the elections or in our system, who has cast so much doubt on the 2020 elections and would be in a great position of power," said Lizzie Ulmer, senior-vice president for communications at States United Action, a group that tracks election-denying candidates in the U.S. "It just goes to show how prevalent the far right and the big lie supporters have made this issue. It's so wild to think about. They really are campaigning, raising money, and generating a lot of interest and support from carrying this thing forward."