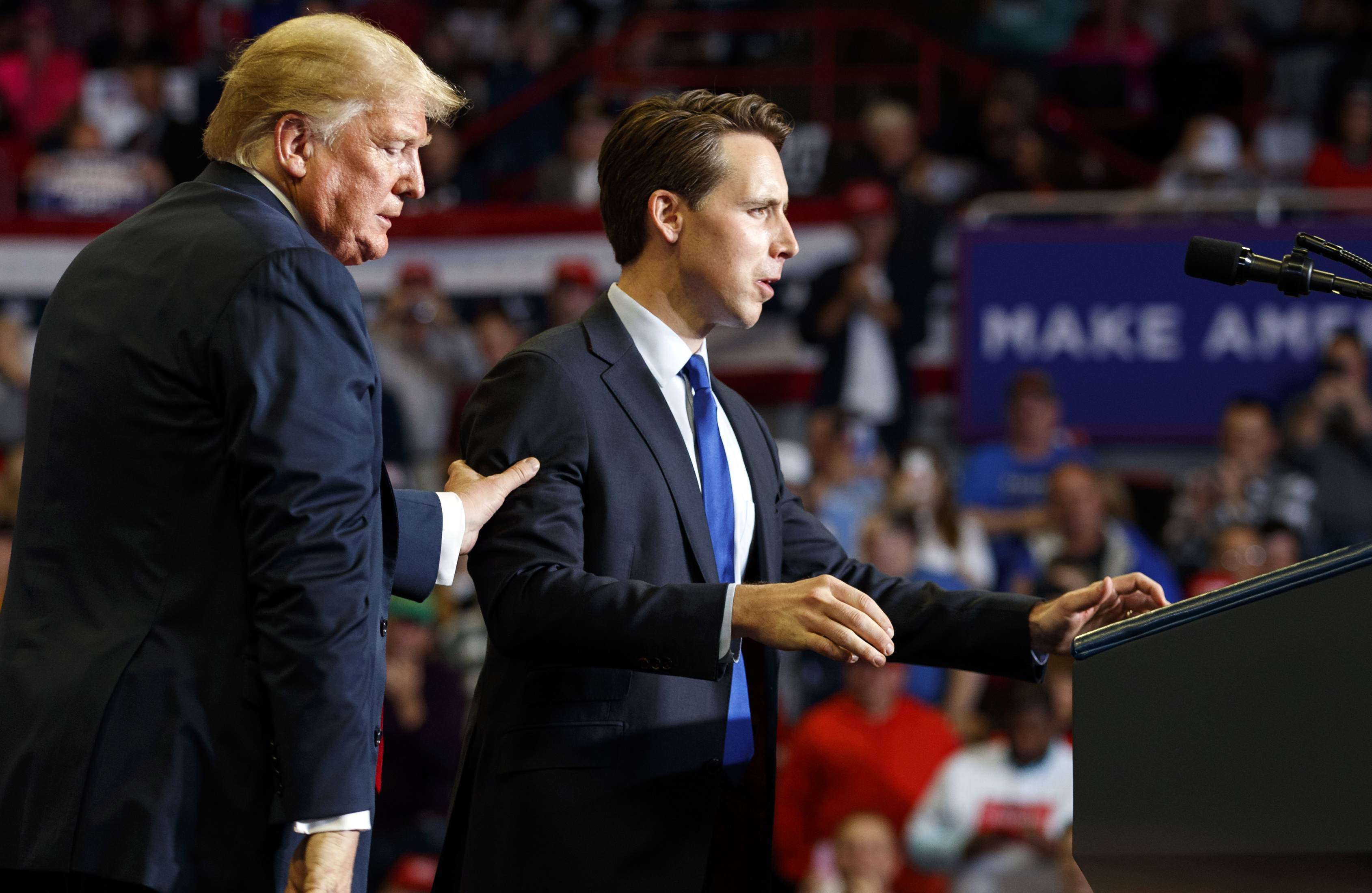 In yet another attempt to overturn the results of a free and fair election, Republican Sen. Josh Hawley of Missouri announced Wednesday he will object on Jan. 6 to the certification of the Electoral College vote.
Both houses of Congress meet that day to carry out their constitutional duty of certifying the Electoral College results which are based on the popular vote in the states. The senator's objection assures that both houses of Congress will have to conduct lengthy debates on the measure. For the challenge to work, it must be approved by both houses.
Democratic Illinois Sen. Dick Durbin said on MSNBC Wednesday morning that he did not know how the Senate would vote on the challenge but that he was confident it would not be accepted in the House. Republicans have a majority in the Senate but not in the House.
In addition to the delays, the move will expose to the world how a major political party in the United States has lawmakers who have no problem with overturning the results of a democratic election.
The expected national disgrace for all the world to view has already potentially been made worse with outgoing President Donald Trump's call for turning Jan. 6 into a "wild day" of protest against the Biden certification. The Proud Boys, a right-wing extremist group Trump has urged to "stand by," have been holed up for several weeks now in Washington hotels, presumably ready to respond to Trump's call.
Democratic Sen. Chris Murphy of Connecticut went on national television Wednesday to blast the latest move to overturn the election, calling it a "serious threat to democracy."
"They may not succeed this time in overturning a free and fair election, but they can very well succeed in doing this down the line, possibly in two or four years from now," the senator warned. He said it was outrageous that the only election results some will accept are when Republicans win.
In order to force debate on certification, someone in the House has to object, followed by at least one senator.
Hawley is the first senator to say he will object to the process, joining fellow Trump sycophant Rep. Mo Brooks, R-Ala., in this latest attack on democracy.
Hawley says that if Congress does not vote to certify the election immediately, it should set up an investigation before it finally certifies the results. "At the very least, Congress should investigate allegations of voter fraud and adopt measures to secure the integrity of our elections," Hawley said. "But Congress has so far failed to act."
The Justice Department and election officials from coast to coast have found no evidence of fraud, despite Trump's false claims that it was rampant. The review in Georgia of the signature matches on ballots with those on file also turned up no evidence of fraud.
Under federal law, if one House member and one senator object to the returns from any state, then the certification process pauses while each chamber separately debates the objection. Each body then votes whether to accept or reject the electoral votes in question.
Trump has attacked Republican leaders in the Senate for not backing his unsubstantiated claims of voter fraud. Despite every state having certified its election results and the Electoral College votes having been cast accordingly, making the Biden win official, Trump has refused to concede the election.
Hawley said his objection raises several "critical issues," among them a false claim that Pennsylvania failed to follow its own election laws.
Notably, the Supreme Court rejected a request, based on that lie, from Pennsylvania Republicans who sought to overturn Biden's win in their state.
It was one of nearly 60 lawsuits filed by Republicans that were tossed out of court by judges, some of whom were appointed by Trump himself.