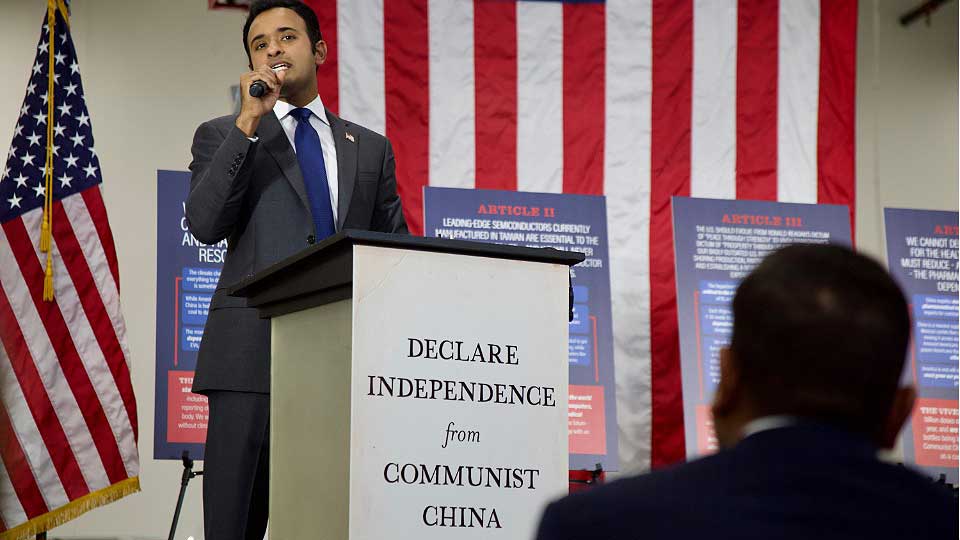 NEW ALBANY, Ohio—There are more than a few themes that excite a contemporary Republican crowd in Central Ohio: opposing "big government," calling out "woke" culture and denying election results among them. Right-wing Ohioan Vivek Ramaswamy doesn't stray from this template. During his September rally in New Albany, the biggest applause followed lines about being pro-capitalism, anti-gender studies, and diametrically opposed to the very existence of China.
Outside of Axium Plastics, where Ramaswamy held his rally, signs lined the sidewalk with quotes reading "reverse racism is racism" and "the nuclear family is the greatest form of governance known to mankind." The mostly older, white crowd approved of these treatises and seemed eager to receive the message crudely printed on the candidate's short podium: "Declare independence from Communist China."
Ramaswamy's hourlong speech largely centered on his policy ideas and conspiracies about China. He called for an economic decoupling from China and blamed the Communist Party of China for killing Americans through the production of fentanyl. He also hinted that China would poison our medical supplies.
The crowd was largely quiet save for the few sprinkled quotes that rallied applause and occasional head nods; quotes such as, "I am an unapologetic defender of true capitalism as the best system known to man," or when Ramaswamy called for defense industry independence so that when the U.S. gets "in an armed conflict with China" the weapons "do not actually come from China."
The rally is just the latest in a wave of anti-China rhetoric coming from the political realm. But far from being a simple extension or escalation of the movement, Ramaswamy provides a unique case of Columbus, Ohio's increasing relevance in the developing new Cold War against China. He joins the ranks of Mark Kvamme and JD Vance in connecting tech finance capital with right-wing politics in the Silicon Heartland.
Ohio reactionaries at Yale
Ramaswamy was born in Cincinnati and raised by parents who immigrated to the U.S. from India. Originally from the state of Kerala, which is run largely by the Communist Party of India (Marxist), Ramaswamy's parents are Brahmin, the highest caste in the Hindu hierarchy. Ramaswamy was radicalized for the right not by his parents, however, but by his conservative piano teacher.
Ramaswamy was a libertarian throughout college. His experience at Ivy League schools and internships at major investment firms molded him into a capitalist who claimed he wanted to do good. He made his money trying to bring to market an Alzheimer's drug, but it instead became known as a pump-and-dump scheme when a PR storm resulted in $315 million being invested into the IPO before the clinical trials failed. As a result, the stock price plunged, losing 75% of its value in a single day in September 2017.
As so many other conservatives did, Ramaswamy refused to address the 2020 death of George Floyd. In his book, Woke Inc., he wrote that instead of being concerned with America's police killings and the world's largest prison population, he was more concerned with "China's persecution of its Uighur population."
Following the attempted January 6 coup, Ramaswamy wrote an op-ed arguing that Trump shouldn't be banned from Twitter. This, combined with other right-wing views for which he became known, caused members on the advisory board of his company, Roivant, to resign and eventually led to Ramaswamy stepping down as CEO.
During his time at Yale, Ramaswamy met Vance and Silicon Valley mogul Peter Thiel, the right-wing finance capitalist who wrote in his 2009 libertarian manifesto, "I no longer believe that freedom and democracy are compatible." Ramaswamy now runs the Columbus-based firm Strive Asset Management, which seeks to compete with BlackRock and was heavily funded by Vance and Thiel.
Ramaswamy's flavor of right-wing capitalism is one that claims "woke" ideology is actually making corporations less profitable. His biggest target is BlackRock, even though less than 6% of the firm's investments are in "dedicated sustainable investing strategies."
The reality is that corporations only invest in "woke" ideals like sustainability and diversity if it doesn't challenge their profits. BP and Shell have both drastically scaled back on their environmental promises, with Shell CEO Wael Sawan saying, "Absolutely, we want to continue to go for lower and lower and lower carbon, but it has to be profitable." Some states, like Oklahoma, Kentucky, and Texas, have already made it illegal to divest from fossil fuels and firearms.
Ramaswamy said he sees affirmative action as "the single biggest form of institutionalized racism in America today." But he himself received a George Soros-founded, post-grad fellowship—this despite claiming he was already a millionaire at the time in 2011. His campaign paid someone to delete this information from his Wikipedia page.
The Cold War in the Silicon Heartland
That Ramaswamy spoke at Axium Plastics in New Albany—just down the street from a soon-to-open Intel plant—is a testament to how important the region is becoming for a new propaganda and economic war against China. Both the GOP and the Democratic Party see it as a shining example of what can happen when tax dollars subsidize big tech companies to bring back manufacturing.
President Joe Biden broke ground on the construction and often lists the jobs the plant will generate as an achievement of his administration. Right-wingers like Ramaswamy see the plant as a good first step but call the CHIPS Act that funds these kinds of projects a radical part of a Green New Deal boogieman. Both parties opportunistically view the project as an anti-communist tool to provide evidence that capitalism is the better system, even while relying heavily on federal handouts to corporations.
It also should be noted that one of America's largest military supply centers is located in Columbus. The Defense Supply Center Columbus (DSCC) in Whitehall employs 8,000 workers and is essential to the military supply chain. Columbus will soon be instrumental in supplying both the computer chips and the weapons for a new Cold War against China.
As I stand in the back of the rally, I saw two heads nod quietly in agreement with Ramaswamy's conspiracy about China's threat to the U.S. medicine supply. Even so, he along with every other challenger has been buried by the frontrunner, Donald Trump. While it's unlikely Ramaswamy will find his way to the presidency in 2024, his political program is being studied by other Republicans in the field, and he could look to run for a state position such as governor.
Ramaswamy's red-baiting, hyper-capitalist ideology is becoming more common among Ohio's rising political right wing, the stars of which are all too often of the very class of Ivy League millionaires they claim to detest.
This article originally appeared in Matter News. It is reprinted here with permission.