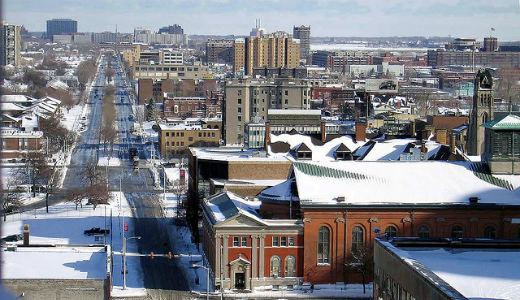 DETROIT – Is a state dictatorship, via a governor-appointed emergency manager, coming to Detroit? That is the danger as the state continues to review the city's finances.
What is outrageous is that while banks, auto companies and the state of Michigan itself have all been bailed out with taxpayer money, Detroit has not received bailouts from anybody and it alone is accused of being fiscally irresponsible.
That outrage was clearly visible at a Monday rally of some 2,000 Detroiters opposing the emergency manager threat. The rally was called by Congressman John Conyers, D-Mich., and Detroit City Councilwoman JoAnn Watson.
Conyers called emergency managers a "dictatorial ruse for the government to take over and suspend democratic management." He warned that Michigan Gov. Rick Snyder's appointing of such managers is a test case being watched by his fellow Republicans throughout the nation. Conyers said he would be making a report to President Obama and U.S. Attorney General Eric Holder regarding the danger.
Referring to Obama and Holder, Conyers – who was first elected to the U.S. House of Representatives in 1964 – said he had a "closer relationship with the 44th president and his attorney general" than he has ever had with anybody in those positions.
In his report to the president and attorney general, the congressman may want to note the hypocrisy of Michigan Republicans.
While tea partiers and other Republicans badmouth the president for stimulus spending, the state of Michigan took $220 million (at least) in revenue-sharing money it was supposed to give to Detroit and instead applied it to the state's own debt. State Treasurer Andy Dillon even admitted to this on Tuesday during an interview on the local Mildred Gaddis radio show.
In other words, the state of Michigan would be broke if it hadn't bailed itself out with federal money. It should have given some of that money to Detroit, which would keep Detroit out of its current deficit. The state lives on handouts from the federal government but accuses Detroit of being fiscally irresponsible. The Republican-controlled state administration is covering up its own fiscal irresponsibility by using money intended for the city. It is perpetrating fraud and theft on Detroit to take the city's assets. A similar crime is currently being carried out in nearby Pontiac, another blue-collar Michigan city suffering hard times.
What fakery by Michigan Republicans, using federal monies to bail themselves out while at the same time criticizing President Obama for sending stimulus money to the states! Hypocrites, spendthrifts and con-men, that's the Republican Party, who represent the 1 percent against the 99 percent.
Furthermore, a fiscal crisis does not cause a threat to the public's health, welfare and safety, the protection of which are the purposes of government in America. It is the cutting of public employee's jobs and benefits that is already under way in Detroit that causes a threat to public health, welfare and safety.
Also the city of Detroit pays millions on its debt service to Wall Street banks. They are the same banks that were bailed out with taxes collected from Detroit's residents. Cutting Detroit's debt payments to the Wall Street 1 percent would go a long way to abating the fiscal crisis here.
I say prioritize public welfare over corporate welfare!
Photo: palsule_mahendra // CC 2.0