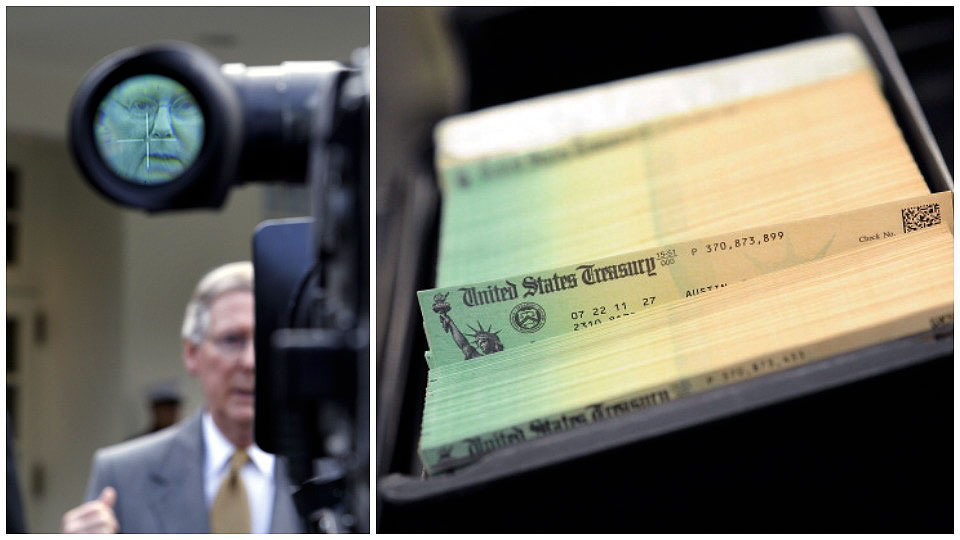 With Republicans scrambling to block emergency economic assistance to millions, the Democratic-led House of Representatives is moving quickly to approve the $1.9 trillion American Rescue Plan (ARP) this week. The measure, which links the pandemic, economic crisis, and racial justice, then goes to the Senate. The Democratic majority is expected to pass it via the budget reconciliation procedure. A simple majority vote is required for passage.
The ARP is widely popular among the American people, including Republican voters, and has strong support from Democratic and Republican governors and mayors. However, the GOP opposes the bill, including survival checks and extension of unemployment benefits. They will have to defend their actions in the 2022 elections.
The measure adheres closely to what President Joe Biden has been advocating since the election when he began closely consulting with Democratic congressional leaders on its contents. However, the narrow Democratic majority in the Senate and differences on a handful of issues among Democrats will result in some changes.
Biden has repeatedly stated the danger "is not going too big, but too small" on the legislation's scope. Biden, Democrats, and allied organizations drew bitter lessons from going too small during the 2009 Great Recession, so they are stringently rejecting efforts by the GOP to radically reduce the bill's scope. "What would you have me cut out?" asked Biden, running down a list of essentials.
The ARP reflects the belief the U.S. economy is in a precarious state. Millions are unemployed, with higher rates among African Americans and other workers of color and women. One in seven Americans, including one in five African Americans and Latinx people, are suffering from hunger, and cities and states are on the verge of bankruptcy.
The administration estimates massive investments from the ARP will lift 12 million people out of poverty, including eight million Black, Latino, and Asian Americans, by targeting economic, education, and health care assistance.
The bill rejects GOP policies of austerity and trickle-down corporate tax breaks by affirming the need for robust federal, state, city, and tribal governments to deal with multiple mega crises by allocating $350 billion to these entities. The results of years of GOP attacks and defunding of government and the public sector are vividly playing out in Texas.
For example, to ensure an equitable distribution of the vaccine, especially in communities of color, the bill bolsters public health funding with $14 billion for vaccines and $20 billion for community vaccination programs. This includes financing for mobile vaccination clinics and the use of community centers. It funds $46 billion for testing, contact tracing, and mitigation efforts and $7.6 billion to hire 100,000 public health workers.
Finally, the ARP restores essential pandemic and economic relief rejected by the GOP in December. It includes aid to cities, states, and tribal governments, and $1,400 survival checks for individuals with incomes of $75,000 or less and couples with incomes of $150,000 or less and $1,400 for children and adult dependents. A family of four with income less than $150,000 in either 2019 or 2020 would receive a $5,600 payment. Many Democrats and allies feel the survival checks should be the full $2,000 promised during the election plus the $600 passed earlier and will continue fighting for it.
The bill provides an extension of supplemental unemployment benefits of $400 (increased from $300) per week through August 29. Unemployment benefits are extended to gig and contract workers and self-employed also through August 29.
The Pandemic Unemployment Assistance program's duration would be extended up to 74 weeks, from 50 weeks, and the Pandemic Emergency Unemployment Compensation program to 48 weeks, from 24 weeks.
Other critical aspects of the ARP include:
A $15 minimum wage, phased in by 2025. However, its passage depends on the support of every Democrat. Sen. Joe Manchin (W.V.) recently announced his opposition.
A Child Tax Credit, a potentially transformative idea that came directly from Democratic Congressional members: $3,600 for a child under 6 years old and $3,000 for children 7-17 years old, increasing over the $2,000 per child up to 17 years old. Parents have the option to receive monthly checks.
The bill triples the earned income tax credit, increasing after-tax incomes. Expanding the Child Tax Credit and tripling the earned income tax credit are projected to reduce child poverty by half.
The measure provides for an extension of the 15% increase in SNAP (food stamps) benefits through September, and $880 million for the Women, Infants, and Children's (WIC) nutritional program. Money is allocated for parents whose schools close in the summer for free and reduced lunch programs.
The bill allocates $29 billion for rent and utility costs and mortgage payment assistance. Biden already extended the moratorium on evictions and foreclosures by executive order until the end of June 2021. Another $11 billion is provided in housing counseling and homeless services.
The ARP allocates $130 billion for re-opening K-12 schools safely, including making buildings pandemic-proof, protecting teachers, and preventing staff layoffs. $40 billion is allocated for universities, half of which goes to emergency financial aid for students and $39 billion for child care providers, including salaries, rents, and supplies.
The ARP caps the cost of health care through the Obamacare marketplace at 8.5% of one's income. It eliminates premiums for some low-income workers receiving unemployment benefits. It subsidizes premiums for those who make 400% of the federal poverty level. The bill covers 85% of the premium under COBRA and expands matching Medicare grants to states by 5%.
The ARP provides $15 billion in loans to small businesses, $25 billion in grants to bars and restaurants, including payroll, mortgage and rent, utilities and food and beverages, and $25 billion for the Paycheck Protection Program and makes more non-profits eligible.
The ARP would reinstate paid sick leave that expired at the end of 2020. The bill provides up to two weeks of full wages for workers who become ill, are quarantining, or taking measures to prevent themselves from getting sick. The bill also provides 12 weeks of emergency child care leave.
Passage of the ARP is critical for defending and consolidating the 2020 election victory. But it's only a start. Enactment of Biden's ambitious Build Back Better plan for green energy and infrastructure jobs, the Pro-Act, immigration reform, racial and climate justice, and electoral and voting rights reforms are essential to maintain the unity of the coalition that elected Biden and Kamala Harris and expand its reach.