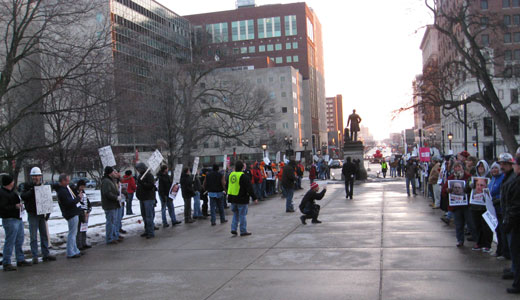 LANSING, Mich. – Before they were sworn in this morning, legislators got an earful as they approached the Capitol. Angry about the "half baked" bills Republicans rammed through the lame duck session, hundreds lined the sidewalks to greet the lawmakers, forcing them to walk what the State AFL-CIO called a "Walk of Shame."
Angry about a range of GOP measures, from a "right to work" law to attacks on women's reproductive rights, Michigan AFL-CIO President Carla Swift declared: "Gov Snyder needs to be working for the people of Michigan, not the corporate special interests."
She warned Republicans that their lock on state government would be short-lived. "The people want to take back their state in 2014," Swift said, "People want to see their interests represented, not the big corporations and the 1 percent. We want an economy that works for the people of Michigan."
Kelly Brunk, a nurse for ten years at Sparrow Hospital, said, "We want to show we are here and not going away." Looking ahead to the 2014 elections she said of the Republicans: "Their days are numbered."
Sondra Simmons of United Auto Workers Local 602 said, "We're not happy with what happened during the lame duck session and we're not going away. Every time they meet we'll be here." She said she would be alerting her membership to the importance of the 2014 elections. "If they didn't realize before how important it was to vote, they know now."
One union leader said it was easy to pick out the Democrats from the Republicans as they passed by on their "walk of shame."
"The Democrats smile. The Republicans won't even look you in the eye," said Penny Gardner, president of the Union of Non-Tenured Track Faculty, American Federation of Teachers, Local 1855, at Michigan State University.
Gardner described how one of the passing Republicans had said: "Why don't you all go out and get a job."
"We're trying to save our jobs," one demonstrator shot back.
Several Democrats addressed the crowd. One was a union member from the Upper Peninsula section of Michigan. Democrat Scott Dianda, a member of the Michigan State Employees Association said, "I work for the Department of Transportation. I get up at three in the morning to plow the roads to make sure people are safe and the economy is working in Michigan."
Lansing Democrat Andy Schor thanked everyone for coming and said, "We are going to get in there and fight."
After the legislators had filed inside, cookies were delivered: whole cookies to those who had voted with labor, crushed cookies, representing the crushed hopes of working families to those who did not.
Photo:John Rummel/PW