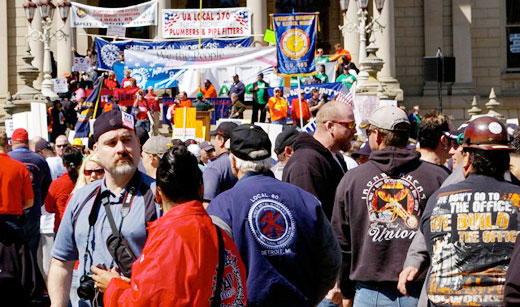 LANSING, Mich. – Proposed changes in HB 5002 will drastically change Michigan's workers' compensation law.
Chris Luty, President of the Michigan State Troopers Association, recently gave testimony about the severe injuries and fractured skull Trooper Drew Spencer incurred during a traffic stop. Because Spencer has a college degree and could "theoretically" work in another profession, Luty said Spencer would be denied workers' compensation benefits.
Others giving testimony last week before the Senate Reforms Committee call it "virtual wages" because there is absolutely no guarantee an injured worker will ever be offered a job – particularly in a state with double digit unemployment – and be paid real wages.
Even someone qualifying for a minimum wage job would see benefit reduced by that amount. Almost every workers' compensation case will now be contested, said one attorney.
Sound unbelievable? Yes it does, but it speaks volumes to the class war Republicans are waging against workers in Michigan.
Most alarming was testimony showing that proponents of HB 5002 are trying to codify what the "activist" Republican-led Michigan Supreme Court is already implementing.
Injured workers gave stark testimony to how court decisions have already resulted in "virtual wages" being used to determine the benefit an injured worker is entitled to receive.
Toni Sikorski is 48 years old and injured her neck and back while working at Beaumont Hospital. Six months later, she was told she could find other work and her benefit was cut in half. Shockingly, it has now been reduced to the paltry sum of $5.87 a week. And now, Beaumont says, they claim they overpaid her and want money back.
She has looked for work, but like others who gave testimony she asked "who's going to hire me now with this disability? I've looked for jobs but I'm seen as a liability."
Michael Czinski is a patrolman who fell and severely injured his wrist so badly that it required three operations and eventually a wrist replacement. The "virtual wages" he might receive doing other work resulted in his benefit being reduced from $630 to $190. "Within three days, my family lost 70 percent of its income. I was in total shock," he testified.
Another major concern about the bill is whose medical provider is responsible for the care of someone injured on the job. Current law states during the first ten days a worker is out, the employer can decide who the medical provider will be. The new legislation greatly expands that number to 45 days.
Since injuries lasting more than ten days are often the more serious ones, sometimes requiring major surgery, workers expressed concern about whether employers might be more motivated to go with the lowest bid, rather than with what is best for the workers.
One of the arguments for the legislation has been that it will save companies money. But Tim Hughes, representing the United Auto Workers Union, asked why the bill was even introduced, since insurance rates in Michigan are lower than in other states, with premium rates having gone down 12 times in the last 16 years.
Hughes was also concerned that HB 5002 will force people to retire prematurely. The auto industry has many who began working straight out of high school and have put in 30 years by the time they are 48. They are eligible to retire but not ready to retire, Hughes said. If they become injured, the pressure on them to retire would be like a "gun to the ribs," because the pension they have not even applied for would be used as income in determining their worker compensation benefits.
Not all who came before the Senate Reforms Committee were against the legislation. The Farm Bureau supported the changes, as did a representative from the Michigan Manufacturers Association. The latter said the changes would make Michigan "more competitive."
Photo: Thousands of workers from across Michigan rallied in Lansing April 18 with a message for the Republican-controlled legislature: "We are the people – protect us, not the CEOs." John Rummel/PW