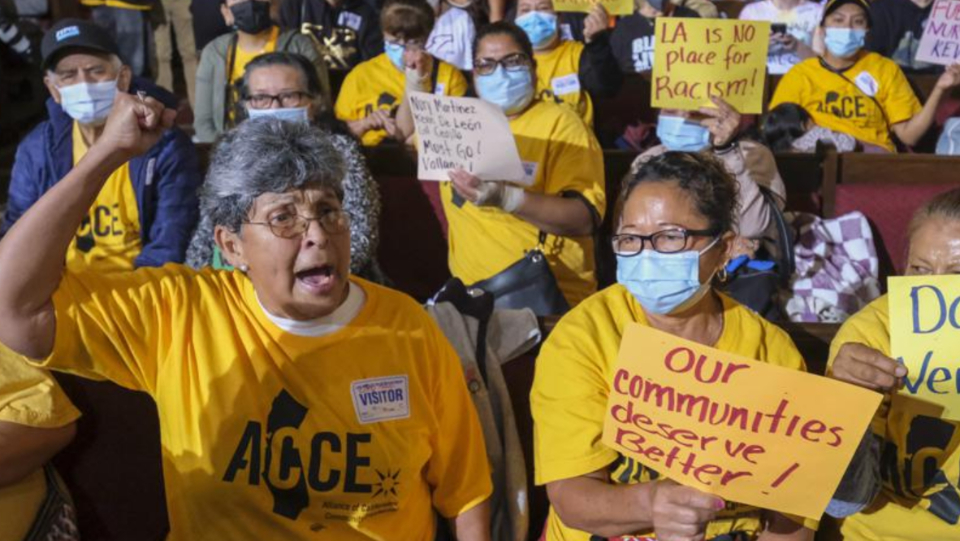 LOS ANGELES—Embattled City Council members Kevin de León and Gil Cedillo are refusing to resign from their seats despite protests and calls for them to step down.
Los Angeles politics was rocked earlier this month when an inflammatory recorded conversation among City Council members Nury Martinez, de León, Cedillo, and union leader Ron Herrera was leaked to the public. The hour-long conversation was riddled with anti-Black, homophobic, xenophobic, and anti-Semitic statements.
Following the audio leak, and the outpouring of public outrage, Herrera resigned as the head of the Los Angeles Federation of Labor, while Martinez—who initially only stepped down from her presidency—fully relinquished her seat on the council a short time later.
Noticeably absent from submitting their resignations, however, have been de León and Cedillo. This has only fueled the anger of numerous political leaders and community activists, who say further accountability is needed before the city can move on from the divisive controversy. Aside from initial short apologies, de León and Cedillo have stayed quiet in the face of the public backlash. While Cedillo will ultimately have to leave his seat at the end of the year due to losing to Eunisses Hernandez in the primary election, de León's current term is not set to end until Dec. 9, 2024.
De León, who represents L.A. District 14, recently broke his silence by giving interviews to television stations Univision and KCAL9. In one of the interviews, he remarked, "I have to do the hard work. I have to repair. I have to help heal. I have to help restore." He claimed his reason for not resigning had to do with representation for District 14, which he argued has been "underrepresented and has gone through much difficulty in the past without political representation." De León went on to state that "they [District 14] do deserve political representation."
When addressing the actual comments on the recording, de León said he "didn't step up and intervene," and that he should have "put a stop to it," when referring to remarks made by former City Council President Martinez.
Missing from de León's interviews was the fact that he not only stayed silent during Martinez's racist remarks, but that he too made anti-Black comments that went beyond just references to fellow Council member Mike Bonin's African-American son. On the hour-long audio, De León compares the political significance of Black people to that of the Wizard of Oz, meaning that their political power and influence is greatly exaggerated.
He also appeared to be misinformed about how elections work, since his words denote that there would be no one else allowed to fill his seat if he were to vacate it.
De León's refusal to step down is not sitting well with many in Los Angeles and beyond, as activists, leaders, and residents continue to demand his resignation.
Following the interviews, Bonin issued a statement rebuking de León's supposed apology:
"Kevin de León's comments are gaslighting of the highest order. He describes cruel, dehumanizing remarks about a child as 'flippant.' He says he should have 'intervened,' as if he were a mere bystander to a racist conversation in which he played a central and ignominious role.
"Kevin de León has the opportunity to atone and seek forgiveness one day from all of Los Angeles, from the Black community, and from my son in particular. But that starts with his resignation from the City Council. No matter what he says today, his comments on that tape make clear he is unfit for office in this city.
"He cannot be part of the healing as long as he refuses to resign. His stubborn refusal to do what everyone else knows [is necessary] is deepening the wound he has inflicted on Los Angeles."
Amidst his interviews, de León also wrote a letter to newly-appointed City Council President Paul Krekorian asking to be excused from council meetings for a number of weeks so that he could "rebuild relationships" and take "professional sensitivity training."
In response to this letter, Krekorian repeated his earlier call for De León's resignation. In an issued statement, Krekorian said he believes "Mr. De León has it in him to be a better person than we heard on that tape, but apologizing is not the same as making amends. We need to show the world that there is no seat for racism, exclusion, and disrespect on the Los Angeles City Council."
California Gov. Gavin Newsom has also now made a public statement calling for the remaining two council members involved in the racist tape scandal to relinquish their seats. Newsom told the Los Angeles Times he had wanted to give the members "space" to make the decision to resign. He stated, "I wanted to provide the opportunity for them to justify…what they said and the opportunity to be transparent about what they said. So, we're hoping and looking forward to [resignation] announcements soon."
On Twitter, Councilwoman-elect Eunisses Hernandez wrote: "There is a lot of work to be done, but you [de León] do not have the credibility to move it forward. You were willing to give up your seat when you ran for mayor. What's changed? Do the right thing Kevin, resign. Your legacy will be your failure to take accountability for your harm."
Hernandez also wrote, "Their [de León and Cedillo's] goal is to ride this out and hope that community demands for their resignations lose steam. I don't think they know the grit and fortitude of L.A. organizers."
Protesters have been holding camp-outs near de León's home in Eagle Rock since the audio leaked, vowing to stay until the council member resigns.
One of the protesters, Melina Abdullah, a co-founder of Black Lives Matter L.A., said: "We're not going anywhere, so I think he thinks him saying he's not resigning is gonna make us go home. That just makes us double down. That just makes us ratchet it up…. We're gonna make it extremely uncomfortable for you [de León] to walk in this city."
A number of activist organizations have kept the camp-outs going, including Black Lives Matter L.A. and the Indigenous women-led non-profit organization CIELO (Comunidades Indígenas en liderazgo). On their official Twitter account, CIELO wrote that the organization is "proud to continue to stand side by side with our relatives [BLM Los Angeles] in calling for the immediate resignation of Kevin de León, along with Gil Cedillo. There's no place in L.A. for anti-indigenous or anti-Black racism."
Rossana Cambron, the national co-chair of the Communist Party USA, strongly condemned the comments of the city council members in a CPUSA "Good Morning Revolution" broadcast on Friday. Describing herself as veteran of the fight for Latino representation, she called the remarks disgusting and joined the call for the resignation of the remaining council members.
"They really should all resign at this point to rebuild the trust among all our communities," Cambron said. She went on to emphasize the united response from all segments of the progressive coalition—including Latinos—that are a powerful force in L.A. politics. "These council members have not split our communities," she said. "Our brown brothers and sisters came out right away and said, 'They don't speak for us.'"
Cambron pointed to the solidarity that many Latino organizations have shown with the Black, Indigenous, and other communities. "The unity continues," she said.
Protesters have been showing up at City Hall to demand the resignations, as well. They were not allowed inside the building on the day the City Council (minus Cedillo and de León) elected Krekorian president.
While there are some de León supporters who are fine with him staying in office, the majority of residents seem to believe the best road forward is for the council member to quit now. The initial audio laid plain the divisive sentiments held by the four individuals involved, yet it is the two remaining council members' refusal to step aside that may do the most damage.
By de León refusing to resign—and seemingly appealing to his Latino constituents to support him—he is potentially causing a further wedge when it comes to the unity of the Los Angeles working class and the attempt for a stronger Black and brown coalition.
By implying that without him holding office Latino representation will be hindered, he has promoted the idea that anyone who demands he resign is directly causing harm to Latino political power. He is attempting to equate the survival of his own political career to the political survival of the Latino community.
De León, in his bid to hold onto political significance, is portraying himself as a necessity for progress in Los Angeles—but the claim doesn't hold true. The amount of energy going towards (rightfully) demanding accountability of the remaining council members is being diverted from the crucial midterm elections that are now upon us. This is, yet again, another harm de León and Cedillo's refusals to step down are causing.
De León may have been part of some progressive measures in the past, but one person alone is not the savior of a movement or a people—especially not one that has participated in racist, divisive, and self-serving political maneuvers. The pressure from the community continues to bear down on the disgraced council members. The question that remains is whether they will listen.