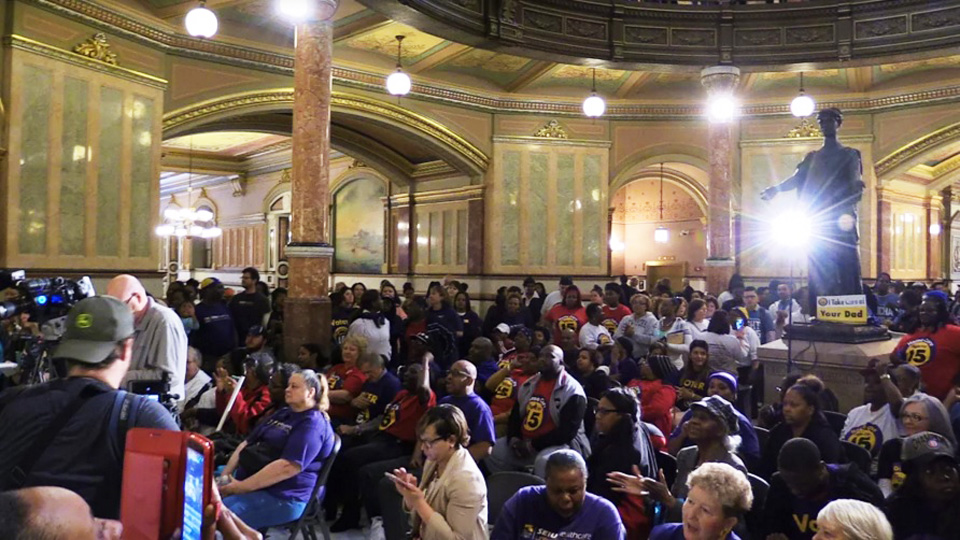 SPRINGFIELD, Ill. – On Tuesday, hundreds of people gathered for a rally at the state capitol to lobby the Illinois House of Representatives to raise the minimum wage to $15. The action was led by a multi-generational coalition consisting of the Service Employees International Union (SEIU), Illinois Alliance of Retired Americans (IL-ARA), Steel Workers Organizing Active Retirees, Nabisco 600 and many others.
Raising the minimum wage would impact the wages of a diverse swath of industries including fast food and home care workers.  In Chicago, the current minimum wage is $10.50 and will steadily increase until 2019 until it reaches $13 an hour. However, the rest of the state's workers labor under a minimum wage of only $8.25 an hour.
Even with the higher minimum wage in Chicago, however, workers are still struggling to get by. Kimberly Smith is a Certified Nursing Assistant (CNA) patient care technician from Chicago who struggles to keep up with bills and feed her children. "Am I paying a light bill or am I going to buy my child something to eat," asked Smith.
Even though Smith is a skilled professional, she can barely afford to live in Chicago at the current minimum wage.
"To know that your children can ask you for a 97-cent matchbox car and you can't even afford to do that, that's a hurtful thing as a parent and as an adult period. To know that I'm going to school and I've gotten a job that I had to go to school to acquire and I still don't have a livable wage."
Below is an interview with Smith and others at the Capitol.