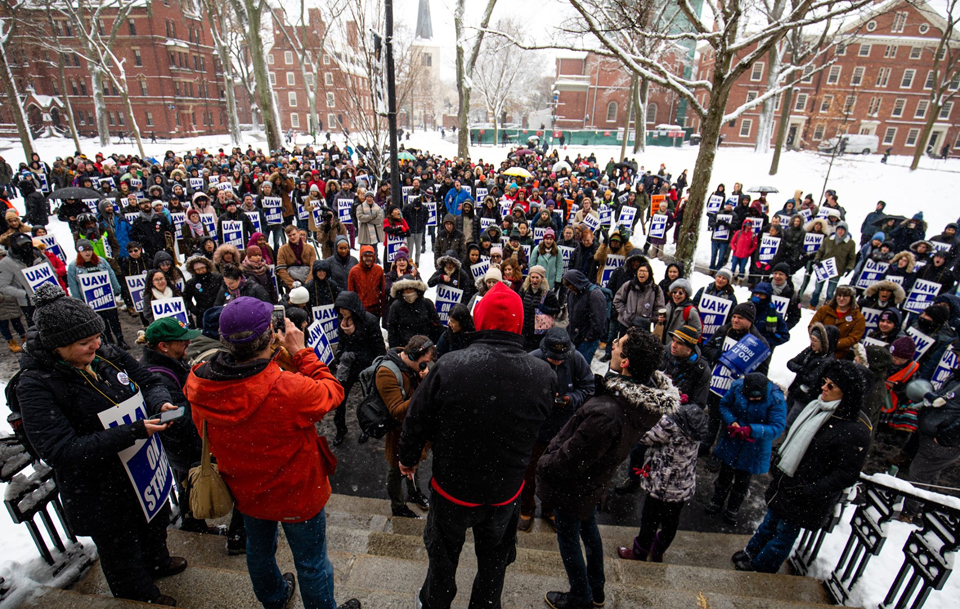 CAMBRIDGE, Mass.—The Harvard Graduate Student Union-UAW, which is in the midst of contentious contract negotiations, puts the situation faced by its members in stark perspective: "Harvard University, which has a $41 billion endowment, admits that many students and student workers here are food insecure. But instead of agreeing to fair compensation in a union contract, they're offering discounted muffins."
Such is the struggle of 1.5 million graduate student workers who are being exploited by colleges and universities all across the country, every day. Often forced to juggle multiple jobs as well as their own education, graduate student workers find themselves heavily indebted, underpaid, and uninsured.
To address these terrible conditions, graduate student workers around the country began to organize and work with unions such as UAW, SEIU, AFT, and UNITE HERE. Since 2016, the Harvard Graduate Student Union-UAW, UNITE HERE Local 33 at Yale, GWC-UAW Local 2110 Graduate Workers of Columbia, and several other unions, have been battling one stonewall tactic after another from their respective administrations. Now, the Trump National Labor Relations Board (NLRB) has entered the battlefield, unsurprisingly on the side of further exploitation.
In what is apparently a reaction to effective union efforts on campuses across the country, the NLRB issued a Notice of Proposed Rulemaking (NPRM) posted in the Federal Register on Sept. 23, 2019. The rule change is intended to take away graduate student workers' right to collective bargaining at private universities and is seen by unions as a politically-motivated attempt to reverse the 2016 Columbia decision and stifle the momentum of the graduate worker union movement.
An NLRB statement said that the rule change was "Addressing a recurring question regarding the definition of 'employee' under Section 2(3) of the National Labor Relations Act (NLRA), the proposed rule would exempt from the NLRB's jurisdiction undergraduate and graduate students who perform services for financial compensation in connection with their studies."
In response to the NLRB rule, Vermont Senator and 2020 presidential candidate Bernie Sanders issued a statement saying, "For far too long, the trend in our higher education system has been going in the wrong direction: longer hours, lower pay, weaker job security, and more debt."
Sanders continued: "Too many Americans working within this field have to take on two or even three jobs just to get by. Stronger unions and worker protections are a key part of solving this crisis in our colleges and universities."
In an effort to guarantee the rights of graduate student workers, the Respect Graduate Student Workers Act has been introduced in both the U.S. House of Representatives and the Senate. Sanders introduced the bill to the Senate on Jan. 22. The House version of the bill was introduced by Rep. Mark Pocan, D-Wisc., in November 2019 and is now in the House Committee on Education and Labor.
It currently has 17 co-sponsors in the House and is endorsed by the American Federation of Teachers (AFT), Service Employees International Union (SEIU), United Automobile, Aerospace, and Agricultural Implement Workers of America (UAW), United Steelworkers (USW), and the American Association of University Professors (AAUP).
According to a December 2019 report by the Economic Policy Institute, "At a time when worker advocates are demanding that more workers have the right to a union and collective bargaining, the Trump board's graduate teaching assistant proposal demonstrates a fundamental lack of understanding that graduate teaching assistants are an integral part of the modern academic workforce."
A recent study by the American Association of University Professors estimates that a full three-quarters of all academic teaching positions in America's colleges and universities are not on tenure track.
Based on data from the EPI, the bulk of work being done in the nation's colleges and universities, from research to teaching, has been shifting away from faculty and piling up on the desks of horribly underpaid graduate student workers.
The EPI report continues: "Had the Trump board considered any data or conducted any meaningful analysis of the academic workplace in developing the proposed rule, it would have discovered that the last several decades have seen significant changes in labor conditions within academia. As far back as 2003, researchers were noting a steady decades-long trend of shifting teaching duties away from regular faculty and onto the shoulders of a much cheaper source of labor: graduate students and adjunct instructors. That shift has only accelerated, as documented in a 2018 EPI report on the state of graduate employee unions."
The EPI report concludes that "The Trump NLRB is committed to rolling back workers' rights to a union and collective bargaining. It routinely advances political proposals based on flawed facts and flawed legal reasoning."
Despite the NLRB setback, graduate student workers are sticking to their union organizing. Earlier this month, the Harvard Graduate Student Union defiantly declared, "At the end of this decade we built a union that is strike-ready and became part of the Strike Wave. Having struck for a couple of days short of a month, we know that the strongest union is one that is willing to stand together and fight for each other."