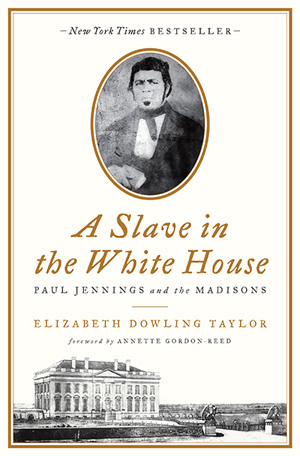 On Aug. 24, 2009, Paul Jennings' descendants arrived at the White House for a private tour. Entering the White House, where their ancestor — a former slave — served President James Madison, must have been a surreal moment for them all. Add to that, the fact that the first African-American president was now in office; these descendants could easily have felt an overwhelming sense of the foreign and indescribable.
Paul Jennings, author of the first White House memoir, "A Colored Man's Reminiscences of James Madison," in 1865, could not have foreseen the feelings his grandchildren and great-grandchildren would experience.
Paul Jennings was born a slave on President Madison's estate in Montpelier, Virginia, in 1799. His father is believed to have been an English trader. His mother was one of Madison's slaves, and the granddaughter of a Native American.
In her book, "A Slave in the White House," Taylor attempts to give the reader the sense of what it might have been like for Paul Jennings, who at the age of ten became James Madison's footman.
Jennings was selected to be Madison's footman at the White House during both of Madison's terms. Taylor points out the possibilities of Mr. Jennings being exposed to other ideas, a different way of life, and also to free blacks. She notes that this showed Mr. Jennings that his freedom, too, was possible.
Although the author takes us on an extended journey of the Madisons' home life and family dynamics – some of no importance to the life of Paul Jennings – she does introduce us to a man who not only knew how to read and write, but may have helped slaves to escape, either through forging documents or by assisting them to leave in other ways.
In "A Colored Man's Reminiscences of James Madison," Paul Jennings recalls his life with the Madisons. Taylor paints a picture in which James Madison was more even-tempered and his wife, Dolley Madison, less sensitive to the slaves in their possession.
For example, James Madison left instructions in his will that Dolley Madison was not to sell any of the slaves without their agreeing, and should not split up families – Mrs. Madison, however, did just the opposite.
Paul Jennings was expecting to be freed on James Madison's death, but he continued to be a slave, tending to Mrs. Madison, until he secured his freedom with the aid of Senator Daniel Webster.
In her book Taylor suggests that being well connected in Washington, Paul Jennings was able to secure a job and began to buy the freedom of his children who were enslaved on another plantation. He was also able to buy a house. Though he may have in some obscure way achieved the American dream of freedom, one could hardly imagine a black man feeling such an achievement, when many around him were still enslaved and his earnings were not equal to his white counterparts. He and his family still suffered many other forms of discrimination.
In a twist of fate, once freed, Paul Jennings would be sent by Daniel Webster to the now impoverished Dolley Madison "with a market-basket full of provisions, and (he) told me whenever I saw anything in the house that I thought she was in need of, to take it to her. I often did this, and occasionally gave her small sums from my own pocket," Jennings writes in "A Colored Man's Reminiscences of James Madison."
This reviewer was attracted to "A Slave in the White House," because of its title and its coincidence with the current moment in history, as this country's first African-American president, begins his second term. Expecting to find more about Jennings' life and less about the Madisons was somewhat disappointing especially because the author had met with his descendants. Still the book was an interesting and informative read.
Book review:
A Slave in the White House, Paul Jennings and the Madisons
By Elizabeth Dowling Taylor,
Palgrave Macmillan, January 2012,
Hardcover $28.00, also in paperback, audio CD and Kindle editions