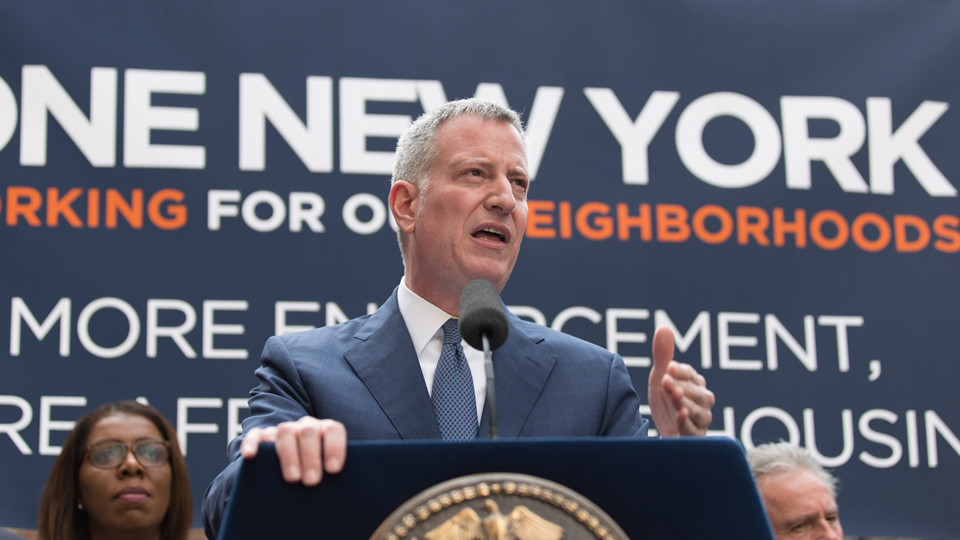 Mr. Johnson's review of Juan Gonzalez's Reclaiming Gotham missed the significance of Bill de Blasio's win. It was a historic defeat of twenty-year Wall Street-Republican-right-wing control of our city, a rejection of the discredited Democratic leadership's neoliberal appeasement policies, and a major victory for the peoples' movement.
On the eve of the 2013 mayoral election, an upsurge in people's struggles reflected a deeper level of class consciousness. The financial crisis of 2007-08 had exposed the predatory nature of high-finance capital and unleashed the grassroots Occupy Wall Street movement, with its slogan, "We Are the 99%." Protesters denounced police brutality, especially stop and frisk. Workers stepped up demands for a $15 minimum wage. And advocates for public schools, immigrant rights, tenant rights, gun control, and other issues added their voices to the public discourse.
These movements and issues were in the forefront of de Blasio's pro-people coalition, sweeping aside the city's longtime political structure by debunking neoliberal Democratic leadership strategies.
Bill de Blasio's platform promoted affordable housing and condemned racism. The candidate pledged to end the two-cities model, in which the rich were the favored few and the poor got, well, poorer. De Blasio promised to end stop and frisk, to introduce universal per-kindergarten, negotiate and settle with city union workers, tackle affordable housing needs, reform criminal justice, introduce paid sick leave, and protect immigrants. New Yorkers swept him into office with 74 percent of the vote.
And neoliberal Democratic hacks were swept out. Elected in their place were: Letitia James, an African-American woman, for public advocate; Scott Stringer for comptroller; an East Harlem young Puerto Rican woman, Melissa Mark-Viverito, for council speaker; Eric Adams, Brooklyn Borough President; and Kenneth Thompson defeated district attorney Charles Hynes. These victories in our city were part of a wave of insurgents winning across the nation, as Juan Gonzalez identified, which helped propel Bernie Sanders's candidacy in 2016.
De Blasio refused to defend the city in a lawsuit against stop and frisk, advocated a $15/hour minimum wage, settled contracts with all city unions that Bloomberg had stalled for years, and supported giving six days of paid sick leave and paid family leave. By September 2014, 53,000 four-year-olds were enrolled, without a hitch and in spite of professional skeptics, in a free, universal pre-K program. By the second year, enrollment jumped to 70,000—saving parents an estimated $1.4 Billion of private childcare costs.
The mayor dismantled the vast network of high-paid private consultants in every city agency— derailing the consultants' gravy train and saving the city hundreds of millions of dollars. Under the mayor's leadership, the city's Rent Guidelines Board instituted a virtual rent freeze for nearly a million rent-regulated units—the first in 45 years, saving tenants an estimated $1.2 billion between 2014 and 2017.
In addition, de Blasio made sure that city IDs would be issued to all residents, regardless of their immigration status. Since 2014, his office announced that 77,651 affordable housing units have been preserved or built, with no help from Washington and little from Albany.
A conservative estimate made by Gonzalez of the financial benefits to the working class of de Blasio's program, between 2014 and 2017, is a staggering $21 billion, in direct cash payment or value of services—a healthy contribution to the economic upturn in our city.
However, the state legislative control of major elements of city government—including the city's taxing authority, New York City Board of Education, Metropolitan Transit Authority, and New York City rent regulations—greatly hampered the mayor's ability to carry out his program.
The Republican-controlled Senate, with the support of breakaway Independent Democratic Conference betrayers, obstructed every request de Blasio made. Obstruction came from the governor's mansion as well as from the legislature. In 2014, while opposing de Blasio's plan to tax the wealthy, Cuomo introduced tax cuts for banks and millionaire estates and promoted charter schools.
De Blasio has repeatedly called for Wall Street, whose income has been dramatically increasing over the last 20 years while that of the 99% has been falling, to pay a fairer share of taxes to fund the needs of our city, including shoring up the crumbling public transit system. However, his proposals have been opposed by the governor.
The mayor's re-election will debunk neoliberal strategists' prescription for defeat and will be a blow to Trump, ultra-right forces, and transnational corporations.
Bernard Cylich