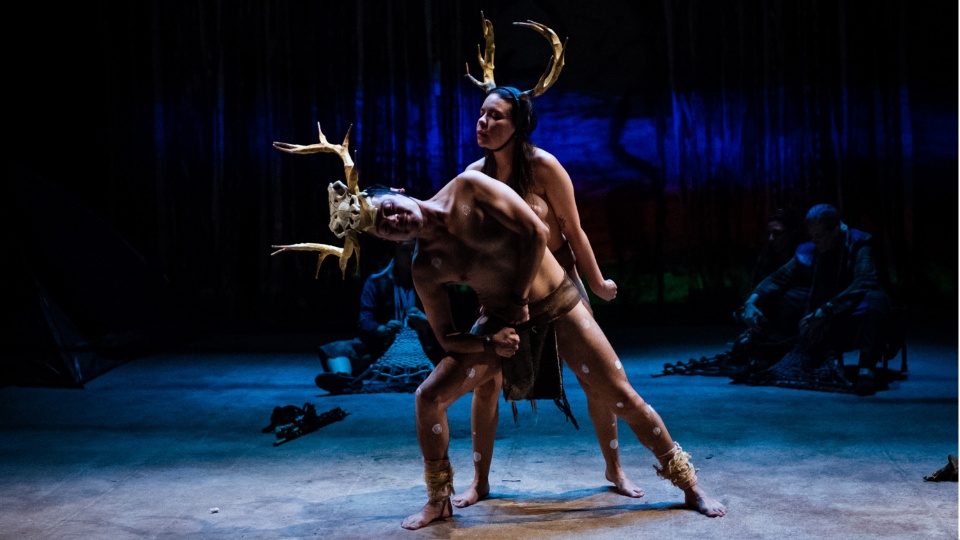 When thinking of the new play Pueblo Espíritu, the quote, "And into the forest I go to lose my mind and find my soul," by John Muir comes to mind. The story takes place during the pandemic when the deadly outbreak is ravaging Mexico City, which is inhabited by 22 million people. A group of strangers, each with only a backpack of belongings, decide to run away to the forest, to escape this dreaded global illness and the mandated restrictions.
In the forest, they learn to live in a communal setting among nature, where their behavior begins to adopt a primitive style of living, through the clothes, hunting, rummaging for food, and participating in what resembles pagan rituals. The play takes on all the elements of a Salvador Dali surrealist painting or nightmare.
Pueblo Espíritu is performed by Mexico City's interdisciplinary experimental Organización Secreta Teatro. Both Pueblo Espíritu and their upcoming production of Los Diosos Subterraneas were created collaboratively by ensemble members Beatriz Cabrera, Alejandro Joan Carmarena, Brisei Guerrero, Stefanie Izquierdo, Ernesto Lecuona, Mercedes Olea, and Jonathan Ramos. The original idea for the story was created by Rocío Carrillo, who also directs the play.
The stage has a tent on the left-hand side where the characters enter and exit. On the right-hand side, there is a tree where a bird-like figure sits. The backdrop is a gold curtain made up of strips of cloth in various forest color shades. Behind that is a cloth with interwoven fabric. Here, in this setting, the characters must adapt to living with the creatures and spirits of the forest. There is also a massive amount of yarn and string, used throughout the play to show how the group must bond and interact, thus forming a connection to each other. This also represents the journey of survival.
The first character they encounter is a bird-like spirit who engages in a macabre dance with one of the travelers who has fallen ill during their refuge. There is also another character that this reviewer thought was a dog and then later surmised was a wolf. At one point, the audience could interpret that perhaps the character was somehow evolving into one of the forest creatures, or that maybe a spirit inhabited her body.
Everything borders on interpretation when it comes to this production. This includes hallucination or even insanity to try and survive. One of the best scenes involved two deer, male and female, engaging in a mating ritual. This ritual is reminiscent of El Baile del Venado, a dance performed by the Yaquis of Sonora, Mexico.
The second most powerful scene is a hallucinatory ritual aided by a beverage consumed by the group while seated in a circle. One of the female actors appears dressed only in what resembles an animal skin skirt, a necklace with a light, and a hair accessory that resembles a snake, all while wielding two machetes. She dances herself into a frenzy to the beat of a drum. This is reminiscent of the Baile de Los Machetes, which is a warrior dance, from Jalisco, Mexico.
Since this play is a collaborative and experimental piece, director Carrillo allowed the actors artistic freedom to create their individual characters. She guided the actors to envelop their roles and become their characters. The actors' ability to generate this energy to the crowd is assisted by primitive drum and flute music. This technique allowed the cast to bring the audience into their world.
Pueblo Espíritu demonstrated the raw element of survival along with an exploration of the collaborative, symbiotic dependency among the members of the group. There was no room for individualism in this dystopian society.
Audiences looking for experimental theater with great interpretative storytelling should be on the lookout for more productions from Organización Secreta Teatro. For additional information and to purchase tickets, call (213) 489-0994 or go to www.latinotheaterco.org.
We hope you appreciated this article. At 

People's World

, we believe news and information should be free and accessible to all, but we need your help. Our journalism is free of corporate influence and paywalls because we are totally reader-supported. Only you, our readers and supporters, make this possible. If you enjoy reading 

People's World

 and the stories we bring you, please 

support our work by donating or becoming a monthly sustainer today

. Thank you!