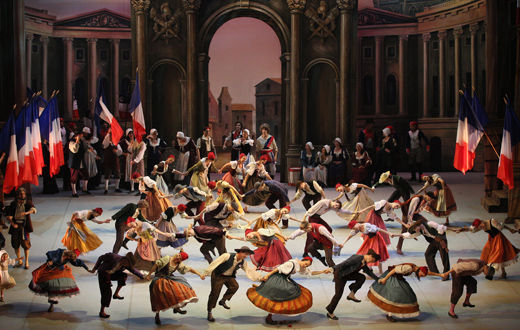 COSTA MESA, Calif. – It took a full 82 years, but a revolutionary Soviet-era ballet that was purported to be Joseph Stalin's favorite has finally come to American shores. The Flames of Paris (in Russian, Plamya Parizha), a classical ballet based on the French Revolution, premiered on November 7, 1932, at the Kirov Theatre in Leningrad, was restaged in July 1933 at the Bolshoi Theatre in Moscow, and arrived on tour to New York City in early November (playing at the David H. Koch Theater at Lincoln Center, yes, that David Koch!), and to the Segerstrom Center for the Arts, in Costa Mesa, Orange County, California, for three performances in late November.
Some history is in order. Musicologist and composer Boris Asafyev (1884-1949) based his score on songs of the French Revolution, "La Marseillaise" the most famous, and also "Ça ira" and "La Carmagnole." Typical for large-scale spectacles, his music is bombastic boilerplate suited for ballet. He also adds other traditional or folk-like dances for the crowd scenes. A markedly conservative score, barely a note sounds as though it could have been written after the year 1900. It's as though Stravinsky, not to mention Asafyev's younger contemporary Dmitri Shostakovich, had never existed. Some tunes are lifted from the royal French court music of composers such as Jean-Baptiste Lully and André Grétry.
Original stage and costume design was by Vladimir Dmitriev, who also co-authored the libretto with Nicolai Volkov, based on the novel Les rouges du Midi by Félix Gras.
In 1932 The Flames of Paris celebrated 15 years of the October Revolution in Russia. During that period there was a determined effort to find subjects in world history which reflected the more immediate situation in Russia. The arts, including the beloved Russian ballet tradition, were used to show that the Revolution now in progress (and on the whole doing a far cry better than the Depression was doing for working people in the capitalist West) formed a segment of the long arc of historical movements leading toward socialism.
The recent three-act production in the U.S. came courtesy of the Mikhailovsky Ballet and Orchestra, a company dating back to 1833 – 112 dancers on stage, and a full orchestra in the pit, conducted by Pavel Bubelnikov. The 1932 choreography was by Vasily Vainonen, newly updated and revised – from memory, photographs and film – by the lifelong ballet dancer and teacher Mikhail Messerer, several of whose family members danced in earlier stagings.
Accented but remarkably fluent in English, Messerer spoke before the performance, introduced by the producer Sergei Danilian . He recounted stories of his famous dancing relatives, his mother Sulamith Messerer and uncle Asaf Messerer, and including the world-renowned prima ballerina Maya Plisetskaya.
At the conclusion of Messerer's remarks, Danilian called for questions from the audience. I happened to be seated directly in front of Messerer. I raised my hand and Messerer passed the microphone to me. "In 1932," I began, "the Soviets commissioned this ballet with a very specific ideological agenda. But we're no longer in Soviet times…."
To which Danilian interpolated, "Are you sure?" The audience chuckled in a kind of conspiratorial delight.
"Well," I continued, "I appreciate your joke, but still, I wonder, if the ballet had a particular meaning then, what social meaning does it have now?"
Given Sergei Danilian's spontaneous jest, perhaps a response might have come to the effect that again Russia has fallen into the grip of an all-powerful clique of plutocrats, like the monarchs of France or the Czars of Russia, against whom a new revolution is needed. But of course, major cultural figures in the new Russia, who are well compensated and inextricably linked to the new régime, could not and would not have said anything like that, even if they thought so. Messerer, in fact, had left the USSR as a dissident in 1980, at the age of 32, making a distinguished career for himself in the great performing venues of Europe, returning to Russia in 2009 as the ballet master in chief at the Mikhailovsky Theatre.
"You will see some great choreography tonight," Messerer answered. "It's a great work of art, and people love it. It's just a piece of art."
Still mulling over the possible portent of Danilian's joke, my class analysis gene acted up, and I wondered if there is truly anything that is "just a piece of art" with no social content. In an interview with Messerer in the generous program, he reclaims this ballet as a highpoint of Russian culture that should be remembered, at the same time admitting that the story is "a one-sided perspective on events…only told from the point of view of the revolutionaries, with their inarguable right to act as they do."
But let us not be such ideologues, and take Messerer at his word. In that case, the ballet must be evaluated on its merits, as we see them.
The Flames of Paris shows the privileged aristocracy taking advantage of the peasants, the stately court dances, the treachery of the monarchs prepared to invite the Prussian army in to save their asses, the storming of the Tuileries by the Marseillais (the people of Marseille), and their victorious march on Paris, with celebratory dances devoted to Liberté, Egalité, and Fraternité.
The French Revolution is a thrilling history, of course. Lenin's favorite treatment of it was the account by the "anarchist prince" Peter Kropotkin, to whom Lenin personally acknowledged his debt, promising wide distribution for a cheaply printed edition. But does the ballet, decked out with elegant bright costumes and huge waving tricolor French flags, transcend its entirely good vs. bad storyline that permits of no nuance, no shading, no ambiguity, no inner conflict? I think not. I'm not surprised that Stalin loved the work so much. It fit the esthetic mold of Soviet art for the masses that would take a generation to overcome. (During Stalin's time, I hasten to add, some great world-class artists did emerge by the sheer force of their talent and a certain professional leeway granted to them, but the dominant values of socialist realism still generally prevailed.)
Well, classical ballet is not known in any case for the strength of its storylines, nor indeed, for the most part, for its music, which has to serve an almost entirely functional role. If Messerer's, and the Mikhailovsky's aim was principally to offer the public a restored version of a work to show off some great dancing, in that they have succeeded.
The choreography has it all: stupendous solos, especially by the male lead Ivan Vasiliev as the Marseillais Philippe, and gorgeous pas de deux with his partner Oksana Bondareva playing the part of the peasant girl Jeanne. These spotlighted moments are, again, entirely in classical mode, exquisite even though no new ground is broken. There are colorful Basque folk dances and country dances; and the nobles' lovely, but tame and bloodless minuets, chaconnes, and sarabandes at the court of Versailles. The ensemble work is impressive, and even includes some choral singing of the revolutionary anthems, perhaps the only new formal element this work introduced. Modern audiences respond, as did viewers in 1932 no doubt, more enthusiastically to the vigorous dance of the peuple and their natural leaders.
I come away still scratching my head. What does all this mean in 2014? One of the most outstanding principles in the Marxist tradition that has stayed with me for all these years is the saying, "National in form, socialist in content." These six words explain a lot. In the old USSR, for example, all the constituent republics and autonomous regions were encouraged to develop their own national cultures, languages, traditions, etc., as long as they conformed to overall socialist development and the current party line. (I am well aware, of course, of many abuses of this principle in practice.) Thinking outside the USSR, I have been personally guided by this saying. In my work in the Jewish and interfaith community, I seek to lift up the positive and progressive, in many cases within very ancient traditions.
Flames of Paris was entirely socialist in its inspiration, although limited in my view by its backward-looking esthetic. It still can stir powerful emotions, but if divorced from a movement for revolutionary change, it becomes, perhaps like Jesus' radical politics often transformed by capitalism into a right-wing manifesto for social Darwinism, absorbed by the larger ideology around it, and irrelevant. Except as "a piece of art."
I can't deny that I feel enormous gratitude to the generous underwriters of the Mikhailovsky Ballet on the Russian side, and the equally openhanded funders on the American side who brought this radical piece of art, however conventionally conceived, to our public. Never did I imagine being able to see this historic work, nor be part of an audience of almost 2000 balletomanes in a classy Orange County performing arts venue giving a cheering, standing ovation to the Revolution!
Photo: Stas Levshin