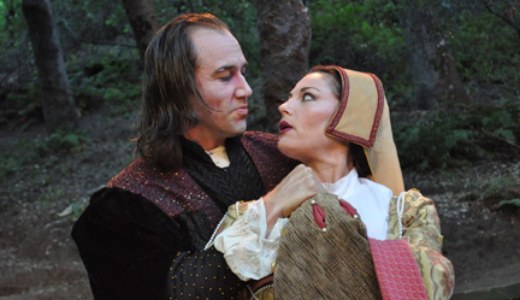 Enjoying Shakespeare under the stars at Topanga Canyon's Will Geer Theatricum Botanicum is de rigeur during summertime for Angeleno theatergoers. No July, August or September in L.A. is complete without an outing to this outdoor pantheon of plays when the Theatricum's repertory season is in full bloom. Among the amphitheatre's six (half by that hot, up and coming screenwriter you might have heard of named Billy Shakespeare) stage offerings this summer is the bard's immortal Richard III, about that deformed despot.
Along with Othello's Iago and Lady MacBeth, Richard III – o! thou villainous usurper and tyrant!!! – is one of the all time "worst" bad guys/gals to have ever tread upon the planks of the Globe – or any other – Theatre. He is to the Shakespearean canon what Ernst Stavro Blofeld is to James Bond, the Red Skull is to Captain America or the Wicked Witch with all of her flying monkeys are to Dorothy. With a major difference: The hunchbacked, lame monarch was an actual historical figure.
Enter Chad Jason Scheppner, who slyly portrays this icon of evil incarnate with a dollop of drollery. If Othello was Shakespeare's play about blacks, and The Merchant of Venice was his drama about Jews, then Richard III is the bard's work about the disabled. And Scheppner's schemer seems hell-bent on making the world pay for his misshapen self and for treating him like a malign deformity, despite his royal blood. Scheppner delivers a wickedly perverse performance as a super villain who revels in his deceptions, deviousness and dastardly deeds, from unseating monarchs to wooing women he's made widows of to butchering children to spine tingling acts of treachery: He is the merry knife of Plantagenet. Perhaps Scheppner's previous role in a 2007 Theatricum production as Count Dracula can be viewed as basic training for portraying this even bloodier scoundrel.
Richard III takes place towards the end of England's 1455 to 1487 War of the Roses, that epic power struggle between competing royal factions for control of the throne. To bring this theatrical epic alive, director Ellen Geer once again vividly, deftly deploys a veritable army of actors with a cast of dozens. As with the Theatricum's glorious production of Julius Caesar last summer, the company makes superb use of not only its stage per se, but of the hilly Topanga environs as well, with lords and ladies dashing about the amphitheatre and its natural surroundings. In this highfaluting high-tech age of special effects, it's a unique thrill to watch 20 swordsmen – count 'em: 20! – dueling during onstage battles for the realm. No CGI here, although the live actors are, literally, 3D, and you don't need any goofy glasses in order to see them in the full glory of their three dimensions.
As for Scheppner's uncanny, crafty depiction of the humpbacked man who would be king, his Richard's limp and disabilities only become more pronounced once he has seized the scepter and crowned himself king. What a marvelous, clever bit of irony – absolute power only diminishes and cripples the tyrant. Thank goodness we Americans overthrew these sods in 1776; why some of us fawn over and bow to William, Kate and the other spawn of these Machiavellian monarchists nowadays is beyond me. The best thing that happened to the British royalty nowadays was the London mob that attacked the posh vehicle Prince Charles and Camilla were riding in last December, screaming "Off with their heads!" Now that's the spirit, lads and lasses!
Costume designer Perry Bret Ash helps cast a medieval onstage spell, transporting us back to the 15th century with Richard III's haberdashery, gowns, tights and other finery. The ladies in waiting and other denizens of the royal court are simply stunning in this theatrical time machine. Methinks a lot of window curtains got ye olde Tower of London treatment with the most skillful set of sheers this side of Edward (II) Scissorhands.
Scheppner alternates in the lead role of Richard III with Ms. Melora Marshall, who played the Duchess in the show I saw. Cross-gender and non-traditional casting is common for the forward thinking Theatricum. The current Richard III includes a number of black, Asian and Hispanic thespians, all portraying presumably British characters in 15th century not-so-merry-olde England. Earnestine Phillips is a stand out as Queen Margaret; her appearance and inflections of speech are long associated with African-American actresses and it made me wonder: What if Hattie McDaniel had been allowed to play, say, Shakespeare, Shaw or Ibsen? Hattie did win the Best Supporting actress for her brilliant portrayal of Mammy in 1939's Gone With the Wind, and with the exception of Vivien Leigh and perhaps Clark Gable, is truly the best thesp in that screen epic. How would Hattie have developed as an artist if racism hadn't circumscribed her creativity and limited her roles to servants, maids and other celluloid stereotypes? Phillips's fine performance as a British royal may give us a clue to the answer, thanks to this troupe's non-stereotypical approach to its dramatis personae. The Theatricum's casting has no typecasting.
America has already endured the cruel reign of its own Richard III – none other than the aptly named President Richard Nixon: Call him "Richard the Turd." Why did the Theatricum choose Richard III as the crown jewel of this summer's repertory season? Given the Theatricum's progressive bent, perhaps this is meant as a commentary on today's mass upheavals, from Cairo to Madison? Or maybe this is a reflection of the looming presidential election? Whatever the reason, I'm glad that the Theatricum did present Shakespeare's rip-roaring, snorting tale of faction fights in the corridors of power. "My kingdom for a horse!" indeed. And I'm also glad that the bold Theatricum will also present later in this current season the highly controversial one woman show My Name is Rachel Corrie, another play and veritable Shakespearean tragedy about a real life – if more contemporary – world historical figure who dared fight for Palestinian rights.
What can one say? Now is the summer of our contentment, made glorious by this family of Geer. The Geers are, after all, among Hollywood's royalty, even as they remain salt of the Topanga earth. From the setting to the caliber of its actual productions, the Theatricum is one of L.A.'s cultural jewels, offering theatrical experiences par excellence and demanding seasonal return visits to its Topanga outpost. To paraphrase Hamlet: "Get thee to an amphitheater!"
Richard III is being performed July 9 at 8:00 p.m., July 10 at 7:30 p.m., and beyond in repertory through October 2 at the Will Geer Theatricum Botanicum: 1419 N. Topanga Canyon Blvd., Topanga, California, 90290. For more Richard and repertory schedule and other information call: (310)455-3723 or see: www.Theatricum.com.
Photo: Chad Jason Scheppner and Abby Craden, by Ian Flanders.