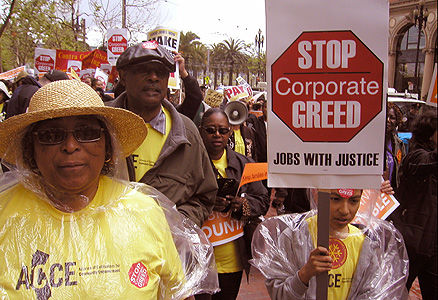 RICHMOND, Calif. – After a tumultuous meeting drawing hundreds of residents and lasting into the wee hours, the Richmond City Council voted 4-3 this week to continue exploring a plan to rescue underwater mortgages by using the power of eminent domain.
Some 46 percent of home mortgages in the city, whose 100,000-plus population is largely black and Latino, are under water. That means the homeowner owes more than the current market value of the home. Many cities – especially those with many residents of color, who were heavily targeted for predatory loans – face similar problems.
If the plan, called Richmond CARES (Community Action to Restore Equity and Stability) moves forward, the city would be the first in the country to buy underwater mortgages for the current fair market value and let the homeowner refinance at the new amount.
The city is offering to buy over 600 underwater or at-risk mortgages from the owners and servicers of the loans. All are "private label securities" that have been bundled and sold to private investors, making them hard to modify.
If investors reject Richmond's proposal, the city would use eminent domain to take over and buy the loans.
At a press conference shortly before the Sept. 10 council meeting, Mayor Gayle McLaughlin called the impact of the foreclosure crisis on the city "monumental." She warned that many more foreclosures are to come, causing homeowners much pain and suffering and greatly damaging the city's ability to provide quality-of-life services.
With home values plunging nearly 60 percent since 2007, she said, "we've lost millions in property tax revenue, we've seen a reduction in city funds that leads to cuts in services, and a significant reduction in the number of our municipal employees."
McLaughlin pledged that Richmond will "stand up to Wall St." against intense pressures including a suit by Wells Fargo and Deutsche Bank and predictions that the city's credit costs will increase if eminent domain is used – a threat the mayor said amounts to "redlining."
A coalition of fair housing and civil rights groups has filed an amicus brief in federal court, supporting Richmond's opposition to the banks' efforts to stop the program from proceeding.
Now the city will work with other local governments interested in the plan, while city staff and Mortgage Resolution Partners, a community advisory firm helping stabilize local housing markets, will seek to resolve legal issues. A supermajority of the council must vote to seize mortgages by eminent domain – a level not achieved in this week's vote.
Cities interested in the plan include El Monte, Calif.; Seattle; Newark and Irvington, NJ. On Sept. 9, San Francisco Supervisor David Campos said he will propose a resolution supporting Richmond CARES and urging San Francisco to explore a similar strategy.
Among the plan's backers are the Alliance of Californians for Community Empowerment (ACCE), SEIU Local 1021, the Richmond Progressive Association, Asian Pacific Environmental Network (APEN), Communities for a Better Environment, and Black Mobilization Organization and Education Richmond.
Homeowner Nelson Estrada told the press conference that his home is currently worth about $150,000, but his mortgage is twice that. "Even though the bank has given us pretty low interest, which helps, of course it doesn't compensate for having gotten into this problem," he said. "We hope the city can get this program, and do something to help us."
Richmond resident Najari Smith said the loss of a home means loss of an asset the family can pass on to future generations. "Families need to pull together to keep the little they have," he said. "If the city can do anything to alleviate the problem, that's a light at the end of the tunnel."
Meanwhile, in his Aug. 10 weekly address, President Obama called on Congress to act to "give every American the chance to refinance at today's low rates."
The president called for preserving access to safe, simple mortgages like the 30-year, fixed rate mortgage and setting regulations that protect homeowners "when they're making the biggest purchase of their lives."
Photo: ACCE website.