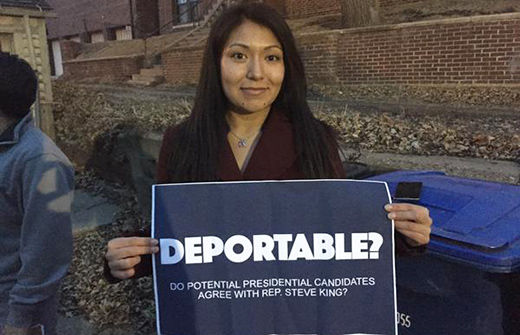 DES MOINES, Iowa – Today, a group of undocumented youth interrupted prospective 2016 Presidential candidate and former Texas Governor, Rick Perry. Marco Malagon, Dreamer from Texas, shouted "Governor, do you stand with King, or do you stand with us and our families? Do you think I'm deportable?" while others stood up with signs that read "DEPORTABLE?" in reference to the comments of Rep. Steve King, R-Iowa, about an undocumented student who attended the State of the Union address as a guest of First Lady Michelle Obama. Following Perry, Christie was also interrupted by Cesar Vargas, Dreamer from New York.
The group of 13 youth were escorted out. Marco and Cesar were arrested but with no explanation by police.
For years, Rep. Steve King has been one of the most vocal GOP voices against Dreamers and the undocumented community. He has been on the record using derogatory language against Dreamers and has tried several times to terminate the Deferred Action for Childhood Arrivals (DACA), a program that protects certain undocumented individuals who came to this country as children.
"We are here today sending a message to the GOP presidential candidates, like Perry, that if they are serious about 2016, they need to stay as far as possible from Steve King and his hateful actions towards us," said Malagon, who is also co-founder of the Texas Dream Team.
"Immigration continues to be a central issue for GOP hopefuls who have their eyes on the White House. Events like the Freedom Summit further illustrate how out of touch the Republican Party is with the growing Latino and immigrant population in the United States. Do they really want to deport me and my mother?" said Cesar Vargas.
Photo: Dave Weigel/Twitter