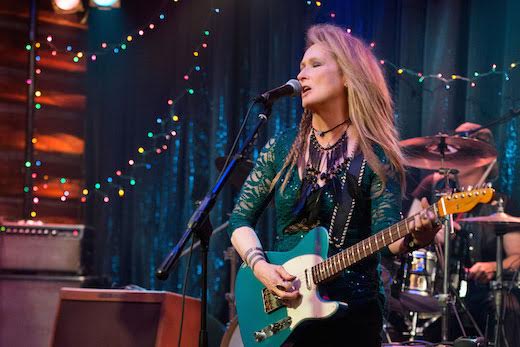 She is the best actress of our generation, perhaps of any generation. She has won three Academy Awards and eight Golden Globes, among her iconic performances. She is beautiful, charming, funny and can sing, as she well proved in Postcards From the Edge.
But even the best of us make bad choices. Warren Beatty and Dustin Hoffman made Ishtar. Liz Taylor made Cleopatra. Even now talented young actors Miles Teller and Michael B. Jordan are stuck in The Fantastic Four.
Ricki and the Flash was a bad choice. Perhaps it looked good in the green light. The team's talent went beyond Streep. Academy Award winner Jonathan Demme had directed Stop Making Sense, arguably the finest concert film ever made. Diablo Cody had also won an Academy Award for the bittersweet comedy Juno. Add to that Oscar winner Kevin Kline, musician Rick Springfield and a host of competent character actors. It must have seemed like a sure winner.
But the writing was clumsy and tone deaf. The set pieces could be seen from miles away, coming apart as they were dragged across the Sony back lot. Given his great range, Kline might have been plausible, given some smart dialogue, instead of that coat hanger stuck in the back of his shirt.
Worst of all, Streep was not within sight of believable. It was like someone playing a role, not Meryl Streep creating a character. It was saddening and maddening watching her try to lift the movie up to some meaning, trying to make us believe in Ricki. Could she have actually just walked out on her family for that slender a career? Could her re-tread rock and roll greatest hits of someone else have actually inspired such a scattered frenzy of bar concert patrons? Does Tarzana only have that one bar, The Salt Well, that Ricki seemed to play in perpetuity?
The cast tried so hard. But the jokes were tortured. The warmth didn't reach room temperature. You could hear the empty bucket hitting the bottom of the emotional well. Bright spot Mami Gummer, Streep's real life daughter, commanded empathy. But that might have only been by contrast with other characters. The few effective scenes drifted by like wreckage offering to save the audience from drowning if they could just be reached.
By Hollywood fiat, the movie ties up all loose ends. Putative dramatic tensions are resolved. Actors are coupled or cured. Streep's straight son Joshua (Sebastian Stan) marries; her gay son Adam (Nick Westrate) finds a partner; her daughter Mamie Gummer may even be cured of her depression. Streep and her ex-husband Kevin Kline's newer wife bury the hatchet, unfortunately not in each other. The film doesn't so much build to these conclusions, as lurch toward them, though you knew they were coming right from the beginning.
In the end, it turns out that all anyone needed was right in front of them and could be cured by a mother's love. Unfortunately, it takes just a bit more to make a good movie!
"Ricki and the Flash"
Directed by Jonathan Demme
2015, PG-13, 101 min.
This article was reposted from Huffington Post.
Photo: Meryl Streep in Ricki and the Flash (RickiandtheFlashMovie.com)