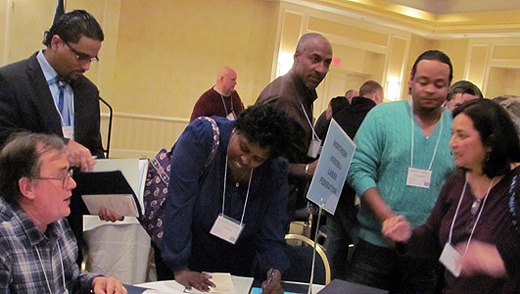 RICHMOND — The radical right, big business and GOP coalition that pushes right to work for less legislation suffered a setback in Virginia in late January.
In Virginia, as elsewhere across the country, unions oppose right to work for less laws because they allow workers who benefit from union contracts, bargaining and defense to get those services for free. In practical terms, that robs unions of funds they need to defend all workers – union and non-union.
The Old Dominion already has long had a right to work for less law on its books. And the GOP controls the governorship and the state assembly. Thanks to the GOP lieutenant governor's tie-breaking presence, it also runs the Virginia senate, which is split 20-20.
Not satisfied with having a right-to work for less law on the books in Virginia, Republicans tried this year to cement that law into the state constitution. But when they tried to write the law into the constitution they lost on their straight party line 20-20 vote because the lieutenant governor can't vote to break a tie on a constitutional amendment. In Richmond, Virginia AFL-CIO President Doris Crouse-Mays and her staff lobbied hard to make sure all the state senate Democrats understood "the negative impact" of right to work for less, said Northern Virginia Labor Council President Dan Duncan.
They also made sure all 20 Democrats were there. State Sen. Henry Marsh, D-Richmond, a veteran of the civil rights movement, skipped a session day on Jan. 21 – a week before the right to work for less vote – to attend Democratic President Barack Obama's inauguration. When he did, the GOP jammed through a partisan redistricting plan, 20-19. But Marsh, and all the other Democrats, were present for the Virginia right to work for less showdown.
Photo: At Virginia AFL-CIO 2013 legislative conference in January. Bernard Pollack, Flickr.