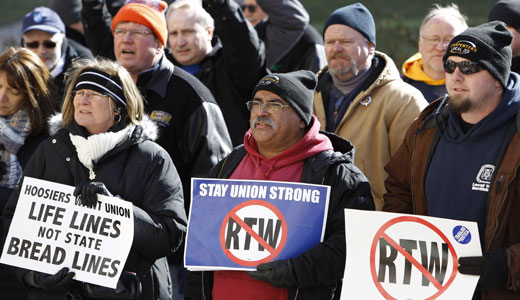 Big Business prevailed at the Indiana Statehouse, when the Indiana state Senate this morning passed a "right to work" (for less) bill; the vote was 28 to 22. Republican Gov. Mitch Daniels will sign, dealing a major blow to working families statewide.
Many working people gathered in Indianapolis over the past few weeks to stand up against this legislation. Daniels and House Speaker Brian Bosma (R), however, chose to ignore the voices of thousands, many of whom were barred from entering the Statehouse to testify before the committees considering the bill.
While Indiana workers being affected were ignored by the state's Republicans, out-of-state special interest groups were given the chance to spew unsubstantiated claims, false promises, and empty rhetoric, instead of independent, factual assessments. Legislators never asked for proof about claims that passage of the right to work for less law would bring jobs to the state.
Workers and their unions across the state saw this as an affront to the legislative traditions and values of the state, as those in power pushed this bill through as quickly as possible to avoid scrutiny, and to please Big Business.
The bill's passage, remarked State AFL-CIO President Nancy Guyott, "means that strong arm tactics, misinformation, and big money have won" today. Right to work (for less) will take Indianans on "a path that will lead to lower wages for all working Hoosiers, less safety at work, and less dignity and security in old age or ill health. Indiana's elected officials have given the wrong answer to the most important question of this generation."
But Guyott referenced a similar piece of legislation passed in 1957 – which, after voters turned out the GOP majority in the following election cycle, was repealed in 1965. And as working men and women did then, she said, this generation of Hoosiers will also rise up, join forces, and defeat the Republican anti-worker agenda once more.
Photo: Protesters gathered at the Indiana state capitol on Jan. 28 to protest the right-to-work legislation. Eric Gay/AP Photos