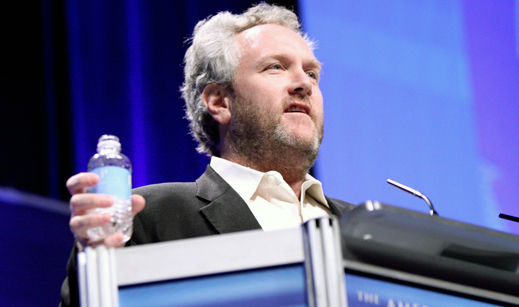 Andrew Breitbart, a right-wing blogger and provocateur known for his attacks on labor, peace, civil rights and a host of other progressive organizations died late last night at the age of 43.
"Andrew passed away unexpectedly from natural causes shortly after midnight this morning in Los Angeles," read a statement from Joel Pollack, editor-in-chief for Breitbart's website, Breitbart.com. An autopsy is planned for Friday, according to the Los Angeles County coroner.
In May, 2011 Breitbart posted a hit-job against a Missouri labor studies instructor Don Giljum by pasting together videos in such a way as to make it look like the professor was instigating violence. The professor was eventually vindicated.
Planned Parenthood, the nation's largest provider of health care to low income women, asked the FBI last year to investigate an apparent video scam operation by Breitbart targeting several of its clinics, including one in Tucson, Ariz., site of the shootings that gravely wounded Rep. Gabrielle Giffords.
Men claiming to need treatment for sexually transmitted diseases, when meeting in private with Planned Parenthood staff, would ask about the organization's services for sex workers. The tactic was typical for Breitbart's operations against groups the right winger opposed.
Breitbart was the first to post liberal Rep. Anthony Weiner's (D-N.Y.) infamous Twitter photos last year, eventually forcing the congressman to step down.
Republican presidential candidate Rick Santorum called Breitbart a "powerful force" who was "constantly out there driving and pushing. What a huge loss to our country."
Romney called him a "brilliant entrepreneur, fearless conservative, loving husband and father."
Breirtbart came under perhaps his heaviest criticism in 2010 for posting an edited and incomplete video of a speech by Shirley Sherrod, an African American employee of the Department of Agriculture appearing to say she discriminated against a white farmer. She was forced to resign. Later, a full version of her speech showed that she had assisted the farmer and that he was grateful to her.
Sherrod issued a statement today saying only that she was surprised by the news and that her prayers go out to the Breitbart family.
Photo: Creative Commons 3.0