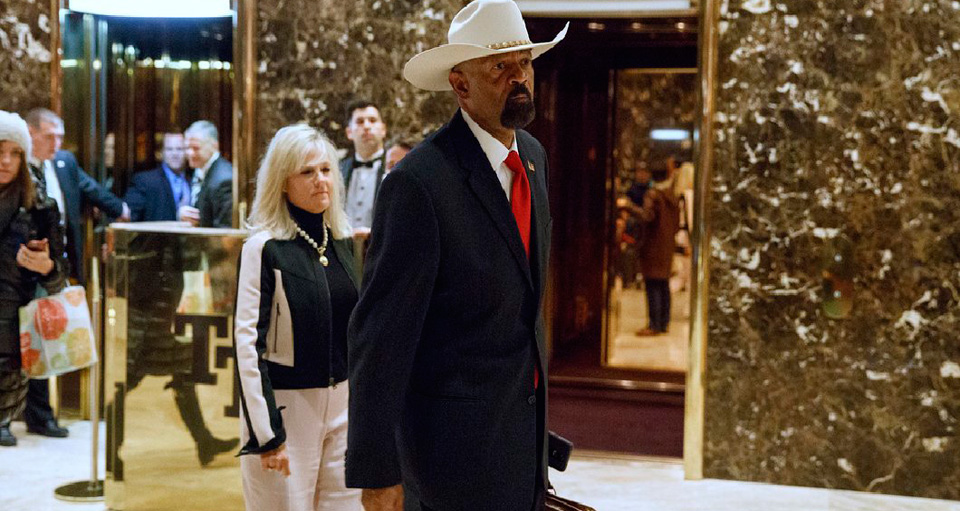 Milwaukee County Sheriff David A. Clarke, Jr announced during an interview with 1130 WISN Radio on Thursday, that he will be resigning to take on a position with the Trump administration. According to Clarke he will be working with the Department of Homeland Security's Office of Partnership and Engagement as a liaison with state, local and tribal law enforcement and governments. Although Clarke seemed comfortable making the announcement publicly, the Homeland Security Twitter account responded by saying "Sr. positions are announced when made official by the Sec. No such announcement w/ regard to the Office of Public Engagement has been made."
Clarke has been vocal about his many controversial stances in politics; he was an adamant supporter of Trump during the campaign and accused the electoral process of being rigged. He first rose in notoriety post-Ferguson, when the African American sheriff came out in opposition to the Black Lives Matter movements, calling them a 'terrorist organization' and predicting that they would "join forces with ISIS." The frequent Fox News guest has also earned over $105,000 in speaking fees for spouting his right wing talking points over the course of the last several years, which is almost as much as his sheriff's salary.
In addition to squaring off with black communities, Clarke also has a long history of being at odds with undocumented advocates and allies. Clarke has previously called local immigrant advocacy group, Voces De La Frontera, "slimy" after they challenged his authority to use deputies as ICE agents. This, in part, inspired the organization to spearhead a 'Day Without An Immigrant' march in February of 2017, that drew many thousands across the nation in various cities.
According to the New York Times, Clarke has yet to address the responsibility he faces for the oversight on the death of Terrill Thomas, a prison inmate, with history of mental illness that died of dehydration in April of 2016 after the staff members cut off the water in his cell for a week. Clarke was in charge of the jail at the time of passing, through the grand jury ultimately decided that they "did not recommend criminal charges against Sheriff Clarke." Clarke has been infamously 'pro-incarceration' and has pushed for more funding of police forces in the heavily segregated area of Milwaukee, Wisconsin. He has also questioned the lessening of prison sentences for minor drugs crimes, stating that such action would be "cuddling up to criminals".
For now, nothing has been officially announced. If Clarke were to get a formal offer for the federal appointment as an assistant secretary in the U.S. Department of Homeland Security, the position would not require Senate approval.