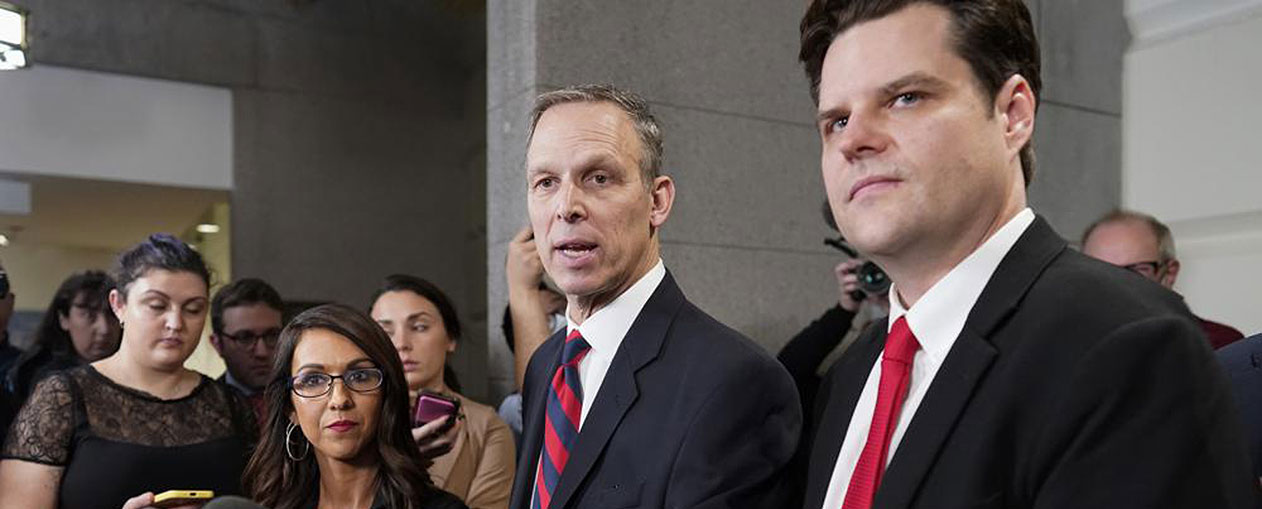 WASHINGTON—Republicans were unable to elect a new House Speaker yesterday despite their new but slim majority.
Rep. Kevin McCarthy, after three ballots and after giving away the store to a far-right gang of 20 Republicans, was unable to reach a 218 vote majority.
Hard-right Republicans forced McCarthy to promise all kinds of concessions if he is elected including promises to investigate President Biden, the Department of Justice, the Jan. 6 Committee that recommended criminal charges against Trump, the Department of Justice, the Department of Homeland Security, Hunter Biden and promises to institute rules that would allow the extreme right to ditch a House Speaker any time they wished. Nowhere in McCarthy's wheeling and dealing yesterday did he make any promises that if he was elected, Republicans would get down to the serious business of legislating.
The far right coalesced yesterday around Rep. Jim Jordan of Ohio, a former wrestling coach who allowed the sexual abuse of boys in his school, a founder of the freedom caucus, and a supporter of the Jan. 6, 2021 insurrection. Jordan, however, tried to assure the Republican fanatics that McCarthy was enough of a far-right winger to deserve their votes for the Speakership. Trump also got on board and urged them today to "cut a deal and vote for McCarthy."
Dems back Jeffries
In a show of unity Democrats unanimously cast votes for Minority Leader Hakeem Jeffries and many went on national television bragging about their unity as opposed to the mess stirred up in the Republican Party.
That unity yesterday actually required very little effort. All the Dems had to do yesterday was sit back, with or without a bag of popcorn, and watch the pandemonium on the other side of the aisle. The real test of Democratic unity will come this year if they can stay together on supporting progressive legislation under the new circumstances of Republican rule and try, even against the odds, to peel away a few Republicans, under pressure from their constituents, to pass some of that legislation.
Voters will not reward Democrats in 2024 if all they see is a party that watched while Republicans engaged in their right-wing insanity.
Democratic Rep. Elissa Slotkin of Michigan, a so-called "moderate," this morning was already trying to soften the need for an ideological battle by saying that the real thing exposed by the problems yesterday is that both parties have to rein in their extremist wings. The implication was that Democrats had to curb the appetite of their more progressive and left lawmakers for passage of real progressive bills and that left-wing Democrats were, like right-wing Republicans, forces that have to be diminished. Progressives, of course, see that as a losing strategy in 2024.
McCarthy needed 218 votes to win. He never got them, tallying 203 votes on the first two roll calls and 202 on the third. The defecting rabid Republican right-wingers cast 19 votes against him on each of the first two tallies and 20 on the third.
The extremist right-wingers deserted McCarthy for Trumpite Reps. Andy Biggs, R-Ariz., (10 votes on the first roll call) and Jim Jordan, R-Ohio (six votes on the first roll call, then all the votes on the other two). Other Republicans garnered three votes on the first roll call.
McCarthy shouldn't have been surprised, though: Those same radical "Freedom Caucus" members made the Speakership hell for the last two Republican House inhabitants of that chair, Ohio's John Boehner and Wisconsin's Paul Ryan.
All 212 Democrats held together behind their new leader, Rep. Hakeem Jeffries, D-N.Y., the first African American ever elected as a major party leader in Congress, much less as Speaker if that day comes in the future. They sat, munched on pizza and popcorn, and watched as the majority party showed it was incapable of getting its act together.
But 212 is not enough to win in the 435-member House. "Mr. Jeffries lost because he didn't have the votes," to paraphrase the late Chicago Mayor Richard J. Daley's analysis of Hubert Humphrey's presidential defeat in 1968.
And that's a problem Jeffries—and workers and their allies—will face if and when the Republicans ever do elect a Speaker, whoever it is. Without a Speaker, the House can't do any legislative business at all. In fact, there is technically no House of Representatives in place now. Everyone there are representatives-elect. No one has been sworn in.
To try to win enough of the rightist and Trumpite radicals to his side, McCarthy agreed to a series of concessions, including one that would let any single Republican member move in the future to oust him. He also agreed to give the Freedom Caucus radicals more power on key committees, such as Appropriations, which helps dole out funds for federal agencies.
Jordan gets Judiciary post
Vicious Trumpite Jordan, for example, will take over the House Judiciary Committee, which handles impeachments. The far right is wanting to impeach Biden. And Republicans have abolished House select committees, including the one investigating the Jan. 6, 2021, Trumpite U.S. Capitol invasion/insurrection, another spotlighting the climate crisis, and the third probing income inequality.
And McCarthy gave a waiver of House Republican term limits for committee chairs to rabidly anti-worker and anti-union Rep. Virginia Foxx, R-N.C., to again head the Education and Labor Committee—which the party again renamed "Education and the Workforce." Foxx has said unions are unconstitutional and should be abolished.
Foxx, of course, intends to use the panel to advance a virulent anti-union agenda. Before she took over the panel the first time, years ago, Foxx had told North Carolina media that she doubted unions should legally exist. AFL-CIO voting records for 2021, the last year it has roll-call tallies for, give her a zero. Her lifetime support score: 8%.
McCarthy also agreed to the radicals' witch-hunt demands against Democratic President Joe Biden, his policies, his Cabinet members, and especially Biden's troubled son, Hunter, putting those vendettas ahead of any legislation.
Which presents Jeffries, who has a generally progressive voting record but who is much lower-key in marshaling Democrats behind a cause than former Speaker Nancy Pelosi, D-Calif., was, with a two-fold problem.
The first part of Jeffries' dilemma is to unite his own caucus. Its views range from those of The Squad, led by Reps. Alexandria Ocasio-Cortez, D-N.Y., Cori Bush, D-Mo., and Rashida Tlaib, D-Mich., all self-proclaimed Democratic Socialists, to pro-corporate Rep. Henry Cuellar, D-Texas. From 2017-21, Cuellar became known as "Donald Trump's favorite Democrat."
Cuellar also voted against the Protect The Right To Organize (PRO) Act, labor's #1 legislative priority.
If Jeffries can hold his caucus together on substantive issues, and that's a big "if," his next task is to find enough of the dwindling band of so-called "moderate" Republicans to work with and to convince them to break with their party often enough to get progressive, and particularly pro-worker, legislation passed.
That may be close to impossible. Except on some building trades issues, notably preserving the Depression-era Davis-Bacon Act, the number of persuadable House Republicans may be counted on the fingers of one hand, AFL-CIO voting scores show.
Those AFL-CIO voting records for 2021 prove the point. One Republican, Rep. Brian Fitzpatrick of Pennsylvania, agreed with labor's stands on those 20 key roll calls more than half the time (59%). The next six highest scorers agreed with labor's stands between 32% and 36% each. Of those six, from 2021, Alaskan Don Young has since died—replaced by a Democrat–and Michigan's Fred Upton retired.
Fitzpatrick's record included voting for and being the only GOP co-sponsor of the PRO Act, the most-comprehensive pro-worker rewrite of the nation's basic labor laws since the original National Labor Relations Act of 1935.
By contrast, Texas Democrat Cuellar's score on the 20 rollcall votes in 2021which the AFL-CIO used was 95%–19 votes in agreement—while the average Democrat scored 100%. His one "no" vote, as noted before: the PRO Act.