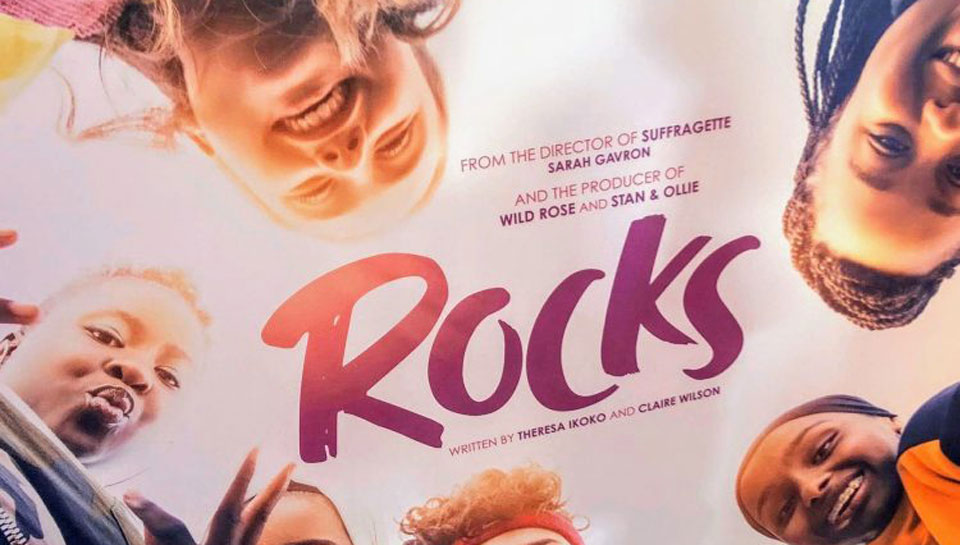 Into the filmic world of interchangeable, comic book super-powered protagonists, Director Sarah Gavron has released "Rocks", a more modest and vastly more worthy heroine for our time.  Her superpowers are love, responsibility, creativity, loyalty, and overcoming adversity.
Olushola's life in London's working-class East End is not easy.  The precocious adolescent Black girl lives with her single mother and little brother in a modest apartment in one of the vast industrial mass housing high rises.  Rocks (Bukkay Bakray), as she is known to her mates, helps her unsteady mother raise her brother and maintain the small household.  She flourishes in school, well thought of by her teachers, and popular among her lively mixed-race friendship group.
It is not completely unexpected when Rocks' mother abandons her two children.  She had been plagued by previous mental health issues and the hardships of raising two children, depending on low-wage employment.  She leaves only a brief note explaining that she needs to clear her mind and a small amount of cash for the kids' food.
Rocks attempts to go on without her mother in the house.  She makes sure her brother is fed and attends school.  She continues her own classes, not even letting her own circle know she's been abandoned.  When money runs out, Rocks' friendships and resources are pressed.  Her main goal becomes to keep herself and her little brother together, out of the clutches of social services, fearing they will be split up.  Her negative view of services makes her struggle all the more difficult.
Scenes of Rocks and her classmates are particularly effective.  Their interactions and responses to what slowly emerges of Rocks' situation are heartfelt, fresh, and creative.  D'angelou Osei Kissiedu as her little brother is at once a liability and a precious annoyance.  Best friend Sumaya is played by the sparkling Kosar Ali with winning smile, glint in her eye, and unbounded energy.  Once she figures out her friend's plight, she rallies to her cause.
The friendship group's responses as a whole ring true.  They are the product of young people's workshops and input to the film's script at all levels.  The cast and crew of almost exclusively local area non-professional actors consisted of three-quarters women.  Nigerian-British writer Theresa Ikoko and Claire Wilson have worked seamlessly with Director Sarah Gavron ("Suffragette") to yield an insightful look through young people's eyes that is at once ingratiating, energetic, and optimistic.
"Rocks" has been nominated for seven British Academy Film Awards and has already earned five British Independent Film Awards.  It is accessible live streaming on Netflix.