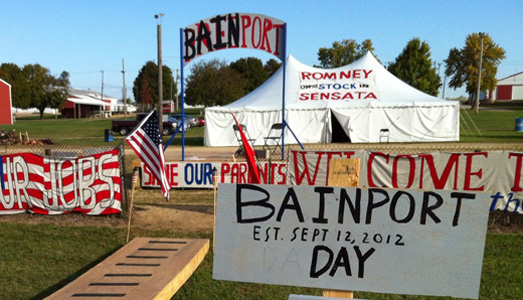 FREEPORT, Ill. – Workers at the "Bainport" encampment outside the Sensata Technologies plant here are in Day 22 of their civil disobedience protest against the outsourcing of their jobs.
They want Mitt Romney to know, they say, that they will be watching closely everything he says during the presidential debate tonight. It has been months since they sent their first pleas to Romney to come to Freeport and stop the outsourcing of their jobs. They note that Romney continues to profit today from Bain investments in Sensata and from the scheduled December, 2012 outsourcing of their jobs.
Romney's response to the workers after repeated requests: silence
"We're camped out her 24/7," said 33-year plant veteran, Tom Gaulrapp.
The struggle reached a high point yesterday when trucks arrived at the plant to begin removal of machjnery from the plant.
"We saw them bringing in those trucks," said Gaulrapp. "We blocked them and stopped them for quite a while."
The workers complied when police arrived to escort the trucks out of the plant but vow to remain and repeat their efforts when the next trucks arrive. "We will do whatever we have to at this point," said Gaulrapp.
"That machinery is not just a pile of plastic and metal," he explained. "We have worked on and with those machines for many years, adjusting, taking car of them and using them to make equipment that keeps people safe." (The plant makes sensors for automobiles.)
"Your family, your friends, your pets, your hands, the machinery you use to create what you create – it's all part of who and what we are. We're not about to see that all carried out the door by some greedy investment company.
"They would like to get us out sooner," he said. "This is awful because it's not like we weren't productive or making bad parts. It's because with low paid overseas workers they can make even more money than they already make. We don't deserve this. Where do we go from here? Into a minimum wage job with no benefits?"
More than 170 workers have gotten their pink slips after having to train their overseas replacements who were flown into Illinois and put up at local hotels at company expense. "It was like digging our own graves," said another plant worker and "Bainport" resident Cheryl Rendecker.
Sensata has not responded to several messages left for them asking their side of the story.
Photo: From "Save Our Jobs" Facebook page by Sensata workers in Freeport, Ill.