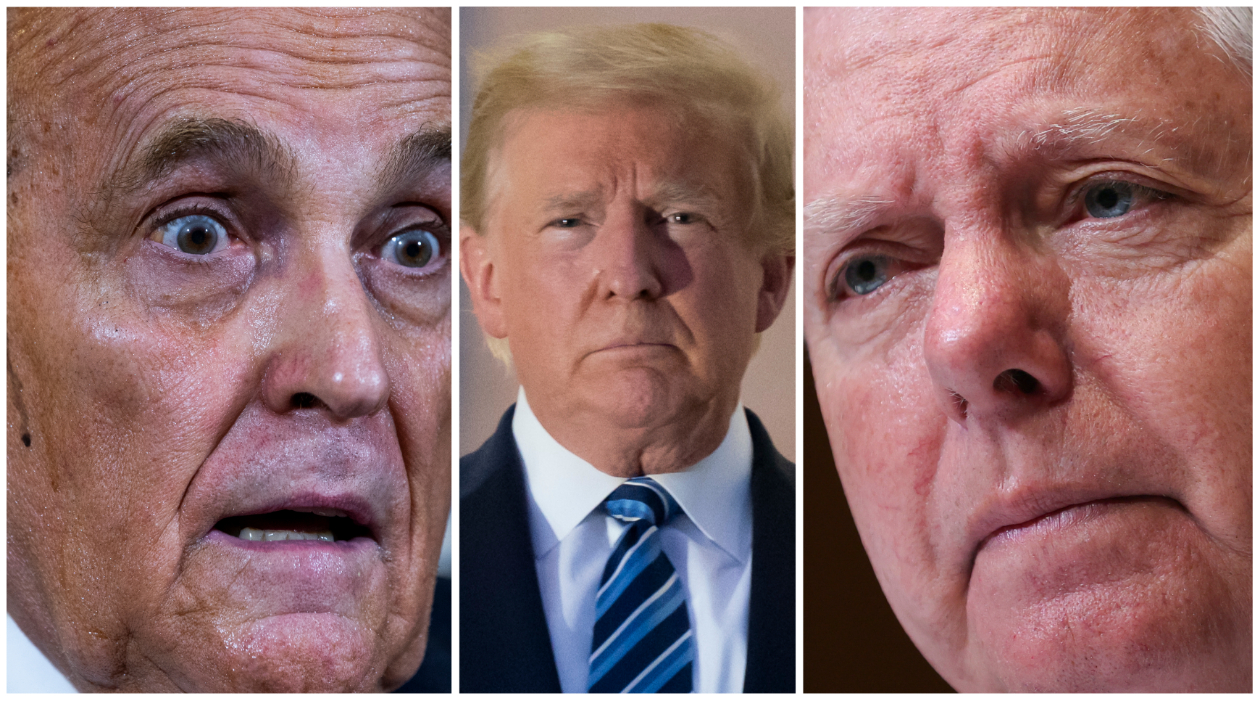 ATLANTA—Fulton County, Ga., District Attorney Fani Willis has subpoenaed top Donald Trump associates, including his lawyer Rudy Giuliani and Republican Sen. Lindsey Graham of South Carolina to testify before a grand jury investigating attempts to overturn Georgia's 2020 presidential election results and declare Trump, not Biden, the winner.
Moves by Sen. Graham and by Trump himself to pressure Georgia's Secretary of State Brad Raffensperger to do their bidding were among the many outrageous aspects of an unprecedented attack on democracy in the U.S. attack on democracy. Graham, not even a senator from Georgia but from neighboring South Carolina, according to Raffensperger, suggested that he might be able to throw out legally cast mail-in ballots while Trump, from his end, was asking Raffenperger to find enough votes to put him over the top.
Graham has tried to sell to the press and the nation the absurd idea that his illegal election interference was nothing more than a friendly call to Georgia from the senator in a neighboring state. When pressed at the time by NBC reporters to explain why a South Carolina senator had meddled in Georgia elections Graham said, "because the future of the nation depended upon it."
Willis's subpoenas also name five other Trumpites: Lawyers Jenna Ellis, Cleta Mitchell, Jackie Pick Deason, Kenneth Chesebro, and former law professor John Eastman.
The Atlanta Journal-Constitution reported the subpoenas from Willis, who is Atlanta's DA, indicate potential charges against Trump and his team could include racketeering and conspiracy.
The subpoenas also show Willis can move more quickly and nimbly than the federal Justice Department in delving into Trump's Big Lie about election fraud and his seven-part scheme to overturn his loss to Democrat Joe Biden. The Big Lie led to the Jan. 6, 2021 insurrection, invasion, and attempted coup d'état by up to 2,000 Trumpites, mobilized to stop the electoral vote count and urged on by Trump.
The Fulton County probe is just one of several probes into attempts by Trump and his associates to overturn the election but it is perhaps the most likely to plunge the whole Trump cabal into deep legal trouble. Both the House Select Committee and the Justice Department are running simultaneous investigations into the attempts to overturn the election with an emphasis too on the Jan. 6 attack on the Capitol.
Trump is obviously becoming deeply worried about developments and may be considering an early entrance into the 2024 presidential race in order to deflect publicity from the probes and to make it easier for him to claim that they are nothing more than political moves to head off his return to the White House.
The invasion of the Capitol, like the probes in Georgia, constitutes evidence showing Trump illegally obstructed government processes—the electoral vote count— and defrauded the U.S. The House probe is revealing tampering with witnesses, among other offenses. Trump also incited the insurrection and oversaw its planning, in direct violation of his oath of office and the Constitution.
One facet of Trump's scheme was to get Georgia's top elections official, Secretary of State Brad Raffensperger, to "find" 11,780 votes to put Trump over the top in the Peach State, by one vote ahead of Democrat Joe Biden, thus giving the swing state's electoral votes to Trump. And that call is one big focus of Willis's subpoenas to Giuliani and the lawyers.
In that hour-long testy, and taped, telephone call on Jan. 2, 2021, Raffensperger, a conservative Republican who voted for Trump, nonetheless stood by the U.S. Constitution and rejected that demand.
Giuliani and the other Trump lawyers listened in and participated in that call.
Another part was a follow-up demand by Giuliani in an open Republican-run State Senate committee hearing, that the state legislature intervene and award Georgia to Trump. "You cannot possibly certify" Biden won and Trump lost, Giuliani contended.
Just another lie
That's a lie too. In a recent filing with local Superior Court Judge Robert McBurney, who is running the grand jury probe of Trump trying to rig the state election, Willis said: "The General Assembly cannot, either in 2020 or today, 'rectify' election results by changing the outcome of a certified election that had already taken place, and it is never, and can never be, considered a legitimate 'legislative duty' to attempt to do so."
Willis's subpoenas have more force than those of the House Select Committee investigating January 6, along with who planned it and how to prevent future coup tries. The committee also subpoenaed Trump White House Counsel Pat Cipollone. He'll testify July 8.
And Judge McBurney told Willis's office in the last few days that there are some limits on what Willis can ask Republican state lawmakers about Trump's scheme. So she's subpoenaed Trump's team.
Willis subpoenaed Eastman because he authored the now-infamous plan to have Vice President Mike Pence unilaterally declare electoral votes from Georgia and other swing states Biden won invalid, thus throwing the election's outcome up for grabs—and setting the stage for January 6.
Giuliani and the other lawyers listened in and argued with Raffensperger, too. Giuliani "possesses unique knowledge concerning communications between himself, former President Trump, the Trump campaign, and other known and unknown individuals involved in the multistate, coordinated efforts to influence the results of the November 2020 election in Georgia and elsewhere," Willis's subpoena said.
Mitchell and the other lawyers on it "made allegations of widespread voter fraud in the November 2020 election in Georgia and pressured Secretary Raffensperger to take action in his official capacity to investigate unfounded claims of fraud," the subpoena to her said.
Three days after the call, Mitchell quit her high-powered D.C. law/lobbying firm, Foley & Lardner, after its brass made it clear its lawyers could not participate as advocates in election litigation. She now runs a conservative activist "clean elections" group.
Willis subpoenaed Graham because the South Carolina senator demanded to know if Raffensperger, a Republican who followed the law and the Constitution, could discard mail-in ballots. Graham's call was a follow-up to Trump's frequent lies that mail-in voting is fraudulent. Data show the coronavirus pandemic, which forced mail-in voting, led to 48% of all voters nationwide sending their ballots in.
Invalidating Georgian mail-in ballots would have also canceled enough Biden votes to give Trump the win. Using state elections figures, 538.com reported that while absentee and mail-in voting in Georgia increased, the rise was not as dramatic as elsewhere. New Jersey led that list, rising from 7% mail-ins in 2016 to 86% in 2020.
Biden won the mail-in/absentee vote in Georgia 65%-34%, Raffensperger's office, which ran the election, reported. Trump won the votes cast at the polls on Election Day, 60%-38%.
Pro-Biden landslides occurred in 12 of the other 14 states which broke down their ballot totals by in-person versus mail-in ballots, 538.com said. The outliers: Swing-state Arizona (Biden 52%-47% in mail-ins) and  Texas, which Biden lost 48%-51% on mail-ins and 39%-59% at the polls.
Giuliani is seen as one of the Trump associates who could be in the most trouble in Georgia. In December of 2020, he made extensive presentations to state legislative bodies in Georgia and elsewhere where he pushed false stories about rigged voting machines and showed a video that he claimed showed suitcases full of illegal ballots being secretly duped on tables at precincts where votes were being counted.  He told the reps in Georgia at the time: "You cannot possibly certify Georgia in good faith." The Georgia D.A.'s office is saying that he was involved in a multi-state conspiracy to overturn the election.