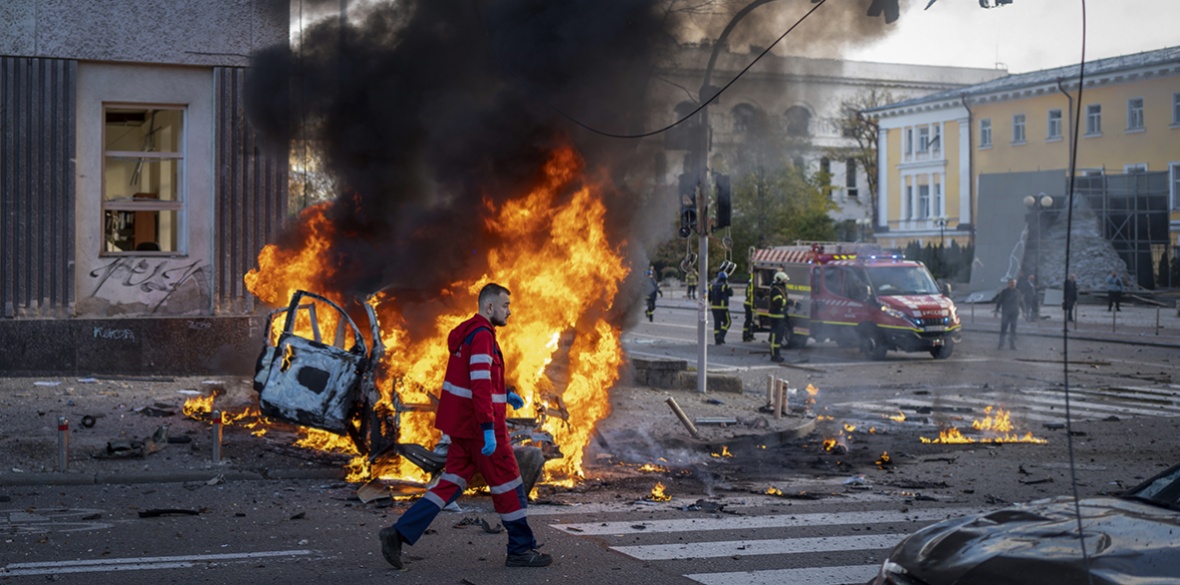 The dangerous escalation of war in Ukraine sparked renewed calls for peace Monday, with peace campaigners in Europe and elsewhere warning the risk of a nuclear conflagration is increasing daily.
Russia carried out missile strikes on cities across Ukraine today, including the capital Kiev, in what appears to be the most widespread set of attacks since the early weeks of the war.
Early reports say at least 14 people were killed by Russian missiles across the country.
Russian President Vladimir Putin confirmed the strikes, saying "terrorism" against Russia will be met with a similar response.
Putin was referring to an explosion on Saturday that badly damaged the Kerch Bridge between Russia and Crimea that killed at least three people.
Kiev has not acknowledged any role, but Moscow has blamed Ukrainian intelligence services for the bridge attack.
Western leaders and Ukrainian President Volodymyr Zelensky will hold talks later Tuesday to discuss the escalation.
But peace campaigners in the U.K. and elsewhere have called out the conflict in Ukraine as a proxy war between Russia and the West and, because of that, have warned the conflict could spiral into a deadly nuclear confrontation.
Lindsey German, a convener of the U.K.'s Stop the War Coalition, told Morning Star: "There can be no justification for the attacks on civilians being carried out in Ukraine.
"The war is escalating dangerously following the attack on the Kerch bridge in Crimea. There are no winners in this situation.
"Stop the War has called for a ceasefire and peace negotiations from the start because we feared precisely this danger. We urgently need this war to stop before it spirals even further.
"The British government should be urging peace, not war."
The Stop the War Coalition pointed to reporting in Foreign Affairs and Ukrainian media that a provisional peace plan was being developed shortly after the Russian invasion in February but that it was killed in mid-March.
At that time, Zelensky was hinting there were areas of compromise possible and that it was important for him, as president, to consider the need to save lives.
Reportedly, Russia would have agreed to return to its Feb. 23 positions, when it exercised control over parts of Donbas and all of Crimea. In exchange, Ukraine would have pledged not to seek NATO membership and in turn receive security guarantees from a number of countries.
The deal was ditched, however, after then-British Prime Minister Boris Johnson, allegedly at the behest of the Biden administration in the U.S., pressed Zelensky to break off negotiations.
Current Prime Minister Liz Truss, who was foreign secretary at the time the peace plan was blocked, now appears to be doubling down on the hardline NATO approach.
But other nations, such as China and India, have called for a peaceful resolution.
A spokesperson for the Chinese Foreign Ministry said they hoped the violence in Ukraine "will de-escalate soon."
Shri Arindam Bagchi, the official spokesperson for the Indian Ministry of External Affairs, said: "India is deeply concerned at the escalation of the conflict in Ukraine. We reiterate that escalation of hostilities is in no one's interest.
"We urge immediate cessation of hostilities and the urgent return to the path of diplomacy and dialogue. India stands ready to support all such efforts aimed at de-escalation."
Kate Hudson, the general secretary of Campaign for Nuclear Disarmament, said: "The world is moving rapidly towards nuclear war, and our [British] government is one of those leading the charge.
"This is no time to stand idly by or be silenced on these crucial issues. It's a matter of life or death for millions—including us."
Veteran peace campaigner and Member of Parliament Jeremy Corbyn, who has condemned the Russian invasion from the outset of the conflict, said: "The latest missile strikes in Ukraine represent a condemnable continuation of Russia's brutal war.
"In the face of this alarming escalation, and as we mourn the loss of more civilians, soldiers, and conscripts, the U.N. must act immediately by calling for an urgent ceasefire and facilitating an agreement between Russia and Ukraine on future security arrangements.
"Now, more than ever, our priority must be to find a peaceful solution and prevent further devastation to Ukraine and its people."
This comes as Belarusian media are reporting Belarus and Russia are set to deploy a joint military task force on the country's western borders.
Belarus President Alexander Lukashenko said: "Do not count on a large number of troops of the Russian Federation armed forces. But it will be more than 1,000 people."
Belarus news agency Belta said the two countries started pulling forces together ago after the explosion on Russia's bridge to Crimea.
Lukashenko also claimed that Ukraine was preparing an attack on his country's territory.
"I've said already that Ukraine is not just discussing but planning strikes on the territory of Belarus," Belta quoted Lukashenko as saying.
In Britain, Communist Party General Secretary Rob Griffiths said: "The rulers of Russia, Belarus, Ukraine, and the NATO powers appear hell-bent on pouring more petrol on the flames.
"But there are voices of sanity in the international peace movement; China and India calling for a ceasefire, negotiations, and a just settlement.
"We must help them break through the wall of silence imposed by the warmongering mass media in Britain and elsewhere."
This Morning Star article was supplemented with further information before publication in People's World.