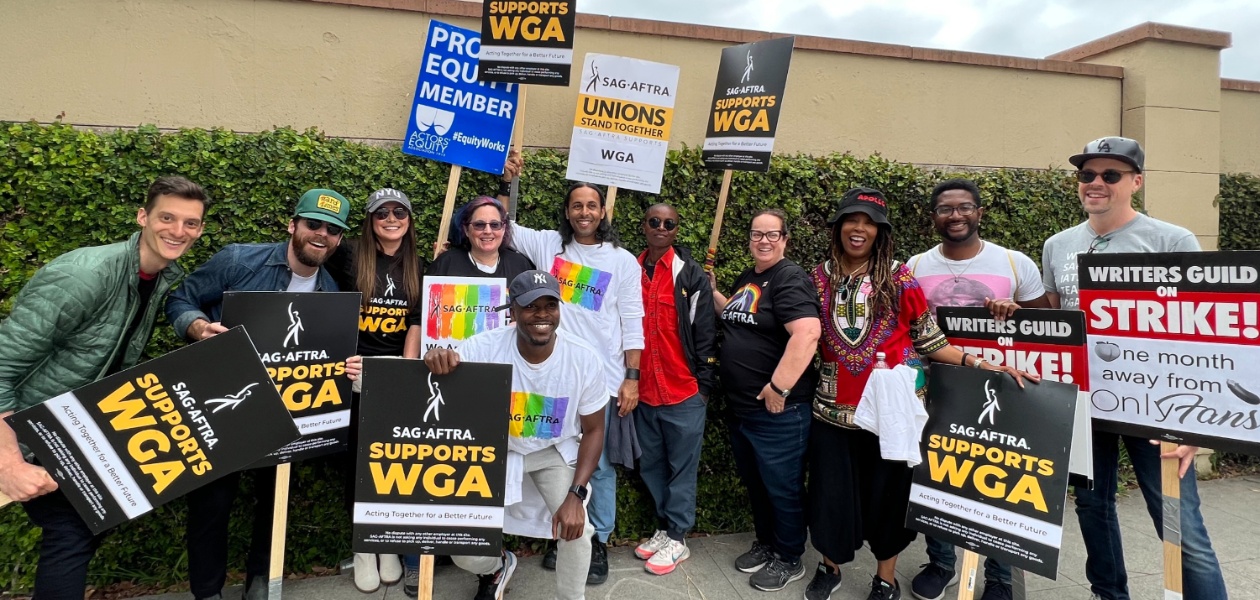 LOS ANGELES and NEW YORK —With a 98% "yes" vote, SAG-AFTRA members authorized their board to call a strike if bargaining with their bosses, the nation's TV, movie, and streaming video moguls, doesn't produce a new contract.
The June 5 vote in a heavy turnout of nearly 65,000 members, arms the board with a show of strength just before talks open on a new pact. The current contract expires at the end of June.
That pact, like the next one the union will try to reach, covers performers not just in Los Angeles-based studios, but also New York-based live theaters and streaming services, which are headquartered in both cities.
The issues concerning SAG-AFTRA members are almost identical to those which forced their colleagues, the 11,500 writers, members of the Writers Guild of America, out on strike on May 2 against the same set of bosses, the Association of Motion Picture and Television Producers, which includes studios such as Amazon-MGM and NBCUniversal, plus streaming services like Netflix.
Those issues include a steep decline in pay, compared to inflation, since the last pact was signed and the virtual disappearance of domestic "residuals"—payments the performers receive every time their films, shows, and videos are rerun.
They also include AMPTP members' cutbacks in workdays per show, and the looming threat of artificial intelligence, which would substitute computer-generated performers for real people.
All those, combined, pose an existential threat to performers' jobs, the union says.
The strike authorization vote followed the unanimous recommendation of the union board, said SAG-AFTRA President Fran Drescher. "The membership joined their elected leadership and negotiating committee in favor of strength and solidarity. I'm proud of all of you who voted as well as those who were vocally supportive, even if unable to vote. Everyone played a part in this achievement," Drescher added.
"Together we lock elbows and in unity, we build a new contract that honors our contributions in this remarkable industry, reflects the new digital and streaming business model, and brings ALL our concerns for protections and benefits into the now! Bravo SAG-AFTRA, we are in it to win it."
Duncan Crabtree-Ireland, the union's executive director and its chief negotiator said "The overwhelming yes vote is a clear statement that it's time for an evolution in this contract.
"As we enter what may be one of the most consequential negotiations in the union's history, inflation, dwindling residuals due to streaming, and generative AI all threaten actors' ability to earn a livelihood if our contracts are not adapted to reflect the new realities. This strike authorization means we enter our negotiations from a position of strength so that we can deliver the deal our members want and deserve."
The AFL-CIO immediately supported the union, faulting AMPTP for dragging its feet.
"Hollywood messed around. Now it's finding out," the federation tweeted.
Meanwhile, the Hollywood Reporter said 52 New York state legislators, in letters the chairs of the State Senate and State Assembly Labor Committees authored, told AMPTP to stop stonewalling the writers' demands and bargain in good faith for a new pact.
The lawmakers told association President Carol Lombardini and AMPTP companies to listen and respond to the issues the unions raise. It certainly hasn't listened to the Writers Guild. That union's fact sheet when the association forced it to strike on May 2 had repeated "no response" notations in comparing the two sides' positions—along with niggling raises of 4% or less over three years. The Writers Guild seeks 6%-5%-5%.
"We understand that, despite many weeks at the bargaining table, the AMPTP rejected a range of Writers Guild proposals essential to the well-being of writers in the episodic television, comedy-variety, and feature film areas," both letters said.
"We call on the AMPTP, and its affiliated companies, to listen closely to what their writers are telling them about the difficulties in maintaining careers as streaming continues to transform the industry. We call on you to negotiate in good faith to reach a reasonable agreement" with the guild.
We hope you appreciated this article. At 

People's World

, we believe news and information should be free and accessible to all, but we need your help. Our journalism is free of corporate influence and paywalls because we are totally reader-supported. Only you, our readers and supporters, make this possible. If you enjoy reading 

People's World

 and the stories we bring you, please 

support our work by donating or becoming a monthly sustainer today

. Thank you!