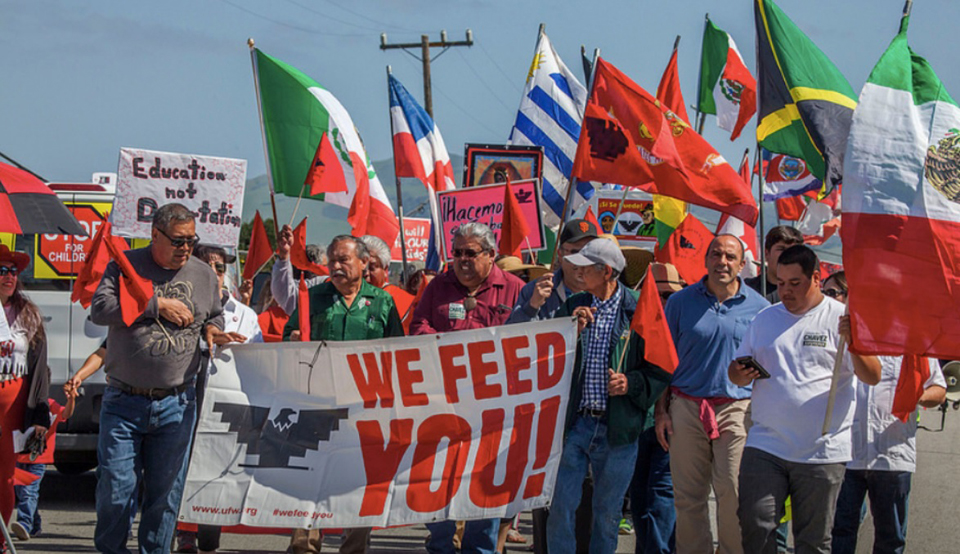 SALINAS, Calif.—In this city, on April 8, over a thousand farm workers and allies filled the streets of its working-class barrio to protest the Trump administration's immigration policies, including an increase in immigration raids that, according to United Farm Workers President Arturo Rodriguez, are "striking terror in rural communities across California and the nation." It was one of six marches taking place this month in agricultural communities around California, Texas, and Washington state.
Highlighting the cost of the immigration crackdown was the deaths last month in Delano of husband and wife Santos Hilario Garcia and Marcelina Garcia Porfecto. On March 13, the couple, both farm workers, had just dropped off their daughter at school on their way to work when two black unmarked Jeeps with tinted windows, driven by Immigration and Customs Enforcement (ICE) agents, stopped them. The couple drove off, but lost control of their car, hit a utility pole and flipped over, killing them both. They leave six children behind.
According to a police report obtained by the Los Angeles Times, immigration agents told police that they were not in "pursuit with emergency lights/sirens," but that surveillance footage appears to show the ICE vehicles following the couple with emergency lights flashing. The Delano Police Department have asked Kern County prosecutors to investigate the discrepancies in the immigration agents' accounts of the incident. On Monday, ICE spokesperson Richard Rocha sought to divert blame in a statement to the Times that sanctuary policies, "have pushed ICE out of jails," and "force our officers to conduct more enforcement in the community – which poses increased risks for law enforcement and the public … It also increases the likelihood that ICE will encounter other illegal aliens who previously weren't on our radar."
The marches, which also commemorated the birthday of UFW co-founder Cesar Chavez follow several months of UFW activity opposing immigration enforcement, and organizing workers to defend themselves against it. The union has distributed flyers in the fields that tell workers, "Don't sign anything and demand to speak with a lawyer. Take photographs, videos, and notes about what happens, including names, and license plates." It lists a toll-free number to call for help.
Organizers are advised by the UFW Foundation to tell employers that ICE cannot enter the private area of their business without a signed judicial warrant, that in I-9 audits, employers have 3 work days to produce the forms, and that employers also have the right to speak to an attorney before answering questions or signing ICE documents.
In March, UFW protesters in Hanford, Visalia and Modesto picketed the offices of Republican Congressmen David Valadao, Devin Nunes and Jeff Denham, respectively. General meetings denouncing ICE actions were also held in Salinas and Orosi, and protests in Merced and Bakersfield.
"Do growers who supported and financed the campaign that put Donald Trump in office condone the climate of fear that is gripping farm worker communities?" a union statement asks. It points out that growers are currently supporting bills in Congress to remove protections from guest workers recruited in Mexico. "Such legislative schemes are aimed at driving down the wages and working conditions of all agricultural workers. We will fight them."
The Center for Immigration Studies, an arm of the anti-immigrant lobby in Washington, D.C., used Cesar Chavez' birthday to announce the launch of National Border Control Day "in tribute to the late labor leader and civil rights icon's forceful opposition to illegal immigration and support for strong border enforcement."
UFW spokesperson Marc Grossman called that "an abomination." A UFW statement in response said, "There are two separate and distinct issues—immigration reform and strikebreaking." The union had a controversial history of trying to use immigration enforcement to remove undocumented strikebreakers in strikes during the late 1960s and '70s, but the statement says that from the first grape strike "the UFW welcomed all farm workers into its ranks, regardless of immigration status."
It noted that the union opposed employer sanctions, which made it illegal for undocumented immigrants to work, and lobbied for the amnesty provision in the 1986 Immigration Reform and Control Act that enabled one million undocumented farm workers to become legal residents. Given that the union's membership reflects the composition of farm workers generally, most of whom have no papers according to Farmworker Justice, a farm worker advocacy group in Washington, it is possible that a majority of the union's members are undocumented.
According to Rodriguez, protesting immigration enforcement is part of defending farm laborers generally, both union and non-union. At the Salinas rally, Rodriguez told workers and supporters, "Santos Hilario Garcia and Marcelina Garcia Porfecto, and their six orphaned children, are casualties of the Trump administration's targeting of hardworking immigrant farm workers who toil and sacrifice to feed all of us."