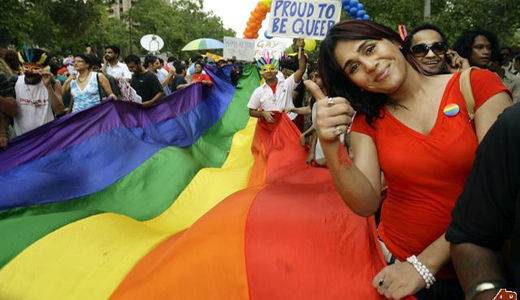 According to a recent poll, legalizing same sex marriage is gaining support in India one year after the Delhi High Court decriminalized homosexuality.
Before July 2009 homosexuality was illegal in India. That was overturned by the high court last year, which stated "the fundamental right to life and liberty and the right to equality as guaranteed by the Constitution of India."
Since then the country has seen an increase in health and social services for the LGBT community. Supporters say there has been a decrease in harassment, along with an opening of gay and lesbian establishments including pride parades in major cities.
SMS GupShup, known as the largest mobile social network in India conducted a Voice of India poll in June asking users, "Do you think same sex marriage should be legalized in India?"
Of the nearly 8,000 respondents, 31 percent said they support legalizing same sex marriage and 69 percent said they oppose it.
Conductors of the poll say the results highlight a major shift toward gay rights and same sex marriage.
Rachael Himsel with VSC Consulting and spokesperson for the poll said, "In India sexuality in general has always been a taboo topic in a very religious country."
She added, "But that has changed a lot and now there is an overall willingness to speak openly about sexuality in India."
When the courts decriminalized homosexuality it was a huge "about face," she said. She said the poll shows that "the people have a more liberal view about the issue than perhaps the government."
Most of the respondents are from urban areas including: 35 percent from Bangalore, 29 percent from Mumbai, 16 percent from Kolkata, 15 percent from Delhi and 3 percent from Chennai.
Supporters of gay rights in India say same sex relationships have been seen more in the arts and entertainment industry.
Vishal Nongbet, SMS GupShup senior director and head of marketing said Bollywood and American pop culture has had an impact in acceptance of the gay and lesbian community.
"We are seeing a growing number of films, TV shows, and music coming from India, the U.S., and around the world that show same sex couples," said Nongbet in a statement. "As more Indians are exposed to information and entertainment which show these relationships, one can see how acceptance grows."
Himsel notes the arts truly have an impact.
"I believe that when we see more and more LGBT relationships on television for example it puts a human face to the issue that people can relate to," she said. "And more Indian celebrities are embracing the equal rights of the LGBT community."
According to U.S. polls taken in 2009 an average of 44 percent of Americans support same sex marriage making the margin between Indian and U.S. support somewhat minimal at only a 13 percent difference.
SMS GupShup is the world's largest mobile social network and is similar to Twitter allowing users to communicate via text messaging to connect with family, friends and fans. It was launched in 2007 and has generated 26 million users in over 2 million communities and reaches 4 billion users worldwide.
Photo: AP