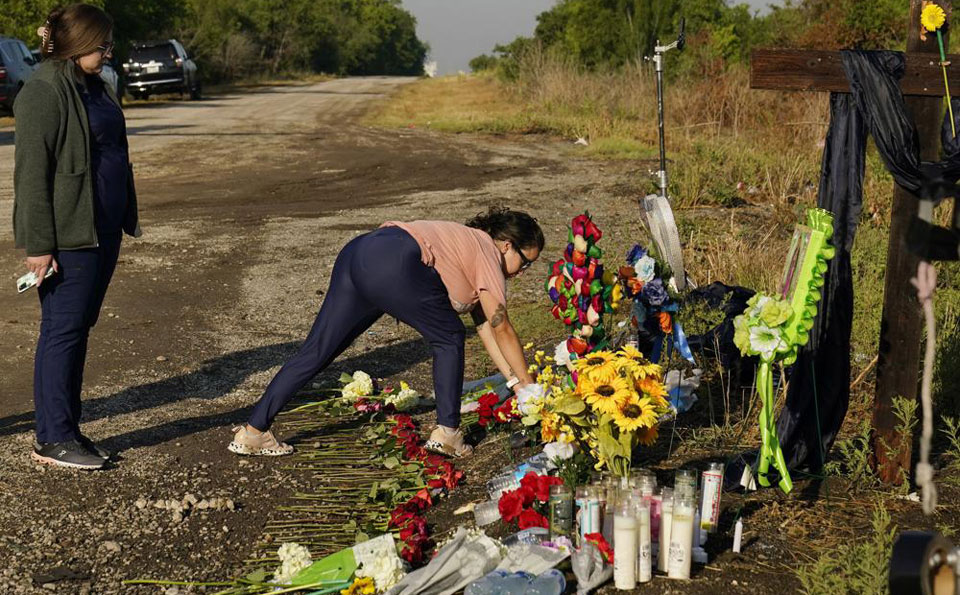 The horrific deaths of 53 migrants (so far) in San Antonio, Texas, packed in an unairconditioned 18-wheeler in sweltering 100-degree heat is another shocking reminder of the nation's outdated, unjust, and inhumane immigration system. Policies based on criminalizing migrants and militarizing borders are causing more suffering and death while failing to address the root crisis primarily driving it.
A record number of migrants and their families, escaping gang violence and poverty, including from the COVID-19 pandemic aftershocks which worsened conditions in their home countries, are seeking entry into the U.S., seeking refuge, asylum, and economic security.
Most migrants are from Mexico, El Salvador, Honduras, and Guatemala. Migrants from Cuba, Haiti, Venezuela, and Ukraine also attempt to cross. Federal and state policies designed to block legal entry routes are leading migrants to risk more dangerous ways to enter the U.S., like those who died in San Antonio and were at the mercy of human traffickers. Over 650 migrants died crossing the border in 2021.
In a victory for the Biden administration, the U.S. Supreme Court sided with the administration's claim that it had the authority to end one such Trump-era deterrence policy, "Remain in Mexico." That Trump policy forced tens of thousands of migrants from third countries seeking asylum to wait in Mexico until immigration courts heard their cases.
"SCOTUS has confirmed that the cruel Remain in Mexico policy of the Trump administration can finally be ended. This is an important decision that underscores the authority of the president and the Biden administration to take executive action on issues related to immigration and asylum," said Representative Jesús "Chuy" García, D-Ill.
South Texas is traditionally one of the busiest and deadliest border crossing corridors. The immigration justice group Raices blamed the tragic deaths in San Antonio squarely on the racist policies of Texas Gov. Greg Abbott and Republican state officials. Texas has spent billions of dollars on the boondoggle Operation Lone Star mobilizing state law enforcement and Texas National Guard to police the border. The policy has resulted in the incarceration of over 3,000 migrants.
Texas GOP officials have designed their policies to inflict maximum cruelty on migrants. They seek to exploit voter fears while diverting attention from disastrous GOP state policies, including banning abortions and eliminating gun restrictions, leading to tragedies like the Uvalde elementary school massacre. Bexar County Sheriff Javier Salazar said Abbott had turned the migrant tragedy into "one big campaign stunt."
Abbott blamed the tragedy on the Biden administration. But his Democratic opponent for governor, Beto O'Rourke, said, "We need urgent action—dismantle human smuggling rings and replace them with expanded avenues for legal migration that reflect our values and meet our country's needs."
Republican candidates nationally are conjuring up another "big lie" that Biden's policies have created an "open border," leading to an "immigration invasion" to stir up voter hysteria. The GOP tried and failed to create panic over a massive "migrant caravan" descending on the border in the lead-up to the 2018 elections. For the 2022 midterm election, Republicans are inundating voters, including in states far from the U.S.-Mexico border, with fears of "drug and trafficking cartels" overrunning the U.S. and non-citizen migrants casting illegal votes to elect Democrats.
Immigration reform groups hailed the Supreme Court opinion on Remain in Mexico. "The way to address large numbers of people seeking safety at our border is not to erect new and more elaborate ways to prevent them from pursuing asylum through the American legal system or to waste billions on a border wall," said America's Voice, an immigrant rights organization. "The remedy is an orderly process of visas, courts, and investments in countries from which people are forced to flee to regulate migration intelligently—not continue failed efforts to suppress migration and restrict rights ineffectively."
But immigration reform groups are also urging the Biden administration to do much more to undo other Trump-era policies and restore the observance of federal asylum laws. Raices and other immigration justice groups urged the administration to begin the public process to revoke Title 42, a law on the books that was dusted off by Trump which permits the immediate deportation of migrants based on a public health emergency.
The narrow Democratic congressional majority, GOP resistance in so-called "red" states, right-wing judges and courts, a fascist movement embedded within the U.S. Border Patrol, and the sheer scale of the border crisis are limiting Biden administration action. And yet, the administration has taken significant steps to change immigration policy.
When the Biden administration assumed office, it began fulfilling a pledge to change immigration policy. The administration ended the cruel practice of family separation and returned children immorally taken from their parents. It ended the construction of Trump's Border Wall, along with the travel bans from various countries. Biden also ended the detention of migrant families, but immigration authorities are still detaining individuals. The administration is implementing a plan relying on ankle bracelets rather than private detention centers and reducing the number of beds needed.
Instead of inflaming tensions between nations in the hemisphere around immigration issues like the Trump administration did, the Biden administration is seeking regional cooperation. That spirit was reflected in a statement released from the recent Summit of the Americas on immigration, welcomed by immigration groups.
The administration was handcuffed by extreme right-wing justices and courts when it tried to end the Remain in Mexico policy and Title 42 shortly after taking office. Trump successfully invoked the law during the pandemic, and a Trump-appointed judge reinstated the law after the Biden administration sought to end it.
The Remain in Mexico policy violated people's internationally-protected right to seek asylum and created cruel, dangerous, and squalid conditions for migrants in Mexico. The order's purpose was to discourage migrants from seeking asylum. However, now that Biden can rescind the policy, Congress has not provided adequate funds to detain thousands of migrants whom immigration authorities will have to house during the asylum process.
While the Trump administration used the pandemic as a cover, the real purpose of the policies was to impose permanent restrictions on immigration, a policy formulated by then-Trump advisor Stephen Miller. The larger white supremacist MAGA/GOP objective is to stop and reverse demographic trends, which will result in a majority of people of color nation by 2042, and guarantee white minority rule.
Most Democratic elected officials support comprehensive and just immigration reform with a path to citizenship for the estimated 11 million undocumented immigrants in the country and their complete integration into U.S. society. But some Democrats representing swing congressional districts and states up for re-election support stiffer enforcement, including the extension of Title 42.
Opposition to ending the filibuster by Sens. Joe Manchin, D-W.Va., and Krysten Sinema, D-Ariz., means there is no hope of passing immigration reform legislation in this Congress. Legislation extending citizenship to thousands of youth and their parents under the DACA and DAPA, programs initiated through an Obama executive order, is similarly being blocked.
Today's balance of political forces underscores the imperative of electing more pro-immigration reform Democrats to Congress, governorships, and state legislatures in 2022. Adding enough Democratic senators committed to killing the filibuster could move long-stalled legislation on multiple fronts.
However, the crisis at the U.S.-Mexico border will persist so long as the deep systemic issues driving immigration go unaddressed, including wrenching poverty, violence, political corruption, and climate change significantly impacting Central America. These issues, along with creating an orderly immigration system, must be dealt with through cooperation on a regional basis and require radical economic and political reforms.