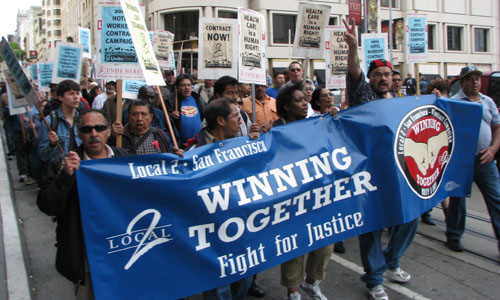 SAN FRANCISCO – In case the giant hotel corporations now bargaining with their workers for a new citywide contract had any doubts, over 1,700 of those workers made clear Sept. 24 they and their union, Unite Here Local 2, are determined to win a fair contract that maintains strong health care coverage and keeps their jobs secure. Their current contract expired in August.
After rallying at Union Square in the heart of downtown, the workers took to the streets, pausing to chant and picket in solidarity as 92 of their number sat in at two of the city's top hotels and were arrested for performing peaceful civil disobedience. Forty-three workers were arrested at the Grand Hyatt Hotel, and 49 were detained at the Westin St. Francis. All were later released.
At Union Square before the rally began, Linda Knighten, a cook at the Omni Hotel for over eight years, said that as a single mother with "a great kid" in college, her health coverage is vital, especially with student fees soaring and other financial pressures growing.
Asked about workloads, Knighten said management is "trying to get one person to do two people's jobs." She had been assigned to an eight-hour shift in the hotel's cafeteria, during which she was responsible for feeding some 200 people. "Now they say I can do the cafeteria work in six hours, and do amenities for the rooms during the other two."
As the marchers prepared to take to the streets, Local 2's president, Mike Casey, updated the crowd on the status of negotiations. The union is currently bargaining with three major hotel corporations – Starwood, Hyatt and Hilton. "All three of these employers have to date been dragging their heels, crying about how the economy is hurting their business," he told the crowd.
Though the corporations have made billions in the last few years, and in recent months have seen "unprecedented improvements" in their earnings, he said, they are still trying to require their workers to cover their health care.
The union is offering alternatives, Casey said: a one year contract "that is reasonable" and will "cover our health care and pensions," or a three or four year pact that improves wages and pensions, guarantees full maintenance of health care and reduces workloads. "The third option is that we will be happy to carry this contract into the next year," when Unite Here locals in many locations will be bargaining at the same time.
The union points out that hotel workers, who average about $30,000 a year in wages, have in the past prioritized keeping their health care, which is fully paid for union members and costs an additional $10 per month for family coverage, over wage and pension increases.
The new contract will cover some 9,000 workers at more than 60 hotels, half of them the city's largest luxury hotels. The contract that just expired was signed three years ago after two years of very difficult bargaining, a two-week strike, a nearly eight-week lockout and a boycott of the city's hotels, initiated by Local 2.
mbechtel@peoplesworld.org