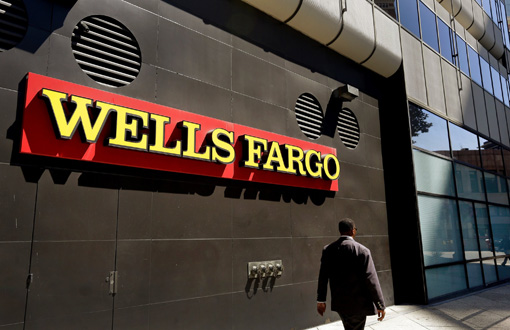 Pity poor John Stumpf, the CEO of Wells Fargo bank.
Earlier this month, the Consumer Finance Protection Bureau (CFPB) hit the bank with a $185-million fine, the largest penalty the new agency has ever assessed.
And, as if that weren't bad enough, his board of directors socked him with a forfeiture of about $41 million in stock awards he had coming to him and the loss of his salary while they investigate business misconduct for which he and Carrie Tolstedt, former chief of Wells Fargo's community banking division, are responsible.
Temporarily, at least, Stumpf will have to struggle to make ends meet with the mere $161 million or so he pocketed in wages and bonus awards between 2011 and 2015, the years during which the misconduct took place.
Tolstedt, who recently retired, will walk off, according to Fortune, with $124.6 million in stock, options, and restricted Wells Fargo shares.
All this must seem terribly unfair to Stumpf. Year after year, under his leadership, Wells Fargo led the industry in profits. The bank returned 12.7 percent on common equity last year, over twice the return registered by Bank of America.
"Cross selling"
Those profits were due in large part to the fact that Wells Fargo led the industry in "cross-selling," the practice of selling to existing customers new financial products, whether they need them or not.
Just about every bank does it.
However, Wells Fargo employees put a new twist on the practice. Many eliminated the "sell" from "cross sell." Over the past five years, they set up some two million credit card, checking and similar accounts in the names of customers who hadn't requested them. As one press account puts it, these were accounts that customers, "did not authorize, did not know they had, did not need, and clearly did not understand."
Many of these customers were surprised to find they owed late fees on bogus accounts.
Stumpf claims he was taken by surprise, too. He recently sent an e-mail to millions of Wells Fargo customers saying, in part, that the recent revelations about his bank do "not reflect Wells Fargo at its best." But the bank, Stumpf goes on to pledge, is going to "get things right …".
"Sandbagging"
For starters, Stumpf fired some 5,300 employees who engaged in "sandbagging," the term Wells Fargo employees used for opening unauthorized accounts.
But "sandbagging" also has a broader dictionary definition. If you treat somebody unfairly, if you manipulate to deceive, you're sandbagging.
Wells Fargo's top execs have been sandbagging, in this sense, ever since former CEO Richard Kovacevich invented "cross-selling" and turned Wells Fargo into the banking industry's top profit pacesetter.
Here's why "cross-selling" is so profitable: banks typically don't make all that much off opening a traditional checking or savings or credit card account, only $41 on average, notes The New Yorker's Adam Davidson. But some financial products that banks offer – like mortgages – can return a profit 25 times that modest average.
The more accounts a customer has with a bank, sales data show, the likelier a customer will be to sign up for one of these higher profit-margin offerings.
Nobody in banking cross-sells as well as Wells Fargo. Since the early 2000s, the average number of financial products per Wells Fargo customer has jumped over 50 percent.
This huge hike didn't just haphazardly happen. Wells Fargo's top execs made it happen – by establishing incentive systems that rewarded employees for getting customers to sign up for services they had no need to purchase, and for punishing employees who did not meet sky high sales quotas.
Claw backs
We have no evidence that Stumpf ever ordered any Wells Fargo manager or employee to set up unauthorized accounts for customers. Instead, according to The Washington Post, many employees have complained they were "forced into a hypercompetitive environment that led thousands of them to set up the sham accounts to meet aggressive sales targets."
In other words, Stumpf and his fellow execs like Tolstedt fostered a banking culture that actively encouraged managers and employees to sandbag customers.
And so far their punishment has only been light slaps on the wrist
But punishment, notes the advocacy group Americans for Financial Reform (AFR), could and should be coming. Federal watchdog agency officials have the legal power to compel banks to "claw back" any executive earnings that fraudulent behaviors have generated.
The AFR is demanding that Wells Fargo claw back Tolstedt's windfall and the bonuses Stumpf received during the bank's sandbagging heyday.
Tyrel Oates would most likely agree with the AFR demands. Two years ago, Oates – then a Wells Fargo employee in Portland, Ore. – sent Stumpf an e-mail that urged the CEO to recognize America's "increasing focus on income inequality" and to take steps to make Wells Fargo's internal distribution of income more equal.
Oates then copied his e-mail to some 200,000 of his fellow Wells Fargo employees. Stumpf never responded. Wells Fargo institutionally did, however. Oates noted in a resignation letter last year, that the bank put limits on "who we can and cannot email within the organization."
Lawmakers in the city where Oates labored for Wells Fargo will shortly be considering a response of their own to the inequality that executive pay excess inflicts on the nation. Portland will hold hearings next month on a proposal to place a surtax on any publicly traded companies operating in the city that pay their top execs over 100 times their employee median pay.
In 2014, the year Tyrel Oates sent his e-mail plea, CEO Stumpf took home over 600 times what Oates was making.
The Portland hearings will not be the only actions that might put a crimp in Wells Fargo's avarice. Stumpf was hauled before the Senate Banking Committee last week and will be the only witness before a hearing of the House Financial Services Committee next week.
Furthermore, the Labor Department is conducting a "top-to-bottom review" of the system of rewards and punishment Wells Fargo imposed on its employees.
And today, California Treasurer John Chiang said his state will suspend several key banking relationships with Wells Fargo.
"Wells Fargo's fleecing of its customers by opening fraudulent accounts for the purpose of extracting millions in illegal fees demonstrates, at best, a reckless lack of institutional control and, at worst, a culture which actively promotes wanton greed," Chiang said.
Long time labor journalist Sam Pizzigati, now an Institute for Policy Studies associate fellow, co-edits Inequality.org.