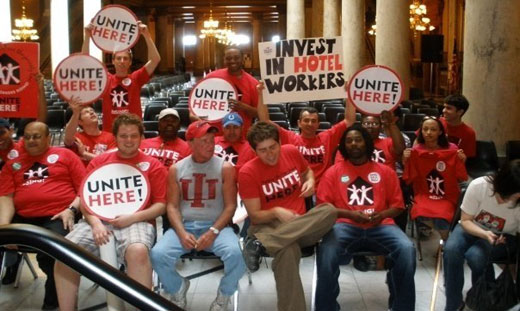 SANTA CLARA, Calif. – Dozens of Hyatt workers and community supporters packed the City Council chambers on Monday to speak in favor of a resolution calling on the management of Santa Clara Hyatt to grant its workers the terms agreed on in a national agreement reached July 1 between the Hyatt Hotels corporation and Unite Here, the union representing hospitality workers.
The agreement will go into effect upon the settlement and ratification of union contracts by Hyatt associates in San Francisco, Honolulu, Los Angeles, and Chicago. Pending worker approval, the contracts will provide retroactive wage increases and maintain quality health care and pension benefits. The proposed new contracts would cover workers until 2018.
A key provision of the agreement establishes a fair process, which includes a mechanism for employees at a number of Hyatt hotels to vote on whether they wish to be represented by Unite Here. As part of the accord, upon ratification of the union contracts, Unite Here will end its global boycott of Hyatt.
At issue in Santa Clara, a city of some 50,000 located in the middle of Silicon Valley, is whether the agreement will cover the Hyatt facility there. Hyatt manages but does not own its hotels, and the agreement requires that the local owners of Hyatt facilities consent to the agreement's terms for it to take effect.
The city of Santa Clara owns the land where the Hyatt hotel stands, and so the union maintains that the city's consent fulfills that requirement.
Workers and community members, including several local clergy, filing up to speak, thanked the Council for considering this resolution. In response, councilperson Teresa O'Neil acknowledged the thanks but added that the city owed thanks to the workers for their service in welcoming visitors to the city. "You are face of Santa Clara," she declared, noting that she had long been involved in struggles for working people. Other Council members, including Mayor Jamie Matthews, also spoke movingly in support of the workers. The resolution passed unanimously.
The workers celebrated outside City Hall after the victory, letting out a series of "Sí se puede's" that could undoubtedly be heard for blocks around.
Photo: Unite Here Facebook page