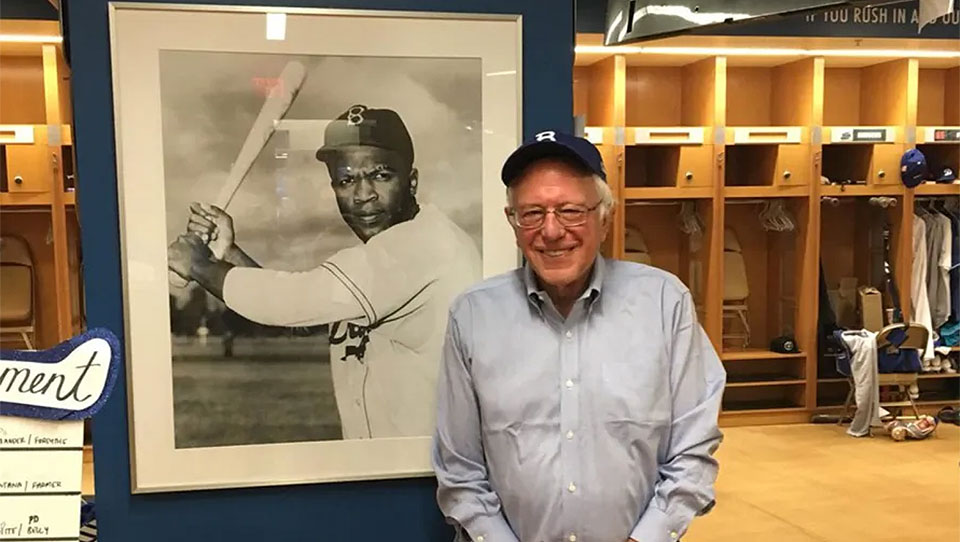 Bernie Sanders is a baseball fan. How couldn't he be? Growing up in Brooklyn, New York, the Dodgers baseball club was a part of everyday life.
Well, that was the case up until the fall of 1957 when team owner Walter O'Malley announced the team's move over to the West Coast of California.
It was a devastating shock for fans, an economic shock for fans (and small business) living in the Flatbush neighborhood of Brooklyn—Ebbets Field was only a short walk away, and it underscored the greediness of big business; the move to Los Angeles was all about power, money, and control.
And now, 62-years later, that bloodlust for profit is back (publicly, it was never really gone).
Major League Baseball is currently negotiating a new agreement with the National Association of Professional Baseball, the minor leagues' governing body, and on the table is the future of over 40 professional minor league baseball teams. A formal proposal from MLB would cut major league affiliation of 42 teams in the lower levels of the minors, short-season and rookie ball clubs.
The MLB and MiLB's professional baseball agreement is set to expire after the 2020 season, and the new agreement could see devastating changes.
For the presidential candidate, and independent senator from Vermont the plan is "an absolute disaster for baseball fans, workers and communities throughout the country."
Sanders met with MLB Commissioner Rob Manfred to discuss the proposal Monday and to also remind the "Comish" that he "and other members of Congress will be carefully monitoring the progress of negotiations on behalf of fans."
Following the meeting with Sanders, MLB released a statement saying it "understands that we have an obligation to local communities to ensure that public money spent on minor league stadiums is done so prudently and for the benefit of all citizens.
"MLB also must ensure that minor league players have safe playing facilities suitable for the development of professional baseball players, are not subjected to unreasonable travel demands, are provided with compensation and working conditions appropriate for elite athletes, and have a realistic opportunity of making it to the major leagues."
Sanders also released a statement saying Manfred assured him "he is committed to a good-faith negotiation, and is open to solutions that would maintain professional league baseball in the 42 communities while addressing concerns about facilities, working conditions, and wages for minor league players (Yes, let's not forget MLB tried to prevent minor league players from earning a legally protected minimum wage deep inside the "Save America's Pastime Act").
Under the current minor league agreement, MLB clubs generally provide and pay for the staff and players for their affiliates, leaving minor league teams to cover everything else, including field, equipment, travel and uniform-related costs. MLB says it wants the minor league clubs to improve working conditions of the team facilities, but this proposed "cost-saving" measure is a threat to both players, and communities.
"I cannot believe the arrogance of these people," a minor league team owner told the Daily News. "They don't care about lawsuits or anything. They think they're bulletproof. They've told us, 'We're doing this and there's no discussion about it, and if you don't like it, we'll form our own minor leagues.'"
In the proposal, MLB would create a new "Dream League" which would be operated by the MLB at minimal cost and would provide undrafted players an opportunity to play as they attempt to break into the major league.
Along with changes to working conditions, the proposal would reduce the amateur draft from 40 to 20 rounds, move it from June to August, and drafted players would "report to the major league team complexes and undergo analytics indoctrination—i.e. the analyzation of the hitters' bat speeds, launch angles, etc., and the pitchers' spin rates, arm strengths and grips," according to Bill Madden of the New York Daily News
For cities across America, this new threat by MLB increases the likelihood that their baseball culture, heritage, and economic stability will come to a crashing end.
According to inside sources, MLB owners voted 30-0 in support of the proposal, despite the chances of lawsuits. So, for now, all we can do is wait to see how it all plays out—with at least one congressional baseball fan in our corner.