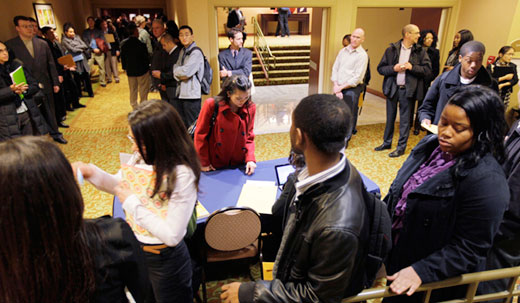 If Congress doesn't move and renew jobless benefits in 15 days (by Feb. 29), millions of workers and their families will drown in a sea of worry, debt, foreclosure, homelessness and perhaps even worse.
The unemployed demonstrated in North Carolina yesterday at a "Walk a Mile in My Shoes" rally to demand that their Congressional representatives act. "We'd be devastated," Kenny Wilkes, a laid off tobacco factory worker, told the crowd in Raleigh. "The money my wife brings in couldn't sustain rent, gas, electric, food and insurance."
As Kenny made his plea Republican leaders on Capital Hill announced that they have dropped their opposition to President Obama's Feb. 29 extension of the payroll tax cut for 160 million working Americans. Almost every newspaper, TV newscaster, radio talkster and on-line news source in the nation reported on the apparent Republican "cave-in" on an issue critical to both the nation's working people and the economic recovery.
We don't see this as Republicans "caving," however.
In an election year no one should ever have expected that they would not vote to extend a payroll tax cut for 160 million, particularly at a time that they are seen as defenders of tax cuts for millionaires and billionaires.
The payroll tax cut extension was part of a package that included extension of Unemployment Benefits, however. Those benefits are the lifeline that will keep Kenny and his family from drowning.
The payroll tax cut extension was also connected to the question of whether or not there would be cuts in Medicare.
By separating out the tax cut extension the Republicans leave unsettled the extension of jobless benefits and the new cuts they want in Medicare. Clearly, it is their hope that their move will allow Democrats to claim victory on the payroll tax cut extension and that enough Democrats will then go along with them on Medicare cuts and cutting the unemployment benefit extension. The result: 160 million workers get their tax cut extension but those same 160 million get to be the ones who, in the end, pay for it. The rich continue to pay for nothing, getting off free and clear. The parents of the working-class majority get fewer Medicare services and their brothers, their sisters and even they end up without the unemployment benefits they need now or may need in the future.
Tell Congress to act now and do all three things: renew the payroll tax cut, extend insurance benefits for the unemployed, and reject any cuts to Medicare. Tell your lawmakers that you expect them to do these three things in the next 15 days, before February 29. Tell them that, otherwise, it is they who will be filing for unemployment benefits.
Photo: Job seekers line up in San Francisco, Jan. 18. Eric Risberg/AP