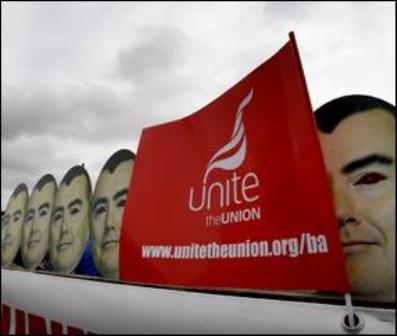 LONDON — Striking British Airways workers' union leaders have slated the airline's bosses for blowing millions of pounds on exorbitant wages and expenses for scabs attempting to break the cabin crew strike.
As more than 13,000 low-paid cabin crew continued their second devastating strike against cost-slashing BA chief Willie Walsh's plans to cut jobs and freeze pay, union reps revealed that the privateer was stuffing the pockets of pilots scabbing as flight attendants with an extraordinary £166 per hour.
Pilots who accepted the bribes have also been handed up to £200 in expenses to add to their swag and cover the cost of their commute to work.
Unite assistant general secretary Len McCluskey exposed BA's massive hand-outs as Mr Walsh claimed that "our operations throughout the strike have been strong – and it's not just pilots who are volunteering to work as cabin crew but ground staff too."
But Mr McCluskey hit back by pointing out that airline executives had "gone to enormous lengths to divert hundreds of pilots from their everyday jobs – with the guarantee that they will still be paid their £120,000 salaries."
In contrast, a BA cabin crew worker – even with five years' experience – earns barely £15,000 a year.
"Far from cutting cabin crew costs, BA is now operating the world's most expensive crew in a bid to break its far cheaper, world-class workforce," Mr McCluskey asserted.
"Where is the sense in running an ever-creaky contingency operation built on throwing money at pilots pretending to be crew when they have nearly 13,000 fully trained professionals who should be working?" he stressed.
The revelations came as Prime Minister Gordon Brown again waded into the dispute to lamely declare that the government was "being very tough about this strike.
"We have said that it is not in the public interest and we don't think it's in the workers' interest," he said.
But the cabin crew, who held mass pickets at Heathrow over the weekend while scores of BA planes were left idle on the airport's tarmac, have pledged to continue their strikes until Mr Walsh backs down from his cost-cutting plans that are supposed to save the airline millions of pounds.
Mr McCluskey urged other BA workers not to be tempted by Mr Walsh's bribes and insisted that "strike-breakers, whether they are pilots or other BA colleagues acting as cabin crew, are misguided.
"Their actions are not solving this crisis, they are helping prolong it, and they should not expect thanks from BA for their troubles because this company will turn on them in due course just as they have turned on the crew," he emphasised.
And Unite leader Tony Woodley revealed that an "unprecedented" 2 per cent levy would be added to almost two million members' subs for the next three months to raise up to £700,000 to support the BA strikers.
Photo: Unite workers protesting against Willie Walsh at a picket near Heathrow Airport on March 27. Morning Star